The B-Side
This Broadway hit is finally in Boston 🎭
Plus: 🎸 Allston's underground music scene …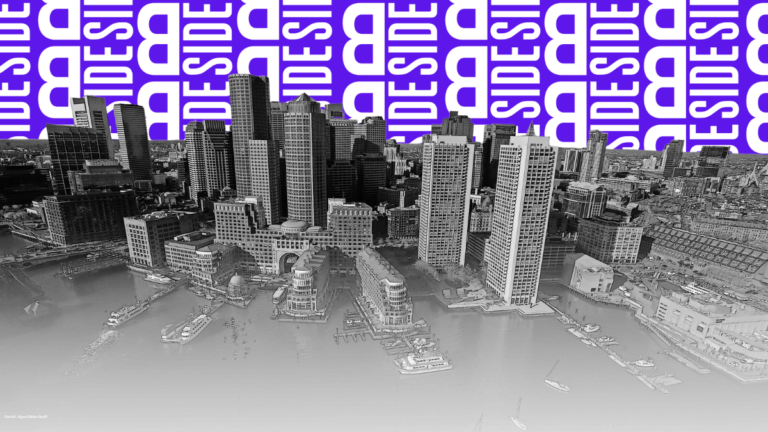 It's Wednesday, Boston.
🤯 Take a look at this: It's not often we get a glimpse of the Northern Lights in New England, but Sunday night on Mount Washington was certainly an exception. This was the stunning view from the observatory. Iceland WHO?
👀 What's on tap today:
Housing market blues
Indigenous Heritage Month eats
Prince's outfit auction
Up first…
---
ARTS & CULTURE
There's a new band in town
Image by T Charles Erickson. Illustration by Gia Orsino.
A beloved Broadway hit made its regional debut in Boston last week.
Ten-time Tony Award-winning musical "The Band's Visit," a co-production from SpeakEasy Stage and The Huntington Theatre, kicked off its run Nov. 10 and continues through Dec. 17. And it's not the kind of musical you're imagining.
Here's what to know:
🎥 Didn't watch the 2007 film it's based on? Here are the Sparknotes: The show takes place over the course of 24 hours and tells the story of a band of Egyptian musicians who get stranded in a small Israeli town after a transportation mix up. With no hotels available, the locals take them in for the night, and by morning, a series of surprise connections made over moments of shared humanity and love of music change everyone forever.
🎭 This isn't your typical Sondheim-y musical. Don't expect blockbuster tap numbers, big, belty solos, or climactic plot points. Rather, expect "tiny miracles" throughout the show that get at larger questions and experiences around "what it's like to be a parent, be married … how to connect with a love interest," and more, director Paul Daigneault said.
🎶 That said, the "the secret sauce is the live music," according to Daigneault. More importantly, how that music is shared with the characters and the audience. Unlike traditional musicals where the orchestra hides in the pit, there are live musicians performing on stage, becoming entangled through the action of the play. "The music really opens the window of the souls of the characters," Daigneault said.
🕊️ While the play isn't overtly political, it does offer a message of hope. It's impossible to watch this show about the relationships between Arabs and Israelis without thinking of the war unfolding in the Middle East. But Daigneault thinks that "theater, at its best, is healing." He's hopeful that watching this story at a human-to-human level and not a political level "could ground us and help us focus on the humans."
🤔 My thoughts? It's about the journey, not the destination. Daigneault said it best: This show is laden with tiny miracles capturing the universality of the human experience that will make you laugh and cry. I'm still finding myself humming (and tearing up to) "Answer Me," a musical number where one character questions his devotion to his love after waiting by the phone for 40 days. The rest of the cast subsequently joins in, reflecting on their own storylines.
💏 Bonus: There's a real life showmance! Actors Jesse Garlick (Papi) and Josephine Moshiri Elwood (Julia) just so happen to be love interests on stage and engaged in real life.
🤑 Under 40? You can score tickets for $40. Their HYPE program, short for Huntington Young Patron Events, gets audience members access to any performance for any seat in the house for only $40 with the code DISCOUNT (with a valid ID).
---
ADVERTISEMENT
TOGETHER WITH SAMUELS & ASSOCIATES
Two Boston winter favorites are back!
🎄❄️⛸️ Thanksgiving might be a minute away, but the holiday spirit is already alive in The Fenway. This Sunday (Nov. 19), watch as The Rink transforms into "Studio 401" (inspired by the iconic Studio 54), featuring disco-themed DJ sets, free cotton candy and waffles, and more. Plus, don't miss out this season on skating lessons with The Skating Club of Boston, ice flow yoga with Joy Skate Productions, and the chance to pick out a tree for the holidays at The Fenway Tree Farm. You can find more details on tickets and hours of operation here.
---
CITY
Quick & dirty headlines
Image by Rick Cinclair/Worcester Telegram & Gazette via AP.
🌎 This year's national climate assessment just dropped. And there are some major takeaways for us New Englanders. You likely already know most of the bad things: Last year was the hottest on record, increased rain and flooding have had devastating consequences, coastal sea levels are still rising, and with the ocean changes, we can expect less lobsters. But the good news is New England is leading the country in climate laws (Mass. is particularly innovative), and local Indigenous communities are developing their own cultural responses.
🏘️ In news that will surprise no one: The housing market is not looking good. And new data from The Greater Boston Association of Realtors offers a window into the issues. TL;DR, high interest rates are keeping homeowners from selling and extreme competition for what does go on the market keeps home prices high (median single family home and condo prices are currently $829,950 and $694,812, respectively). The good news? Prices seem to have softened since this summer with an influx of new listings after Labor Day.
🎵 Have you heard of Allston's underground music scene? Don't tell anyone we told you, but it's pretty cool. In a city where cheap, fun nightlife experiences are hard to come-by, many college-aged locals have turned to the growing underground concert scene for a good time. Shows are often headlined by local, student-lead bands, hosted out of student apartments, and cryptically advertised on social media to keep them exclusive. There are dozens of these venues in the area with music lineups spanning just about any genre you can think of.
🌽 This restaurant is serving up Indigenous Heritage Month eats. Watertown's Branch Line will have a special menu for its "Indigenous Food Week" from Nov. 16 to 21 in an effort to address the area's erasure of Indigenous peoples and highlight their heritage. The menu's offerings include butternut squash soup, corn cakes, and cranberry chutney, and will be prepared using recipes from Mashpee Wampanoag chef Sherry Pocknett, who just won a James Beard Award for best chef in the Northeast, BTW. Check it out here.
— Written by Gia Orsino
---
ONE LAST THING
Prince's outfit auction
Image by Dirk Waem/Belga/AFP via Getty Images. Illustration by Gia Orsino.
Do you love Prince? Do you have $15,000 laying around? Boy oh boy, do we have the sale for you.
This week, a collection of more than 200 Prince-related items are being auctioned off through a Boston-based company online. The items became available when Paisley Park opened and a collector's plans for a museum to display them were scrapped.
Some highlights include: the shirt Prince wore in his AMA Purple Rain performance (valued at $15,000), the full outfit Prince wore in the film "Under the Cherry Moon" ($45,000), and a blue Schecter "Cloud" Guitar that he played ($4,000).
But if you're planning to buy, act fast because bidding closes tomorrow.
— Written by Gia Orsino
---
💎 Thanks for reading! If anyone wants to get me something, I'd happily take this purple rain brooch.
💜 Special Shoutout to today's sponsor, Samuels and Associates, for supporting local journalism and bringing winter fun to Boston.
💃 Keep up with us @BostonBSide on IG, TikTok, and Twitter. Send comments and suggestions to [email protected].