The B-Side
The Snowport is BACK! 🛍️❄️
Plus: 🚇 A year of MBTA shutdowns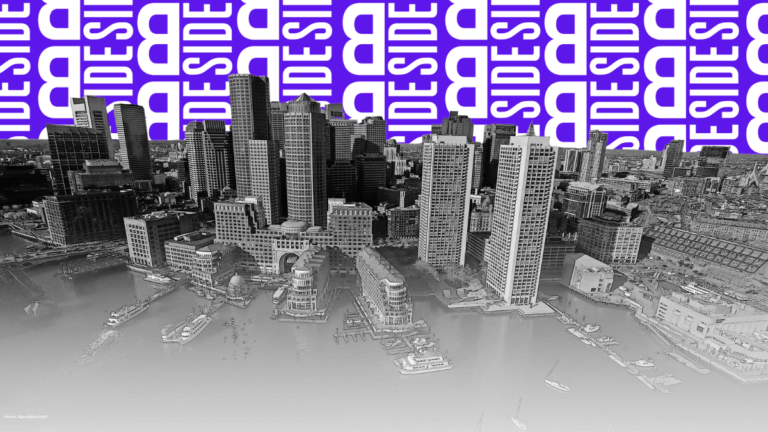 Happy Friday, Boston!
🥃 Shot: Shuttle buses will replace service between Oak Grove and North Station this weekend for track work.
🥴 Chaser: We've got roughly 20 more MBTA shutdowns like that on deck in the next year. More on that below.
🥳 Also: HBD to reader Deirdre Potter. We appreciate you!
👀 What's on tap today:
The year of the shuttle bus
Lass uns gehen, Pats!
A 230-mile run
Up first…
---
OUT & ABOUT
Let it Snow(port)
Image courtesy of The Snowport. Illustration: Gia Orsino.
To you, it's still mid-fall. To us, it's Snowport season. The Seaport's annual transformation into a winter wonderland kicks off today with a ribbon-cutting ceremony at 1 p.m.
Here's what to know about this year's festivities:
❄️ The Snowport is the pinnacle of the Seaport's holiday magic. The multi-week extravaganza was originally dreamt up as a way to "drive awareness to the community" during Boston's dreary winter months, according to Katie Lorrey, the Seaport's associate director of digital engagement. Now in its fifth year, it's the ultimate winter wonderland, with shopping, food and drink, and activities galore. It'll be open seven days a week from Nov. 10 through Dec. 31, with extended hours starting Dec. 11. Check out the hours and details here.
🎄 The crown jewel is the Holiday Market. Of the 120-plus vendors this year, 30% are first-timers, 60% are local to Boston and New England, and over 70% are minority- and/or woman-owned. Vendors sell everything from treats and pantry items, to vintage clothing and art, and more, making it easy to support local businesses while holiday shopping. Here's a full list of vendors.
🥌 But it's not just for shopping… You can also try your hand at (free!) curling on an iceless curling lane (book a spot here, they fill up quickly!), marvel at their Christmas tree lighting and annual menorah lighting, grab a Christmas tree at the tree market, and keep your eyes peeled for Betty the Yeti, the Snowport's mascot (who's apparently hosting a cocktail crawl).
🍪 Honestly, it's worth just stopping by for the food and drinks. There will be 17 food and bev concepts this year, including four holiday-themed bars serving cocktails and mocktails. We're very excited about Downeast Cider's new hot mulled cider. Our fav bites from last year include the Caribbean jerk chicken from ZaZ Food Truck and stuffed crepes from The Frenchman's Crepes.
🎁 If you're not sure where to start, we've got recs. Some of Lorrey's first stops for gifting include Ashley Eisman's watercolor paintings and funky illustrations by John S. Dykes. If all seems lost, you can't go wrong with a custom candle from Sky Candle Co. And if you're a foodie, make sure to check out our foodie's guide to the Snowport from last year. We loved Chequessett Chocolate and maple syrup from Crystal Rock Maple. Plus, the Snowport has its own gift guide.
— Written by Gia Orsino
---
CITY
Quick & dirty headlines
Image: Taylor Dolven
🚇 2024 will be the year of the shuttle bus. The MBTA announced plans to eliminate all of its slow zones by the end of next year. Yes, you heard that right. All 191 of them. But as we know, with big plans come big … shutdowns. In this case, there will be about 20 individual diversions across portions of all four lines over the next year. First on the list: A nine-day closure on the Green Line starting Nov. 27. The shutdowns will range from a few days to a few weeks, depending on the area. You can see the tentative shutdown schedule here and learn more about the plans here.
🏈 How do you say "Go Pats!" in German? Bill Belichick definitely doesn't know. But we can tell you this: The Patriots are heading to Frankfurt, Germany to play against the Colts this Sunday. Playing in Germany is the NFL's way of eyeing the possibility of expanding the league internationally. But the downside of this experiment is that Sunday's game starts at 9:30 a.m. That said, the early kickoff time isn't stopping the watch parties, which you can find downtown at Night Shift Lovejoy Wharf and Banners, or in Charlestown at The Anchor.
🇺🇸 Happy (early) Veterans Day, Boston! If you're looking to tip your hat to our vets this weekend, you can check out the USS Constitution Museum's Veterans Day weekend programming, or, take on a physical challenge to raise money for vets with the Harvard Undergrad Veterans Org. Can't get out to celebrate? You can donate to Greater Boston-area veterans here. Bonus: Due to the holiday, all parking meters will be free without time limits on Friday.
🥐 Fridays are for the foodies. First on the menu: Famed Brooklyn-based bakery, Mia's Bakery, is coming to Mass. The first location at The Street Chestnut Hill is officially open, and a Seaport location is set to follow within the month. Need a coffee with that croissant? Tradesman is planning to expand to Kenmore Square, bringing its Boston location tally up to four. Bonus: Night Shift brewing and Teddie Peanut Butter just collabed on a new peanut butter beer and are celebrating its release with a "Camp Teddie" party at their Everett locale tonight.
— Written by Gia Orsino
---
THINGS TO DO
Weekend plans
Image courtesy of Nash Bar
🧇 Get in your brunch era. Whip out your Eras Tour look at Nash Bar & Stage's Taylor Swift Brunch on Saturday. You'll make bracelets, eat brunch, listen to live TS covers, and compete in the costume contest.
🎤 Infuse your weekend with live music. There's music for everyone this weekend: AKON at House of Blues, Galantis at BNL, Renee Fleming at Symphony Hall, and Chris Isaak (Christmas music!) at The Wilbur.
☕ Experience the authentic coziness of hygge. Something wholesome for your Saturday: the 2023 Scandinavian Fair, complete with authentic holiday items, waffles, pølse med lompe, coffee, and more.
🛍️ Embark on a vintage voyage. Go ahead, see what vintage and artisan items you can find at FOUND Holiday Pop-Up Shop at Arsenal Yards. The soft opening is Saturday, followed by a grand opening on Sunday.
🕯️ Spark your creativity. Perhaps you've made a candle before — but we bet it didn't look like this. Spend your Saturday evening with Ain't Easy candles creating pieces that are literal works of art.
—Written by Claire Nicholas
---
ONE LAST THING
A wild weekend plan
Illustration by Emily Schario
Here's a "fun" weekend plan we left out of our things to do section: Spend the next three days running all 230 miles of the Bay Circuit Trail.
And before you say: "Who would ever do that?" Let us introduce you to Cole Crosby, of Cranston, R.I. This weekend, he'll be not only completing the 230 miles, but attempting to set the course record, which currently sits at three days, 20 hours, 13 minutes, and 47 seconds.
Crosby set off Thursday, and he's gunning for a sub-three day time, so if all goes well, expect him to be done by Sunday evening. You can track his progress herefrom the comfort of your couch.
---
🏃 Thanks for reading! As I write this, Crosby is around 35 miles into his run. I'm about 200 steps into my day, myself.
💃 Keep up with us @BostonBSide on IG, TikTok, and Twitter. Send comments and suggestions to [email protected].