The B-Side
Robots are taking over the dating apps 🤖
Plus: ✈️ Cheap flight alert!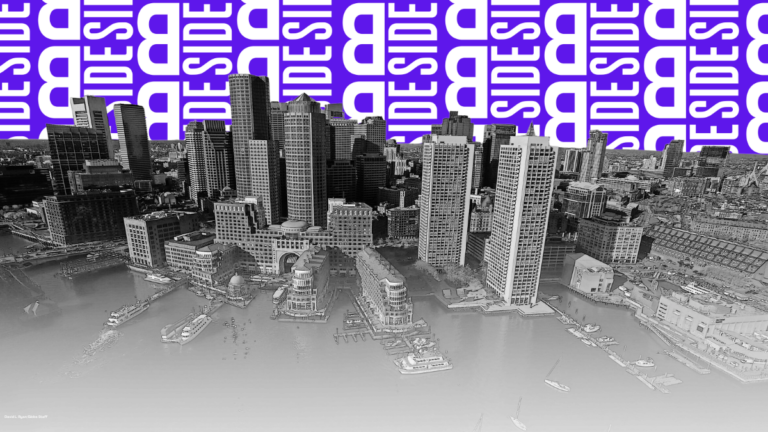 It's Tuesday, Boston.
🍁 Need a good laugh? We put together a fall in New England starter pack that should do the trick. Spoiler: It includes a $30 bag of apples and lots of scowling.
👀 What's on tap today:
Affordable Seaport apts
Cheap flights to Europe
Belichick's "Traylor" take
Up first …
---
DATING
Swiping right on ChatGPT
Illustration: Emily Schario.
Suck at flirting? Try ChatGPT.
The days of asking your friends how you should fill out your dating profile or respond to a text might be numbered. Some dating app users are turning to AI to do it for them.
But is it ethical? With cuffing season in full swing, here's what the experts think:
😂 "Having a profile nowadays is really to see if you're a comedian," said Laura Kenney, executive matchmaker at Boston-based LunchDates. With thousands of profiles to swipe through, "you need something to light up in someone's eyes," and in most cases, humor and wit will do it. Kenney said "everyone is putting on a show" when it comes to their dating profile, so utilizing AI to help with witty one-liners is just the 2023 version of having your friend do it.
🤖 There's consensus that AI should only be used for inspiration, not verbatim. Kenney and Boston-area dating coach Michelle Wax agree that apps like ChatGPT are great for getting started, especially if you've been striking out. But nine out of 10 times, what ChatGPT spits out "isn't going to be the energy of who you are as a human being," Wax said. And once you're actually on a date, "you're not going to be able to lean on your phone … people are smart and are going to see through that."
📱 While some dating apps are leaning into AI, others are drawing the line. "We don't have any plans to do that," said Julie Griggs, co-founder and CEO of Boston-based Fourplay dating app. "We feel like dating apps have already robbed us of the natural dating experience enough as it is" and adding AI just adds "another layer of something less personal." Griggs noted that Fourplay users with the most matches have, in her opinion, the most authentic profiles, including silly baby pictures and shots of dressing up with friends.
👯 ChatGPT can replace a friend's advice, but it isn't your real friend. "If you ask a friend which picture you should use, they're going to choose the picture that is the best representation of you," Griggs said. "ChatGPT doesn't know what's the most genuine version of you." So if you're relying on AI to pick photos or prompts that portray you as "funnier, more refined, or cultured than you are," it's only going to match you with someone who isn't really for you.
💏 That said, you can still capitalize on AI in an ethical way. Wax said it can help with first date ideas or coming up with interesting questions to ask on a first date, i.e., using it as a springboard for offscreen interactions. So before you turn to ChatGPT to help lubricate your texting game, just remember Wax's words: "I think of my clients who have great conversations on a dating app, but it's just a dud in person." It's not a guarantee.
---
CITY
Quick & dirty headlines
Image: Craig F. Walker/Globe Staff
🏠 A housing project in the Seaport is … actually affordable? What a concept! The neighborhood known for $5,000+ monthly rents will soon be home to a 200-unit development on D Street, where all units will be income-restricted, the first of its kind in the area. The apartments will be made available based on four income ranges, ranging from a maximum of 30% of area median income for the least expensive units ($44,520 for a family of four) up to 120% ($178,080), meaning monthly rents will range from $950 to $3,000-plus.
🚇 Mayor Wu was a party starter and pooper. She started Monday off strong by appointing Mary Skelton Roberts to Boston's new seat on the MBTA's advisory board. Skelton Roberts, an environmentalist who regularly rides the T, will represent the city's voice on key MBTA-related decisions. It's a big deal given the transit system impacts Bostonians the most. But the energy turned later in the day when Wu cast doubt on the idea of using an MBTA rail yard to relocate Mass. and Cass homeless encampments, saying it's not within the city's purview. Back to the drawing board.
🌈 A new LGBTQ+ bar is coming to the Back Bay. While the opening date is still TBD, we at least have the location of the soon-to-be Dani's Queer Bar: the old Pour House space at 907 Boylston St. next to Trader Joe's. Amid a nationwide slump of lesbian bars, which are down to fewer than 30 from 200 since the '80s, Dani's will be the first lesbian bar to open in the city in decades, creating a safe party space for queer women and non-binary folks. And city officials think it's going to be huge for a new generation of college students.
✈️ Dreaming of a fall trip to Europe? Your plans just got cheaper. Thanks to random holidays like World Tourism Day, low-cost PLAY Airlines is celebrating by offering 30% off flights to Europe. Travelers can score deals from Logan to Amsterdam, Athens, Copenhagen, London, Paris, and more. I saw a roundtrip flight to Iceland for less than $250. The only catch is you have to book the flight by Saturday for travel between October 2023 and March 2024, and there are some blackout dates, which you can double check here.
---
ONE LAST THING
Belichick's "Traylor" take
Images: Jason Hanna/Getty, Bryan Woolston/AP
Bill Belichick is tight-lipped about most things. But there seems to be one person who can crack him open: Taylor Swift.
The Pats coach was quick to offer his take on the budding romance between Kansas City Chiefs tight end Travis Kelce and Taylor Swift that consumed the internet this weekend after the pop star was spotted in a Chief's box suite with Kelce's mom.
"Well, I would say that Travis Kelce's had a lot of big catches in his career. This would be the biggest," he joked on WEEI's The Greg Hill Show. FACTS!
Some have gone as far as declaring this romance as the second Declaration of Independence, as Swift has only dated British men for the last decade. Or rather, the Swifties Boston Tea Party.
You can see a roundup of "Traylor" memes here. I've never been more invested in a celebrity relationship.
---
😁 Thanks for reading! And we also have the news of Usher headlining the Super Bowl Halftime Show. What a day.
💃 Keep up with us @BostonBSide on IG, TikTok, and Twitter. Send comments and suggestions to [email protected].