The B-Side
We saved the best for last 🙌
Plus: 🚗 Labor Day traffic hacks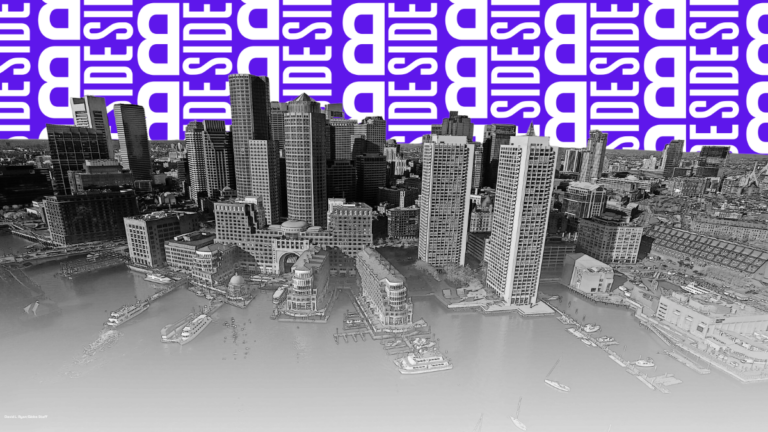 It's Friday, Boston!
🥳 And there's a ton to celebrate: The Sumner Tunnel reopened this morning, it's Allston Christmas, Taylor Swift announced The Eras Tour concert film, and if you flash your student ID at Blackbird Doughnuts through Sept. 5, you get 25% off your order.
🚚 Also, reminder: If you're moving truck is over nine feet tall, stay TF off of Storrow Drive.
👀 What's on tap today:
LDW traffic ahead
DoorDash buzzkill
Book it around Boston
Up first …
---
SUMMER FRIDAYS
Last one, best one
Image: Sean Sweeney. Illustration: Emily Schario.
I fear we've reached our final Summer Friday of the season. From free Shakespeare to salsa nights, we've spent the last 13 Fridays telling you how to spend your weekend around the city.
So let's send No. 14 out with a bang:
🌻 Discover Boston's sunflower fields. In four different locations! Find fields of sunflowers at the large lot in Grove Hall near Blue Hill Ave. and Warren Street, at Martin's Park in the Seaport, in Dewey Square on the Rose Kennedy Greenway, and between India Street and High Street on the Greenway. They're part of a growing art installation called "Roxbury Sunflower Project" that began in 2018, and it's just as beautiful as it sounds.
⛺ Go camp, or go camping. ICA's First Fridays: Summer CAMP event has dueling themes. On the one hand, there's camp: flannels, Tevas, and "gorpcore" elements. And on the other hand, there's camp: sequins, outrageous prints, and outfits so bad, they're good. You'll make friendship bracelets, enjoy a dance party, and enjoy a performance by the Blue Light Bandits. Speaking of the ICA, admission is free on Labor Day!
📦 Reward yourself for a very, very long Friday. Cheers to thrown-out backs and U-Haul traffic jams! Forget the schlep that was Sept. 1 and make plans to visit the Sams Adams Brewery Moving Day Party on Sept. 2. Even if you're a friend of a friend who moved, you're invited — and if you're a hired mover, you're even more invited. You're famous, we love you, thank you.
🍗 Finally go to a — THE — Renaissance fair. King Richard's Faire is the real deal when it comes to Ren' fairs, and there's a ton of ground to cover: rides, eating turkey legs, jousting tournaments, and admiring leather, armor, and chainmail. This Saturday is the kickoff, so don't miss it. In the words of King Richard: Purchase Thy Tickets!
🎤 Scream the bridge to Cruel Summer. The only way to celebrate The Eras Tour being turned into a movie is to bop to Swift's entire discography at The Middle East's 'Tis the Damn Season Taylor Swift Dance Party. Break out your best cardigan and glitter-bomb your face for a costume contest, trade friendship bracelets, and prepare for the lip sync battles and bridge challenges.
💃🏽 Celebrate the most important day of the year. Dear Beyoncé, happy birthday. We're RSVPing "yes" to your many birthday parties this weekend, namely Saturday's Beyoncé Drag Brunch and Show at Hue Boston with Candace Persuasion & Friends, and Sunday's Bey Dey by Frolic at Reunion BBQ, where there will be specialty drinks and food to order.
🏠 Create something cute for your new apartment. How about a chunky knit pillow? Sunday's Studio By Garden Streets workshop just requires your hands and gorgeous jumbo yarn to make a stylish and squishable couch accent. You can also attend a Paint and Sip workshop on Saturday where you'll come home with your very own "Lovely Hydrangeas" painting. Finally, try Hand Embroidery and Stitching — one ticket gets you two sessions, the next is this Tuesday!
🥸 Forget school's starting at a bar crawl. Until the studying begins (in like, four days), we're entitled to our last moments of summer. So enjoy your fleeting freedom at a bar crawl with other unprepared students and washed-up non-students. Fenway Funday starts at Loco on Sunday at 2 p.m., and Crawling Back to Campus starts the same day and time at Fenway Johnnies.
🌅 Say see you later to summer with a block party. On Saturday, Black Outside Block Party will have the perfect Summer Street backdrop for a day full of fantastic local food by Estella and Fete, along with elite local musical talent. And on Sunday, The Charles River Speedway's block party will have live music, food, drinks, games, even Roadrunner and Speedway merch giveaways.
Written by Claire Nicholas and Emily Schario.
---
CITY
Quick & dirty headlines
Image: Bill Greene for The Boston Globe
🚘 Let the Labor Day weekend traffic commence. Thursday's traffic was supposedly the worst of it, but today isn't going to be much better. INRIX, a transportation analytics firm, says the best time to hit the road is before 11 a.m. today, after 6 p.m. on Saturday, and after 7 p.m. on Monday. The company predicts a Cape-bound trip from Boston will take 54% longer than usual (about two hours), so download a podcast or two for the road. But if you're just thinking of a day trip, Sunday looks to be the best day with minimal traffic impacts.
🍷 DoorDash is about to be a major buzzkill. The company just announced it will block all alcohol deliveries on Mass. college campuses and other high-risk areas due to all the reasons you're already thinking of. And Dashers will only be able to make an alcohol delivery if they've completed an alcohol compliance class on safe and responsible delivery, i.e., knowing how to check for fake IDs. Speaking of fake IDs, DoorDash also plans on beefing up their ID verification tool, in some cases going above and beyond what you'd see at a normal liquor store.
🏃 New to Boston and need a city tour (that isn't a Duck Boat)? The Boston Public Library is partnering with Heartbreak Hill Running Company to host "Book It Around Boston," a fun run/walk/bike event meant to reintroduce residents to BPL branches across the city (and do a little sightseeing along the way). The event kicks off Sept. 23 and covers five different routes, ranging from 3.5 to 20 miles (lol), and ends with food and bev at the Roxbury library branch. You can register here.
---
ONE LAST THING
Dog-friendly deals
Image courtesy of Sam Coveney
Boston just got a little dog friendlier.
As you may already know, a new policy permitting local restaurants to allow dogs on restaurant patios and other outdoor areas is in full effect. So Boston creator Armani Thao checked out a few dog-friendly spots that are going above and beyond to make sure your pooch has a great day out, too.
Here's where your pup can score some free treats. Spoiler: Dog slushies may be involved.
---
🐶 Thanks for reading! Even if you're dogless (like myself), you will most certainly enjoy the adorable pups featured in the video.
👋 Programming note: We're off for Labor Day, so we'll see you in your inbox on Tuesday!
💃 Keep up with us @BostonBSide on IG, TikTok, and Twitter. Send comments and suggestions to [email protected].