The B-Side
Why your New Year's resolution failed 🎉
Plus: Power outage updates.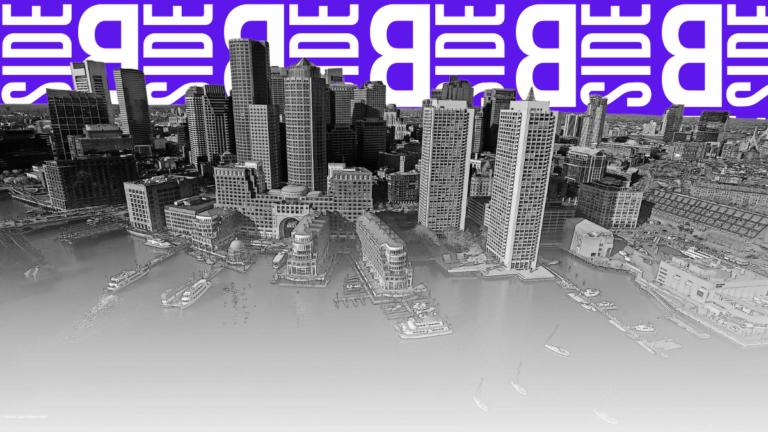 It's Tuesday, Boston.
🍺 It's also National Beer Can Appreciation Day, so we put together a list of local canned brews for you to celebrate with. Keep scrolling to see who made the list!
👀 What's on tap today:
Power outage updates
Boston's ugliest building
The green comet
Up first…
---
LIFESTYLE
Get back on the resolution wagon
Illustration: Katie Cole
Sticking to your new year's resolution ain't easy. Which likely explains why 80% of people end up bailing on them by February. So here's how to get back on the wagon, according to Dr. Elyse Park, the Director of the Health Promotion and Resiliency Intervention Research Program at MGH:
😢 Don't get bummed when you slip up. "Oftentimes people take that as a greenlight to give up their resolution," said Dr. Park, "but this is part of a process." You can always reboot without the calendar changing.
🤔 Make more reasonable goals. And make sure they're reasonable for you (not the IG fitness influencer in your feed). So if your goal is to drink more water, start with drinking three glasses a day instead of 10.
📝 Have a plan to keep them. A lack of one is a big reason why resolutions fail. And motivation is fleeting, so knowing what to do when you're feeling vulnerable is essential.
✍️ Document your goals. Whether it's texting friends once a week or recording it in your phone before bed, documentation is one of the biggest predictors of keeping a resolution (and a great form of accountability).
🏅 Reward yourself for your wins. Dr. Park says you should be celebrating them at least once a week. You're doing great!
😎 Make sure you're doing this for you. Part of the reason resolutions fail is because they're driven by external motivations. So it's no surprise you're more likely to stick to them if you are the driving force behind wanting to achieve them.
And, Jan. 1 isn't the only time of year you're allowed to start making changes. So if you're looking to make a lifestyle change, setting a goal using the SMART method is a great place to start.
---
CITY
Quick & dirty headlines
Image: Jim Davis/Globe Staff
❄️ Yesterday's storm did us dirty. And just when we thought this would be a mild winter. Over 12,000 Mass. customers lost power and a coastal flood advisory was issued on the Cape and South Shore. But our northern neighbors in Maine and New Hampshire definitely got the shorter end of the stick, with more than 28,000 and 47,000 utility customers losing power, respectively. You can take a peek at the Mass. snowfall and power outage numbers here.
🚨 Local lawmaker's daughter arrested this weekend. Riley Dowell, the child of Rep. Katherine Clark, a Revere Democrat and the House Minority Whip, was arrested on Saturday and charged with assault with a dangerous weapon, destruction of personal property, and damage of property using graffiti. This all started after police responded to a protest at the Parkman Bandstand Monument in the Common, where she was found writing "NO COP CITY" and "ACAB" (an acronym for "All Cops Are Bastards") on the monument. Rep. Clark said in a statement: "​​I love Riley, and this is a very difficult time in the cycle of joy and pain in parenting."
🙈 Boston City Hall is officially ugly. Okay, yes we've already known this, but the results from a recent Buildworld survey make it legit. The survey declared Boston City Hall to be the second ugliest building in the U.S., and the fourth in the entire world. The only U.S. building considered uglier was ​the J. Edgar Hoover Building in D.C. (also an example of Brutalist architecture. I'm sensing a theme). And while there's no questioning the unlikability of City Hall's appearance, these survey results had me running to its defense. I mean, it's okay when I say City Hall is ugly, but no one outside of Mass. has the right to.
---
THINGS TO DO
Celebrate Beer Can Appreciation Day
Gif: 20th Century Fox Home Entertainment via Giphy
🍻 Missing the taste of beer on the plaza? Find brews from 67 Degrees Brewing, the Franklin brewery that operated the City Hall beer garden this fall, at these local liquor stores.
☘️ Cheers to the home team with Tommy Point, Winter Hill Brewing Co.'s Celtics-themed pale ale brewed with five 'C' hops. Pick up cans from their Somerville taproom.
🐢 Find a turtle-y awesome selection of brews from Turtle Swamp Brewing in JP. You can grab their brews at their taproom or order online for in-store pickup.
🍫 Celebrate Valentine's Day early with Hello Lover from Distraction Brewing Co. in Roslindale, a Belgian-style chocolate quad. Order a four pack of 16 oz. cans for pick up for $18.20.
🍒 Keep your eyes on the pies with the Cherry Piescraper from Night Shift Brewing. You can pick up the sour ale or their other to-go brews at their Lovejoy Wharf taproom.
---
ONE LAST THING
The green comet
Image: Dan Bartlett via NASA
Look up! A green comet is coming past Earth for the first time in 50,000 years.
The comet, formally called 'C/2022 E3 (ZTF)', will come within 26.4 million miles of our planet on Feb. 2. But you can already see the gas ball with the naked eye. It's currently moving along the constellation Draco, and on Jan. 30, you'll be able to spot it directly between the "cup" of the Big Dipper and the North Star.
The comet will get brighter as it comes closer to Earth with the best viewing times being in the evening or early morning when it appears higher in the sky.
---
☄️ Thanks for reading! Petition to request that comets make an appearance before 10 p.m., please and thank you.
💃 Keep up with us @BostonBSide on IG, TikTok, and Twitter. Send comments and suggestions to [email protected]