Tell Us
Boston students are calling for a remote learning option. Do you agree?
"We're the ones going to school," Boston Latin senior William Hu said.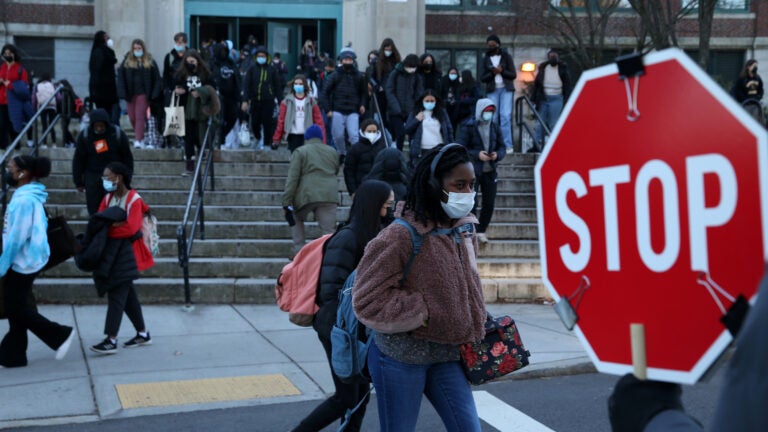 How do we best serve students in the pandemic?
Schools have been fraught with debate over this question since the start of the pandemic. In recent weeks, Boston students have made clear how they think officials should address their academic and health needs.
From within the classroom, there's a growing interest in allowing students and teachers to have a remote learning option, something Gov. Charlie Baker has said is off the table. Since the return from winter break, some students in Boston have made it known that they're unhappy with the decisions being made on their behalf.
William Hu, a senior at Boston Latin, started a petition calling on the state to allow school districts the option to provide remote learning when he noticed how many of his classmates were getting sick with COVID-19. The petition started with the goal of gathering 1,000 names but quickly surpassed its goal. Now, the petition stands just shy of 10,000 signatures.
Hu told Boston.com there were dozens of positive cases in his grade alone just before the winter break and while schools were closed he saw many students sharing on social media that they were COVID positive.
Once he got back to the classroom, his fears of the school being a "​​COVID breeding ground," only grew as he watched his classmates pack into hallways and common spaces with no social distancing.
"We're the ones going to school. We're the ones who go home from school to family members [who] are immunocompromised, with grandparents that are at high risk from catching COVID, with those who are currently suffering from COVID," Hu said. "It's just unsafe. The purpose of government is to make their citizens make their constituents safe and feel at home and what the governor's doing now is just inconsiderate."
Last week, about 600 Boston high school students, organized by the Boston Student Advisory Council, walked out of their classrooms in protest of the state's decision to refuse a remote option.
"All across the city and state of Massachusetts students, teachers and staff are feeling vulnerable in their own schools," BSAC said in a letter to state officials, obtained by The Boston Globe. "Not due to gun violence, fights, etc… but due to the ongoing COVID-19 pandemic and the lack of protection that they were supposed to receive."
The Boston Teachers Union came out in support of BSAC's protest.
In a recent Boston.com poll, readers said they would rather school districts go remote until the omicron surge passes than continue with staff shortages, delays, and the increased risk of infection to their children.
"It's important for kids to be in the classroom as much as possible but the reality is we have kids out for weeks at a time between isolation times and testing delays," said Heather from Natick, whose 6-year-old son has been pulled out of school twice since the school year started for being a close contact. "Offering a hybrid option allowing kids who have been infected or recently exposed to the virus would allow them to keep learning during these inevitable times when they can't be in the classroom."
School-aged children currently have lower rates of vaccination than adults in the state, with just 46% of children ages 5 to 11 having received at least one dose. Eighty percent of children ages 12 to 15 and 79% of teens ages 16 to 19 have received at least one dose.
The Baker administration has been consistent in its requirements for schools to remain open this school year. Districts are allowed to use their snow days in place of in-person classes when needed, but remote learning days don't count toward schools' required 180 days of classes.
After staff shortages forced districts across the state to delay or cancel classes after the winter break, Boston mayor Michelle Wu called out the inflexibility of the state's decision against remote learning.
For Hu, flexibility is the important missing factor in the conversations on this issue. Hu said he agrees with Baker and other school officials who've highlighted the limitations of remote learning. He said he personally struggled to adjust both academically and mentally during the first wave of school closures and has heard similar stories from friends.
"Some students just can't learn in a remote atmosphere and I cannot diminish nor disregard their feelings about this. That's why I emphasize the importance of an option," he said. "Let's say just 30% of the school goes remote. That clears up so much space that relieves pressure on so many resources within the school for school support and physical space."
Part of the benefit of allowing a remote option would be allowing teachers to make safer personal decisions while also serving students, according to Hu. Several teachers unions have called on the state to allow for more remote learning options and in the recent past have been rebuffed by state education officials.
Despite the challenges, he said his school has done its best to keep students on track throughout the pandemic, but Hu does worry for students at other "less supported" schools.
"The even scarier fact is that Boston Latin is very well funded, we have resources. But imagine all the other schools that aren't as well funded, don't have the same amount of government support, or don't have the same amount of funds for pool testing or to maintain staff members," Hu said. "Imagine those situations where kids literally don't have teachers to take care of them. I think there's general anxiety behind going to school just looming in the background."
Are students right to call for a remote school option?