Book Club
How a Cambridge bookseller connects with local literature lovers
Harvard Book Store's Lily Rugo discusses this month's Book Club pick, co-founding the Boston Asian Book Group, and what it means to feel "seen and taken care of as a person."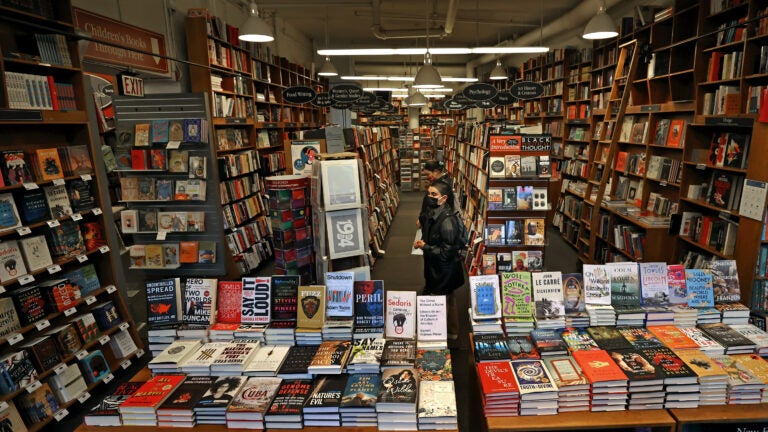 For bookseller Lily Rugo, storytelling does two things: educate and comfort.
"Society today isn't doing so great, and I think storytelling is an easy way to remind people of that while still giving them some hope that it'll get better," said Rugo, who's been working at Harvard Book Store for nearly three years. "Stories can provide escapism and joy and validation, which we all need, but they can also be powerful allegories and symbols of what's happening in the world around us that spark action and greater awareness."
A life-long reader, Rugo found her way to Harvard Book Store a year after she graduated college. A blind email sent to the bookstore's events team led to a part time position, which soon grew into a full time role after a few months. She loves her job because of the constant community with other readers, but also because she feels "seen and taken care of as a person," given the shop's decision to unionize. And despite the challenges brought on by working through "a dystopian global pandemic," Rugo has managed to truly connect with fellow local literature lovers—whether that be with one of the many authors that live in the area or students excitedly looking for new titles—and foster an environment that feels supportive.
"I've discussed the role of bookstores and reading lists with my book-worker friends in the wake of national unrest and trauma, and honestly there isn't an answer for, 'How does a store serve a community need while still making enough money to be a sustainable business?'" Rugo said. "If we're good at what we do—and Harvard Book Store is—then when we recommend a book, or make a display, or compile a reading list, it's with the intention of educating people who aren't aware, and letting the people who need comfort know that they've got it."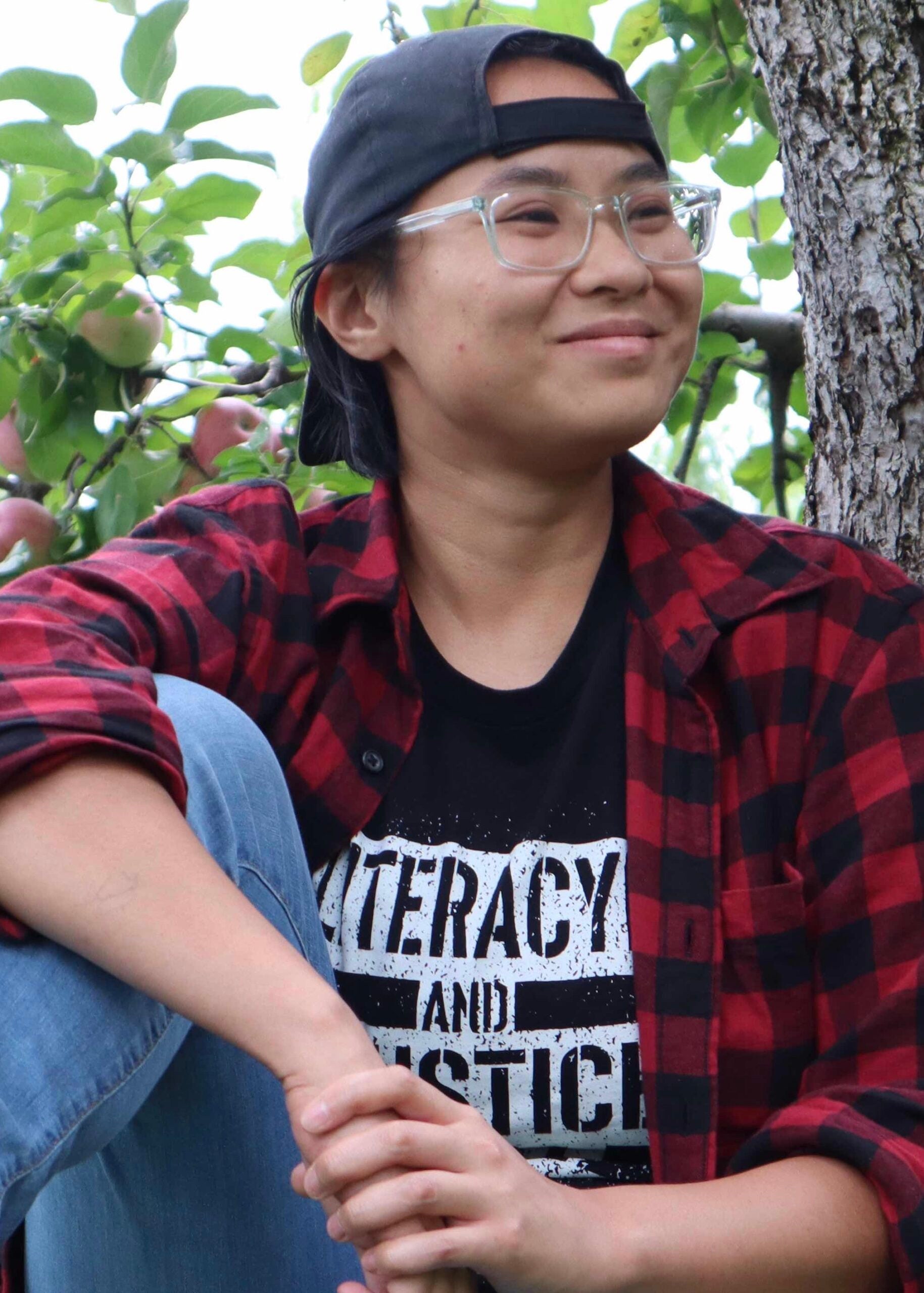 Rugo's influence on readers extends beyond the walls of Harvard Book Store, too. The book buff has been facilitating a book blog since 2019, where she writes about the books that are "slowly taking over her room" in a wonderfully candid, witty voice. Along with reviews, Rugo also will write pieces placing books in conversation with one another to comment on a cultural moment or movement, such as the experiences of Asian Americans and how that informs their complex collective identity.
"I got inspired to blog because I like to hear myself talk, but am too camera shy to vlog," she said. "In high school I was really drawn to the cohort of Asian American YouTube creators (Wong Fu Productions, Ryan Higa, Anna Akana, etc.) and their DIY-content creator aesthetics. I loved the attitude of cool young Asians making it happen in L.A. just by turning on a camera and showing their personalities. I think new media (blogs, YouTube, podcasts, TikTok, personal newsletters) is absolutely fascinating and will usually sign up for something just to see how it works." Ever the multi-hyphenate, she has a few podcast ideas floating around in her phone notes, too.
One of the perks of the job is getting advanced reader's copies of books. And the only thing better to Rugo than reading a book before it's officially released is reading the heartfelt author notes that come with them, including the one that came with "Yonder," this month's Book Club pick.
"Jabari Asim talked about how this story was inspired by his own family history and how this was his own way of answering questions left to history," said Rugo. "His use of language throughout the book is gorgeous, not only in the prose but also in how he thinks of the ways people communicate with each other. All of that together made me think of 'Yonder' as a part of the reclamation of our histories, families, and narratives that's happening in media right now. This is Asim's retelling of history and his family's story—his words and no one else's."
Though Rugo's work in the book world is multifaceted, there's one common thread that ties everything together—finding and building communities. This is especially evident given her co-founding of the Boston Asian Book Group, which came to life after a chance encounter with a Harvard Book Store customer two years ago.
"I co-founded ABG with a customer after she came in to return 'On Earth We're Briefly Gorgeous' because the book club she got it for was all older white readers," said Rugo. "She asked if I knew of any Asian American reading groups, and I suggested we start one…For a few of our members, we're the first space they've found in Boston that's full of young (Gen-Z/ Millennial) Asian and Asian Americans. Together we talk not only about books, but also about what we're experiencing right now. The books often relate to what's going on around us ('Severance,' 'Interior Chinatown,' 'Good Talk') and give us a shared way to talk about it all."
For those looking to get involved or build their own local literary community, through forming book clubs or otherwise, Rugo has one simple suggestion: "Stop by a friendly indie (or library) and let a bookseller know you're looking for community—we'll take it from there."
---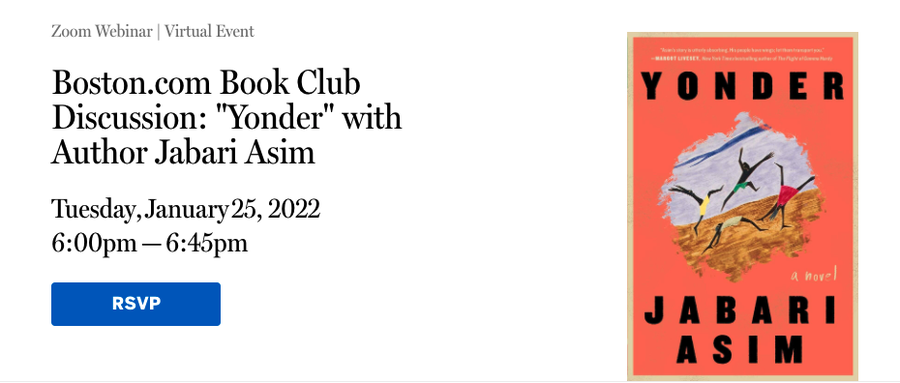 ​​Join the Boston.com Book Club on Tuesday, Jan. 25 at 6 p.m. for a virtual discussion with Harvard Book Store's Lily Rugo and author Jabari Asim on "Yonder."
Buy "Yonder" from: Bookshop | Harvard Book Store
Join the 'Yonder' virtual discussion with author Jabari Asim
Book Club discussion | Jan. 25 at 6 p.m.