Readers Say
Here's what readers think about the student walkouts over COVID-19 safety
"Students have every right to ask about remote learning. However, it is up to the adults to tell them that remote learning is not a good option."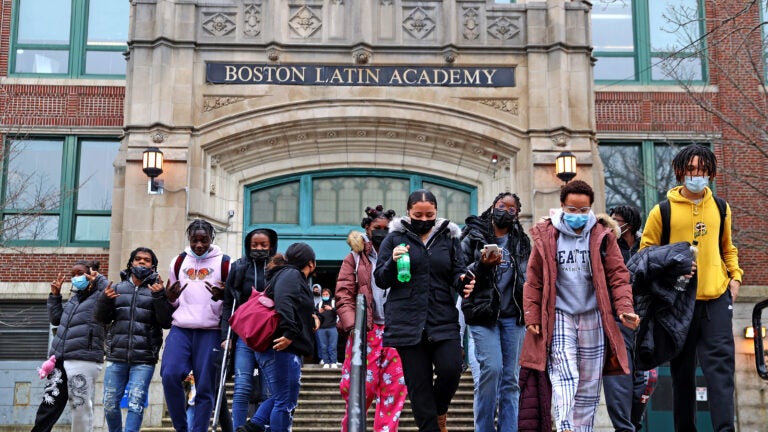 In several cities across the country, students are making it known to the education officials in charge that they're unhappy with the way COVID-19 safety precautions are being handled in their schools.
Earlier this month, hundreds of Boston high school students, organized by the Boston Student Advisory Council, staged a walkout in protest of the state's decision to refuse a remote option. Similar walkouts have happened in New York City, Chicago, Denver, and most recently in Washington D.C.
Since the start of the school year, Gov. Charlie Baker has stood firm on his decision to not allow districts to use remote learning days toward the required 180 days of instruction. BSAC said in a letter to public officials the policy has made them feel "vulnerable in their own schools" because of "the ongoing COVID-19 pandemic and the lack of protection that they were supposed to receive."
The worst of the omicron surge is now behind us and studies have found that there are lower transmission rates in schools. Still, school-aged kids have lower rates of vaccination than other groups in the state and some students and staff say they feel the current COVID precautions are lacking in schools as positive cases cause disruptions in learning.
We asked readers if they agreed with the calls from students for Massachusetts to allow for remote learning options, and a majority of the 145 respondents to our poll said they felt students belonged in school regardless of the circumstances.
"Students have every right to ask about remote learning. However, it is up to the adults to tell them that remote learning is not a good option. The mental health of students is impacted negatively by remote learning. Additionally, transmission is more likely to occur at home or in the community," said Katherine from Milton. "We owe it to our students to provide a safe environment. That will mean mandatory masks (at this time) and robust testing. Test and stay programs have worked well in many communities. Remote learning has not been successful and we must provide in-school learning for our students."
Do you agree with the students calling for a remote school option?
Yes.
No.
Other
William Hu, a senior at Boston Latin, started a petition calling on the state to allow school districts the option to provide remote learning which has garnered more than 13,000 signatures.
Hu told Boston.com that he and his peers aren't asking for schools to be completely shut down, but for the governor and state education officials to allow districts the option to provide remote learning when needed.
"Some students just can't learn in a remote atmosphere and I cannot diminish nor disregard their feelings about this. That's why I emphasize the importance of an option," he said. "Let's say just 30% of the school goes remote. That clears up so much space that relieves pressure on so many resources within the school for school support and physical space."
A teacher living in MetroWest who responded to the survey said their students are frequently out of class because of COVID and even those with mild cases are losing instruction because of the lack of flexibility.
"Probably 10% of each class is out sick. And they can't participate online? Some are flat-out sick and should be in bed, but at least one student only had a loss of smell. He should've been allowed to attend virtually if he wanted to."
"The state has been a day late and a dollar short this whole time," the teacher said. "I can't quite say it's their fault, but the problem is when students go to the trouble to stage a walkout, they have something they really need. Adults should pay attention."
Readers who said they agree with the student protests said it was important not to discount their opinions just because they're young.
"Hu is right. They're the ones there, and as much as they're children, they should be allowed their voices and their say," said DD from Somerville. "Letting a portion of students who are able to function remotely go remote will reduce congestion and increase safety. Just because they're young doesn't mean they're wrong!"
Below you'll find responses from readers who shared how they feel about students calling on the state to allow for a remote learning option as the pandemic continues on, whether they agree with remote learning or not.
Responses have been edited for length and clarity.
Do you agree with the students calling for a remote school option?
No.
"I do respect the students' opinions but I disagree with the remote learning. Students need some structure in their lives. This is an opportunity for kids to do less and less. As for the teachers, they know this and should be ashamed of themselves." — Thomas C., Boston
"Children do not learn well in a remote environment. When I was young I would have used the pandemic to stay in my jammies while my parents were at work. Most kids won't motivate themselves to do the work needed to compete with the standards we, as a society, have set for public education. They've already suffered enough in terms of education for the last years. This is made worse in communities of color that already were experiencing educational disparities." — John, Quincy
"So many students from low-income families are either not able to study remotely or don't have the stable household to do so. Students should stay in school. We will get through this." — Philip W., Boston
"It's great they can find their voices! In my view, the options to reduce the risk of COVID (masks, hand washing, etc.) should be used to keep kids in the classroom." — Martin, Milton
"Kids belong IN school. It's for social and educational reasons. Additionally, parental supervision during the day is often lacking due to very few children having a stay-at-home parent. While it is important for students to learn and be involved, they are children and their minds are still developing. They don't pay taxes and aren't of a legal decision-making age either. Studies showing educational decline are evidence-based since remote school began, and they support kids being in school. Students all learn differently, and an in-person teacher has the ability to adapt to students and make sure the lesson is being understood. If a student has a health issue that does put them at risk, the school should work with them, but the remainder of kids belong in school." — Nonny, Allston
Yes.
"There needs to be a recognition that one size does not fit all. For some students in person is the best option but when there is a lack of teachers and staff due to the omicron surge, real teaching may not be happening. For other students, fear of catching COVID or exposing family members may outweigh the benefits of going in person at this time. Baker needs to be empathetic to the needs of all students and staff during this particularly difficult period." — Brooke, Boston
"I understand the students' frustrations and fears. These young people have been told for almost two years by Mass. state officials and DESE that catching COVID is about the worst thing that could happen to them, both for potential effects to their own health (so-called long COVID) and because of the possibility that they could spread it to vulnerable people in their lives. Last year a single case in your class would keep you home for weeks at a time. Now our schoolchildren are surrounded by classmates contracting COVID and they're being told to continue as normal. It's going to take time for them to absorb the new messaging surrounding personal and community risk and, in the meantime, some students and families are still really uncomfortable with in-person school while clearly, in-school transmission is occurring." — Karen, Norwood
"They make a good point. The option allows for both students and teachers that may be vulnerable a way to stay safe. At the same time, it makes in-person learning safer as well. Flexibility is the only sensible way forward." — Nichole, Everett
"Universities and colleges have built foundations around online and hybrid learning for over 15 years now. It's time we move our public schools into accepting what already exists. Students interact with their educational programs almost 24/7 now via online tools. My children are frequently tasked with having assignments completed and turned in online by midnight on Friday and Saturdays. Snow days no longer exist with interactive communications for assignments continuing throughout the day. It's time to break away from the idea of a school day and move towards the needs of all students to get equal access to technology. A new model needs to be built around brick-and-mortar education with the virtual classroom. Our educational leaders need to progress beyond the idea of a school day and more into educational models that support the educational, social, and technological needs of our children." — Steve, Easton
"Good for them! It's absolutely their right to request that the governor respect their safety and that of their families. Forcing students to attend school during a pandemic is just reckless. The governor has shown complete inflexibility on policies made months ago, before omicron. I hope the students continue to ask for remote learning until their voices are heard." — Ellie, Lexington
Boston.com occasionally interacts with readers by conducting informal polls and surveys. These results should be read as an unscientific gauge of readers' opinion.