Tell Us
Readers: What's the best pizza in Greater Boston?
Thin crust or deep dish? Santarpio's or Pizzeria Regina?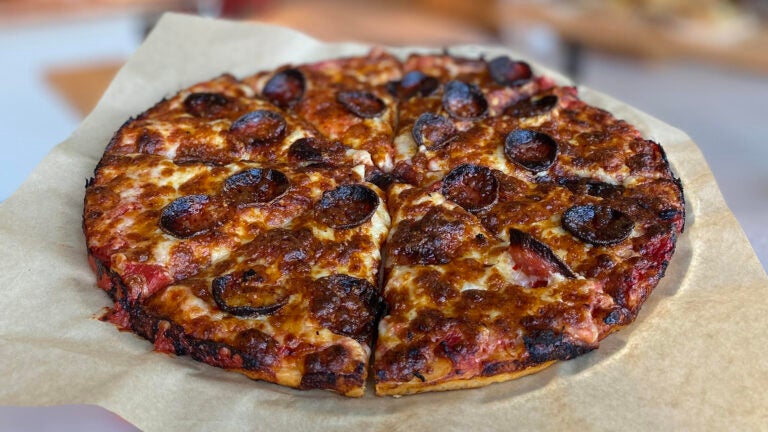 National Pizza Day is coming up in just a week and in celebration of one of America's favorite foods, we want to know which Boston pizzeria has the best slice.
It's fun to debate toppings — Boston.com readers prefer pepperoni over all else — but when deciding on the best pizza, one of the first things you've got to decide is your preferred style of pizza.
New York thin crust is what comes to mind when most people think of pizza. They're big, flat pies made with a thin crust and typically sold by the slice at your typical pizzeria.
Sicilian style is also commonly found in neighborhood pizzerias. The square slices originated in Sicily and are perfect for those who like a bigger chew in their crust to sauce ratio. For lovers of deep-dish, it doesn't get more quintessential than Chicago-style, which is layered to the brim with mozzarella cheese, toppings, and sauce.
If you're Boston-born and bred, when that late-night craving for pizza hits, your mind may be on some less widely known but much-beloved local styles. Bar pizza, Greek-style, and beach-style pies are all local to the area.
While bar pizza has started to expand to other parts of the region in recent years, the South Shore did it first and continues to do it the best. The pies are known for their thin crust and generous amounts of cheese.
Greek-style looks similar to a New York slice — albeit with a thicker crust — but the key is in the preparation, which uses typically requires more olive oil and is cooked in an electric rather than brick oven at a lot of Boston-area restaurants.
Lastly, we have beach pizza which actually originated in Lawrence. This easily accessible pizza is cooked in sheet trays with a thin crust and traditionally goes light on the cheese unless you like yours with that classic ring of provolone.
What's the best style of pizza?
Massachusetts is actually one of the best pizza states in America, according to Food & Wine, which gave the honor of best pizza in the city to Santarpio's in East Boston.
What do you think is the best pizza in Greater Boston? We want to know where you go to get a slice or whole pie, and what you order when you do. We'll put your reader recommendations together ahead of National Pizza Day so you know exactly where to go to satisfy your appetite when the day comes.
Let us know what you think by filling out the survey below or emailing us at [email protected] and we may feature your response in a future article.
Where is the best pizza in Greater Boston?