Boston.com
Dead man found in Gulf of Mexico in 2002 identified 19 years later as Massachusetts resident
After a 19-year investigation, the Collier County, Florida, Sheriff's Office has identified a man whose body was found in the Gulf of Mexico as Edward Lorenz Richard from Spencer, Massachusetts.
Richard was found in the water near Naples, Florida in 2002, according to a Facebook post from the sheriff's office. 
Richard, who was 49 at the time of his death, was found dead and floating face up near the shore 1.5 miles north of Doctors Pass on May 3, 2002. The cause of death was classified as undetermined by medical examiners. Detectives could not determine the identity of Richard either, as there was no identification on him at the time of his death, according to the sheriff's office. 
For almost two decades, detectives on the case attempted to identify Richard, comparing fingerprints through the Florida Department of Law Enforcement database and the National Automated Fingerprint Identification System, the sheriff's office said.
Richard's DNA profile, dental information and fingerprints were also added to the National Missing and Unidentified Persons System (NamUS). 
Investigators at the Collier County Sheriff's Office turned to the public in 2018, once again to attempt to identify Richard, the Naples Daily News reported. An updated facial reconstruction was also released by the detectives.
Richard was finally identified on Nov. 23, 2021, when there was a positive match between his fingerprints in the NamUS database and his military personnel file in the Department of Defense National Archives, according to the sheriff. His fingerprints had been documented on an Armed Forces personnel file on Nov. 15, 1972, when he had enlisted. 
Prints from unidentified people in the NamUS database were recently made available to the FBI for comparison, which is how the fingerprint comparison was finally possible, according to the sheriff's office. 
Richard's brother and adult son, who reside in Massachusetts, were located and notified the following day by detectives on the case. According to family members, Richard had left on a bus from Massachusetts to Florida 20 years before his death in 2002, leaving behind all of his identification cards with family.
His family never heard from him again, the sheriff's office said.
Newsletter Signup
Stay up to date on all the latest news from Boston.com
Carles Gil named Major League Soccer MVP
After a year in which he led the league in several major statistics and was literally central in the Revolution's record-setting regular season, it was with little surprise that Carles Gil was named the 2021 recipient of the Landon Donovan Major League Soccer MVP Award on Tuesday afternoon in a ceremony at Gillette Stadium.
Gil, 29, led MLS with 18 assists during a remarkable campaign in which New England won the Supporters' Shield for the first time in club history and finished with a new league-high mark of 73 points. The Spanish playmaker scored four times and also led the league with 117 key passes, far ahead of Minnesota United's Emanuel Reynoso, who was a distant second with 88.
Yet it was at a more basic level at that Gil, New England's captain, made his mark as the league's most valuable player. He frequently recorded more touches on the ball in games than anyone else, influencing the pace, intensity, and flow of play, tilting the proceeding in the Revolution's favor.
Gil missed much of the 2020 season with an Achilles injury, and as a result, had already won the 2021 Comeback Player of the Year Award. Now, the 2019 Newcomer of the Year has yet another trophy to add to his growing collection (which also includes selection in league's year-end Best XI).
Still, New England's glittering season came to a crashing halt in the Eastern Conference Semifinals on Nov. 30. Bruce Arena's team lost at home to New York City FC on penalty kicks after extra time resulted in a 2-2 deadlock.
And yet, Gil's accomplishments take their place alongside other club legends. He is the second Revolution player to win MVP after forward Taylor Twellman won it in 2005 having scored 17 goals in 25 games.
Get the latest Boston sports news
Receive updates on your favorite Boston teams, straight from our newsroom to your inbox.
Cyclist struck by Amtrak train in Cambridge
A cyclist was struck and and injured by an Amtrak train Monday evening in Cambridge, according to the Cambridge Fire Department.
Officials said the train was going through the railroad crossing on Binney Street when it collided with the cyclist.
The fire department, police, and emergency medical services responded to the scene, where the injured cyclist was initially treated. The cyclist was then transported to a hospital for treatment of their injuries.
The cyclist's condition was not released by officials, according to WCVB. 
Amtrak told the news station that the cyclist was trespassing on the tracks and that no passengers were onboard the train, which was traveling from North Station to South Station, at the time of the incident. 
Newsletter Signup
Stay up to date on all the latest news from Boston.com
Malden charter school gives short notice to tenants to leave after purchasing properties
A group of tenants in Malden was told they must vacate their homes by the end of the year after the Mystic Valley Regional Charter School purchased a block of properties it is eyeing for a future expansion project.
One of those residents, Tatiane de Oliveira, told NBC 10 Boston she has lived in her apartment building for 15 years, but received notice only last month that she and her family must be out by Dec. 31.
The mother of two said she "got desperate" when she received the notice, and noted to the news station that finding a new place to live is only half of the challenge she faces.
Paying for the costly expense of moving is another issue.
"What they are doing is not what we do to other human beings," de Oliveira told the station.
Businesses below the apartments in Maplewood Square were given permission to stay until spring of 2023.
"Many of these businesses, they're just having a tough time surviving through COVID, let alone worrying that someone is going to kick them out," Malden City Councilor Stephen Winslow told NBC 10 Boston.
Laura Rosi, of Housing Families in Malden, said the tenants involved require more time to plan their next steps, according to the news station.
"They were given notice that they have to be out by the end of the year, but there's a whole legal process that the landlord's going to have to follow to get people out," Rosi said.
According to a statement from the charter school obtained by NBC 10 Boston, in the time since the school purchased the properties, "the City of Malden has taken actions that have cause the school to accelerate the interim steps it must take in anticipation of 2023."
"While the school issued Notices to Quit to the residential tenants as an initial step, MVRCS has not undertaken the second step required, which is the filing of a summary process action in the district court," the statement continues. "Malden City Councilor At Large Craig Spadafora recently contacted the school to facilitate constructive and solution-oriented dialogue. MVRCS looks forward to collaborating with Councilor Spadafora in hopes that we can arrive at a favorable solution."
According to the news station, the tenants are trying to determine next steps and hope they can get more time to move.
Newsletter Signup
Stay up to date on all the latest news from Boston.com
Peyton Manning said preparing for Bill Belichick, Patriots' defense 'exhausted' him
Half the fun of Monday Night Football these days is tuning into ESPN2 and listening to Peyton and Eli Manning nerd out about football on the "Manning Cast." The Patriots got their turn to be under the Mannings' well-trained eyes during the team's physical win over the Buffalo Bills, and it didn't disappoint.
Both Peyton and Eli have had their share of high-profile tussles with Bill Belichick's squad in the last 20 years. So naturally they have some solid insights into what it takes to beat a Belichick-coached Patriots defense.
The most important key? Be ready for anything.
"They give you multiple defenses on any given play," Peyton said on the broadcast. "They can be in a 4-down even front, a 3-down odd front. Every single play, you are working. Every time I played the Patriots, I was exhausted after the game, because on a 1st-and-10, 2nd-and-1, you were having to identify what the front is: 'Hey, it's an odd front, it's an even front, who's the "Mike" [linebacker]? It's a lot."
The former Colts and Broncos legend, who played the Patriots 19 times in his career (6-13) and frequently vied with Brady for supremacy among NFL quarterbacks, even revealed his teams would often practice the same play multiple times to simulate the different looks Belichick's defenses might throw at him.
"They do it on purpose. They do it because they can do it," the elder Manning added. "They have the flexibility…But they also do it because it makes you think a lot during the week and it makes you repeat each play you run in practice twice, once against even the even front once against the odd front…It's a pain. I'm not gonna lie."
Eli had a bit more success than his brother in foiling the Patriots, stealing Super Bowl titles in 2007 and 2011 as a heavy underdog with the Giants. But like Peyton, he acknowledged preparing for that undertaking was no easy task.
"They do a good job," Eli said. "They're very multiple. They mix it up week-to-week. You can game plan for certain things. But you might get something totally different on game day.
"They have smart players. They're obviously well-coached. But they can do a lot of multiple things. They find out what your strengths are and try to stop those things."
Belichick and the Patriots have proven that more than ever this season. After starting the year playing a lot of man coverage, they have since switched to a heavy zone-based scheme to take away deep throws and rely on their front four to generate pressure.
But with the awful weather conditions in Buffalo Monday night, the Patriots crowded the line of scrimmage and challenged the Bills to beat them in man coverage on crucial downs. The result: 10 points allowed and two late red-zone drives turned away to preserve the win.
No matter what defensive scheme New Englend has deployed during this seven-game winning streak, it's worked to devastating effect.
Maybe it's no wonder Mac Jones has been playing such solid football to start his season: he has to practice against the toughest defense in the league every day.
Sign up for Patriots updates🏈
Get breaking news and analysis delivered to your inbox during football season.
Take a look inside Guy Fieri's Boston Kitchen + Bar
Guy Fieri is putting his latest stamp on Boston, but it isn't in the form of another "Diners, Drive-Ins, and Dives" visit. On Thursday, the larger-than-life celebrity chef and restaurateur will open Guy Fieri's Boston Kitchen + Bar in conjunction with Big Night Entertainment Group (BNEG).
This is the second Boston restaurant that the mayor of Flavortown and BNEG have worked on together; the first, Guy Fieri's Tequila Cocina, debuted at The Hub on Causeway in 2019. (Fieri also partnered with BNEG when he opened Guy Fieri's Foxwood Kitchen + Bar at Foxwoods Resort Casino.) Their latest collaboration replaces Explorateur, which was located in an old Grand Masonic Lodge at 186 Tremont St. and closed in March 2020.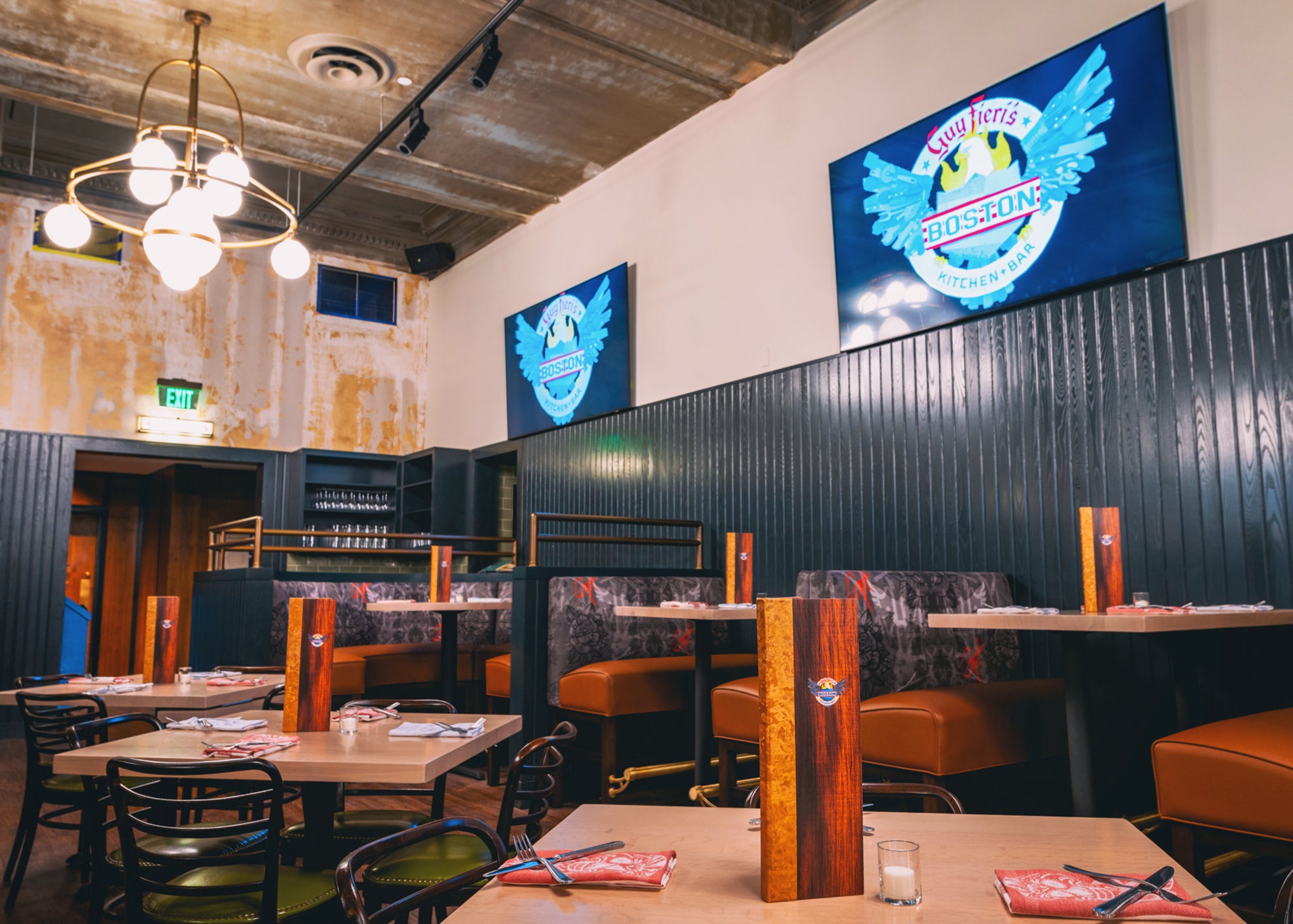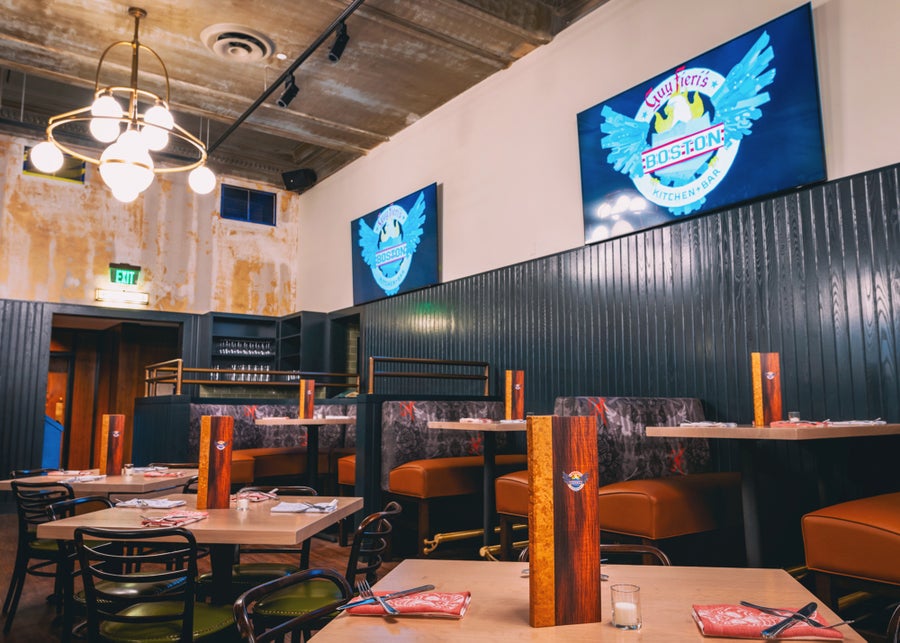 "After working hand-in-hand with Guy for years and forging a very close personal and business relationship with him, we are able to bring yet another Guy Fieri concept to Boston," Ed Kane, principal of BNEG, shared in a press release. "I live 100 yards from the front door and have such an affinity for the area. I am proud to be able to bring Guy's iconic food and Big Night's hospitality to the neighborhood."
Guy Fieri's Boston Kitchen + Bar has transformed the space into a colorful, comfort food-driven eatery, with olive green booths and a menu that features jalapeño pig poppers and pastrami egg rolls. Diners will recognize Fieri's famed trash can nachos from Tequila Cocina, along with dirty chili cheese fries, a selection of chicken wings, and "Big Bite Burgers and Sandwiches" that include the Primetime American Kobe burger, a hot pastrami grinder, and a lobster roll served with Cape Cod potato chips. There are larger entrées, too, like St. Louis pork ribs served with mac and cheese, Texas toast, and slaw; and buttermilk brined fried chicken drizzled with spicy honey. In short: You're not going to leave Guy Fieri's Boston Kitchen + Bar on an empty stomach.
Like Tequila Cocina, Fieri's new restaurant will offer a handful of margaritas, plus Guy's Famous BBQ Bloody Mary, a strawberry mojito, candy apple sangria, and an espresso martini. Beer and wine will also be available.
Earlier this year, Fieri told The Boston Globe that he considers Boston "a big little city with a mix of eclectic people."
"It's a fantastic beer town. Fantastic energy," he told the publication. "This restaurant, right near the Common, is going to add to the party."
When it opens on Dec. 9, Guy Fieri's Boston Kitchen + Bar will serve dinner Thursdays through Saturdays, with plans to add lunch in the future.
Guy Fieri's Boston Kitchen + Bar; 186 Tremont St., Boston; Thursdays–Saturdays from 4:30 p.m. to close; guyfieri.com/eat-at-guys/guy-fieris-american-kitchen-bar
Stay up-to-date on food news
Sign up for The Dish and get the latest food and restaurant news in your inbox.
The Patriots' message was clear: We're the favorites in the AFC
Welcome to the Unconventional Review, an instant reaction to standouts, stats, and story lines from the Patriots' game . . .
It's been clear for a few weeks now, maybe even a month, that the one-season respite is over for the rest of the AFC and the Patriots are again a team to be reckoned with in the playoff race.
On a wild and windy Monday night against the Bills, Bill Belichick and the Patriots delivered an even blunter message: We're the favorites here, you're not, and we'll gladly embarrass you to prove it.
The Patriots won their seventh straight game, their sixth without a loss this season on the road, and put a grip on the top seed in the conference with a 14-10 victory over the Bills – the defending AFC East champions – in which quarterback Mac Jones was required to throw just three passes.
The Bills entered the game with the NFL's sixth-ranked run defense at 96.6 yards per game. The Patriots ran for 96 yards alone in the first quarter, setting the tone for a night in which they'd run 46 times (on 49 offensive plays) for 222 yards and a touchdown.
The Bills knew what was coming. They couldn't stop it. It was humiliating, and if the humiliation wasn't entirely deliberate, it sure hit the Bills like it was. The home team did stay close. The Bills were positioned for a go-ahead score in the final minutes. But the Patriots' stout defense thwarted the effort. In the aftermath, the Bills acted like they'd just lost the Super Bowl.
The Patriots have collected many wins over the last 20-plus years that confirmed their collective smarts, toughness, and determination. But they've never had one that looked quite like this. Forty-six rushes, three passes, and immensely satisfying. What a flex, Belichick. What a flex.
Some further thoughts, upon immediate review . . .
THREE PLAYERS WHO WERE WORTH WATCHING
(Players suggested in Unconventional Preview: Devin McCourty, Matt Breida, Dane Jackson)
Myles Bryant: With do-everything safety Kyle Dugger out (COVID-19 protocol), the Patriots needed someone to emerge from the depth chart to aid fellow safeties Devin McCourty and Adrian Phillips. That player turned out to be Bryant, who made the game-clinching play, making a smart read to bust up Bills quarterback Josh Allen's fourth-and-14 pass in the final minutes. That Bryant was a hero in one of the final scenes was a kind of justice. In the third quarter, he was called for an absolutely ridiculous unnecessary roughness penalty when he hit Allen as he bounded toward the first-down marker on third and 7. The penalty put the ball on the Patriots 20, and the Bills kicked a field goal, cutting the Patriots lead to 11-10. The 3 points were an early holiday gift to the Bills.
Davon Godchaux: Rookie Christian Barmore has been getting deserved notice for his knack for making destructive plays at the line of scrimmage and in the opposing backfield. But Godchaux has been a force in recent weeks as well, never more so than Monday night. He put a hurting on the Bills' running backs from beginning to end, from rushing Devin Singletary on the second play of the game to stopping Zack Moss in the fourth quarter on first and goal from the 6-yard-line for no gain. The hit on Moss set off a sequence in which the Bills burned a timeout on second and 6, saw Matthew Judon sack Allen after the quarterback tripped over his own blocker, threw the ball away on third down because Allen thought he had a free play, and to punctuate it all, missed a field goal. Godchaux finished with a game-high 10 tackles while the Bills gained just 99 yards rushing on 25 attempts. Might want to start mentioning his name when we discuss the Patriots' various savvy free-agent pickups last offseason.
Nick Folk: We probably could have used this spot to salute the entire offensive line. But we have to give the nod to Folk, who on a night when wind gusts hit 55 miles per hour remained his usual dependable self. Folk hit a 41-yard field goal early in the second quarter to put the Patriots up 11-7, then salvaged a 14-play drive in the fourth quarter with a 34-yarder knuckleball to make it 14-10. Tim Wakefield's pitches in the summer of '95 didn't have as much movement as that kick.
GRIEVANCE OF THE GAME
N'Keal Harry had some nice moments Monday night. No, he did. He helped spring Damien Harris for his 64-yard touchdown run in the first quarter, and even had a nice block on Brandon Bolden's 2-point conversion run. But with a little over 2 minutes left in the first half, he stayed in the vicinity of a Bills punt long enough to have the ball bounce up and nick off his helmet. The Bills recovered at the Patriots 14, and on the next play Allen found Gabriel Davis for a touchdown. I have questions: What was Harry, who has never returned a punt in the NFL and is essentially a backup blocking tight end at this point, doing out there as a returner. And how did he not hear the cries of thousands upon thousands of Patriots yelling in unison, "What are you doing?! Get away! In the name of Chris Harper, get away!" as he inexplicably danced around the ball?
MATCHUP
Patriots running game against Bills run defense
What else would it be? The Patriots ran 46 times, including 32 straight running plays at one point. Damien Harris ran 10 times for 111 yards, including a 64-yard touchdown burst on a third-and-5 carry in the first quarter. Rhamondre Stevenson didn't get his first carry until 1 minute 55 seconds remained in the first quarter, but lugged the ball 24 times for 78 yards, becoming the workhorse when Harris was sidelined with what appeared to be a hamstring injury. ("This is a special, special back,'' said ESPN's Louis Riddick of Stevenson.) Much of their work – we should also note Bolden had 28 yards on four carries – came with the Bills stacking nine or 10 players in the box. This was a test of wills, and the Patriots won it with ease.
THREE NOTES SCRIBBLED IN THE MARGINS
Allen finished just 15 of 30 for 145 yards and a touchdown, but his ability to zip passes through the wind was impressive. It is surprising the Bills didn't design more runs for him, though. He was the Bills' leading rusher with 39 yards … Stefon Diggs made the catch of the game, a 26-yarder in the fourth quarter, but J.C. Jackson, with an assist in coverage from the wind, held him to four catches for 51 yards … Mark it down: Mac Jones is going to throw for 300 yards in the teams' second meeting on Dec. 26. Maybe 325. On more than three passing attempts, obviously.
Sign up for Patriots updates🏈
Get breaking news and analysis delivered to your inbox during football season.
Patriots await injury updates on Damien Harris, Adrian Phillips
Even the best wins sometimes contain some bad news, and the Patriots' Monday night thriller — if that's what we want to call it — against the Buffalo Bills was no exception.
New England lost two key players, running back Damien Harris (hamstring) and safety Adrian Phillips (knee), to injuries in Monday's 14-10 road win. Both left the game in the second half and didn't return.
Harris appeared to tweak his leg just before halftime and jogged to the locker room as the second quarter waned. Though he came out with the team after the break, Rhamondre Stevenson started the third quarter at running back.
Harris then ripped off a 22-yard gain on his first carry of the second half but came up limping at the end of the play. He did not return after that.
It's worth noting, though, that the third-year running back out of Alabama spoke to the media after the game, which usually means a player isn't too badly hurt. He'll also have 11 days to recover and get back on the field, assuming the injury isn't too serious. Hamstring injuries can be tricky to assess, especially for skill players like Harris.
If Harris is limited, the Patriots will be more than okay giving the ball to rookie Rhamondre Stevenson, who has been excellent this season.
Things are less clear where Phillips is concerned, however.
The veteran safety went down after making a pass breakup on Dawson Knox on third-and-long with about two minutes left in the game. But the injury appeared to take place in the aftermath of the play; Phillips originally got up and looked fine as he celebrated with teammates.
The Patriots' defender got off the field with assistance before New England finally closed the door on Buffalo with a fourth-down stop.
The team has not yet provided a status update on Phillips, but NFL Network's Mike Giardi noted team doctors administered the "ACL test" on the defensive back's knee to determine if he'd sustained a tear.
Phillips later tweeted out "THANK YOU GOD!!" on his personal page, suggesting initial diagnoses didn't detect a season-ending ACL injury. He might still undergo further testing that could alter his outlook, but the news seems positive for now.
A lingering injury to Phillips, who's been one of the team's best defenders this season, would hurt the Patriots during their now-full-fledged pursuit of a playoff bye. But the defense might also get young safety Kyle Dugger back from the Reserve/COVID-19 list as they wait during the bye. Dugger did not play on Monday night.
With any luck, though, the Patriots will be back to full strength — Phillips included — when they take on the Indianapolis Colts in Week 15.
Sign up for Patriots updates🏈
Get breaking news and analysis delivered to your inbox during football season.
'With all due respect, it's not a Bill Belichick-type thing': Bills' coach, players frustrated after loss vs. Patriots
The Patriots wore down the Bills in a snowy, windy 14-10 win on Monday night. New England ran the ball 46 times, electing to attempt a pass on just three occasions.
With the win, the Patriots head into a bye week as the top team in the AFC after starting the season 2-4.
Elsewhere, the Celtics face the Lakers tonight in Los Angeles at 10 p.m.
Sean McDermott's quote on Bill Belichick: After his team lost to the Patriots on Monday, Buffalo head coach Sean McDermott was asked about the "psychological component of coaching against Bill Belichick, especially when he's doing something like that, just running the ball constantly."
"Let's not give more credit than we need to give credit to Bill Belichick in this one," McDermott replied. "Whether it's Bill or anybody else, they beat us. You sit here and you tell me when we start with the average starting field position at the 40-yard line and he starts [at] the 23-yard line—I'm rounding up in both cases—and we were 1-4 in the red zone, and they were 0-1 in the red zone. You give me that ahead [of the game], I'm sorry, I like my chances.
"With all due respect, it's not a Bill Belichick-type thing," McDermott continued. "It's, 'What are you doing with the opportunities you've got?'"
McDermott added that Buffalo's mistakes amounted to "sloppy football," which he blamed for the loss more than Belichick's influence on the game.
Bills players also expressed a level of frustration after the game. Buffalo safeties Jordan Poyer and Micah Hyde were asked if they found it "embarrassing" to have lost to a team that ran the ball more than 40 times.
"What kind of question is that?" Poyer replied.
"What are we doing bro?" Hyde asked.
"We made stops when we had to, they had one big run," said Poyer. "I mean they [have] good backs. They kept coming back to a couple runs. I mean I don't know how you want us to answer that question."
"We'll remember that," Hyde said of the question.
As he was leaving the press conference, Hyde addressed Jerry Sullivan, the Buffalo reporter who had asked them the original question.
"This is all about respect," Hyde said to Sullivan. "I come here every single week and I answer your questions truthfully, honestly. I appreciate you guys. Don't do that."
"In my day, players answered that kind of question," Sullivan responded.
He followed up with a tweet further criticizing Hyde and the current restrictions on media access.
The Bills, now 7-5, will travel to face the Buccaneers in Week 14.
Trivia: Damien Harris's 64-yard touchdown run was the longest by a Patriots running back in the regular season since 1997. What running back had a 70-yard touchdown run that year?
(Answer at the bottom.)
Hint: He was drafted out of the University of Pittsburgh.
More from Boston.com:
Julian Edelman's take on the Patriots' game plan:
Former NFL executive Gil Brandt had a timely reminder during the Monday night game: The specific game Brandt referenced was New England's 59-0 blowout of Tennessee in a snowstorm.
On this day: In 1937, the Red Sox acquired a "string-bean 19-year-old outfielder from San Diego" named Ted Williams.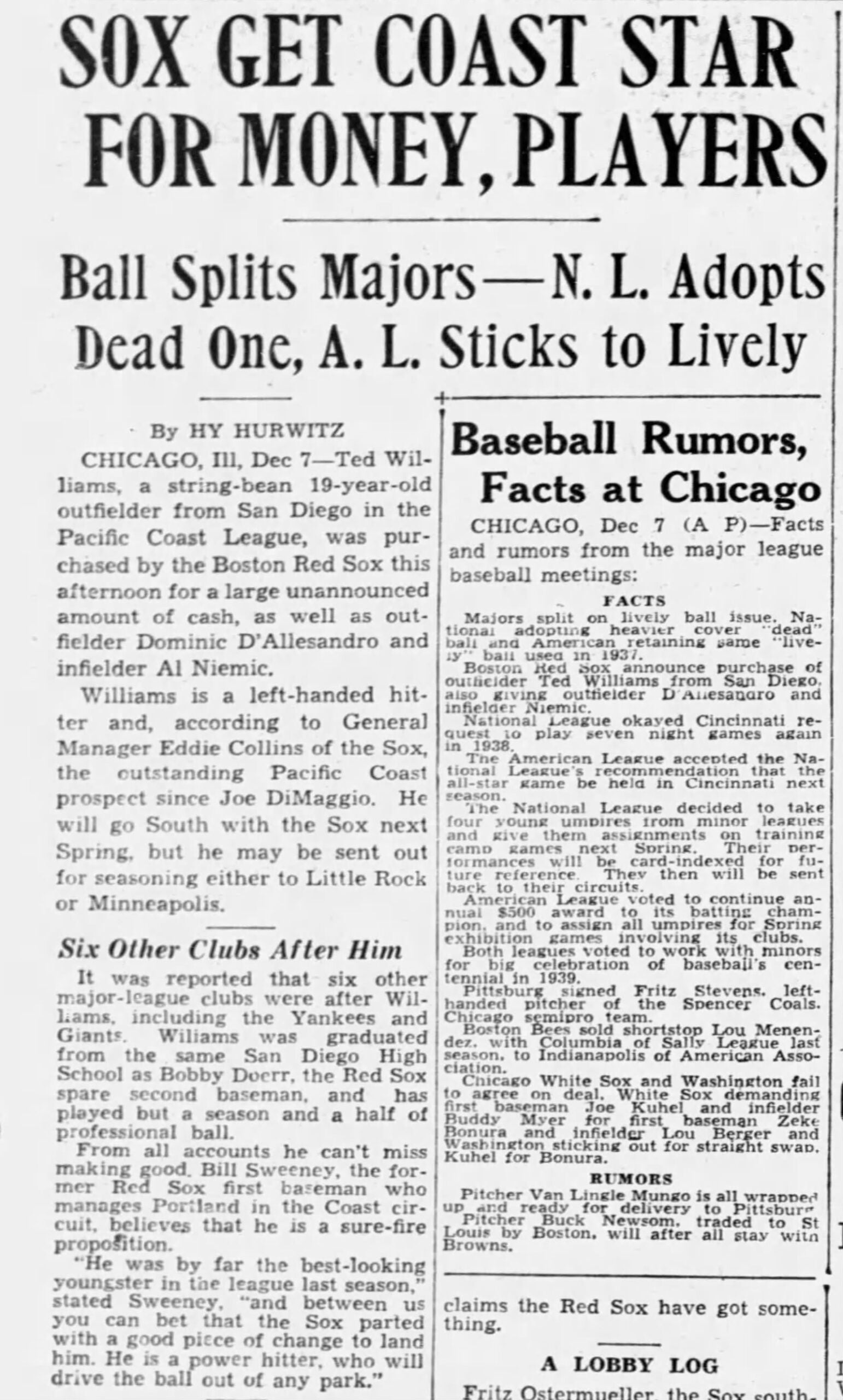 Daily highlight: With the game against Arsenal tied at 1-1 in stoppage time, Everton winger Demarai Gray cut inside and struck a perfectly hit shot off the post and in for the winning goal on Monday.
Trivia answer: Curtis Martin
Newsletter Signup
Stay up to date on all the latest news from Boston.com
UPDATE: Transit police arrest man who allegedly committed 'lewd act' at T station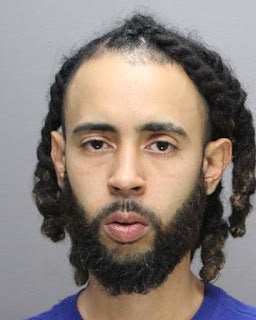 Update: Transit police have since made an arrest in this incident. Adonis Valenzuela, 27, of Boston, was arrested by transit police at his home. He allegedly tried to escape out the back door of his home, but a transit officer was there waiting for him, police said. He was taken into custody.
––
Original story:
Transit police are asking for the public's help in identifying a man who allegedly committed a lewd act at the Tufts Medical Center station.
Around 7:40 p.m. Sunday, police said the man allegedly committed the lewd act, "leaving behind his DNA."
"This behavior was performed in full view of numerous shocked and horrified passengers," transit police said.
If anyone knows this person, or where they are, they're asked to contact the transit police's criminal investigations unit at 617-222-1050, or by sending an anonymous text to 873873.
Newsletter Signup
Stay up to date on all the latest news from Boston.com