Animals
Meet the Franklin Park Zoo's baby goat, Chewbacca
There's a new kid on the block.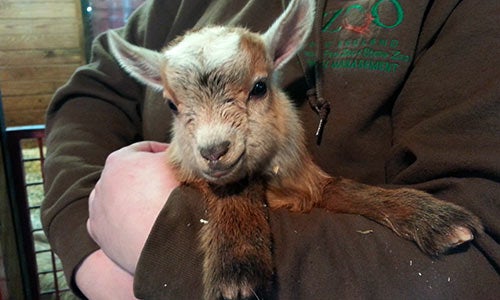 There's a new kid roaming the grounds of The Franklin Park Zoo: a Nigerian dwarf goat kid, that is.
She's been named Chewbacca and was born at the zoo's Franklin Farm Tuesday morning.
"We are thrilled to share the news of this birth and we hope people will stop by during this school vacation week to see this adorable new addition,'' John Linehan, Zoo New England president and CEO, said in a press release.
Chewbacca weighs about four pounds and appears "bright, alert, and active'' according to the release.
Nigerian dwarf goats are known for their wide range of color patterns and their easygoing temperaments.
See Chewbacca (and her mom, Leia, and dad, Lucky) at the Franklin Park Zoo or swing by the Stone Zoo where, during February vacation week, visitors can also suggest a name for the zoo's colobus monkey baby, born this past October.
Gallery: Zoo babies around the world
[bdc-gallery id="108446″]
This post has been updated to reflect the fact that the colobus naming event is held at the Stone Zoo.