Animals
A tour bus of pets will be parked in the South End today and tomorrow
On April 14 and 15, the North Shore Animal League America's Tour of Life will spread cuteness in Boston.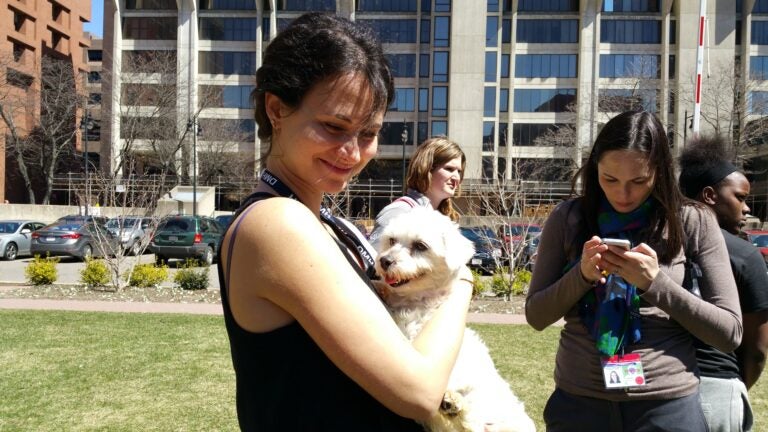 A tour bus full of dogs and cats is stopping in the South End today, and you can pet them at no cost whatsoever.
The North Shore Animal League America's sixteenth annual Tour for Life is stopping outside the Boston Medical Center on Thursday, April 14, and Friday, April 15 from 10 a.m. to 2 p.m. That tour will bring a bus full of puppies, kittens, cats, and dogs to the people of Boston, giving folks pet therapy at the end of the work week.
The Tour for Life was originally designed to encourage folks to adopt pets, rather than buy them.
The NSALA partners up with local animal rescue groups to facilitate adoptions, allowing shelter pets from each state to hop on their "mobile unit" and take a trip into more populous areas in the hopes of finding a forever home.
Or, at the very least, bringing pet adoption to people's attention.
The Boston stops are free and available to the public, which means if you can get to BMC on your lunch break, you line up to pet a critter. And you will most likely line up, according to Kathleen Lynn, the Director of Communications at NSALA.
Lynn remembers past years in which locals flocked to the Tour for Life, especially the first tour that was held after the Boston Marathon Bombings in 2013—the same year that the NSALA formed a relationship with Boston Medical Center, according to Lynn.
"There was a line of people waiting to come through and hold the puppies, just to have a little escape," she said.
This year, pets from three local shelters (Buddy Dogs, No Barking Around, Guardian Angel Cat Rescue) will participate in the Tour for Life. Animals from the NSALA will be there, too, and all of the critters are eligible for adoption. The tour is less than halfway complete, and over 1,000 pets have already been adopted nationwide. But if you're not looking to adopt, you can just show up to soak up the cuteness.
"We are there to bring puppy love," Lynn said.
For more details about the location of the event, visit the NSALA's website.