Animals
Photos: Over 100 spotlight-worthy 'presidential' pets from Boston.com readers
Readers submitted cute and funny photos of their beloved dogs, cats, bunnies, 'skinny pigs,' and one palm cockatoo.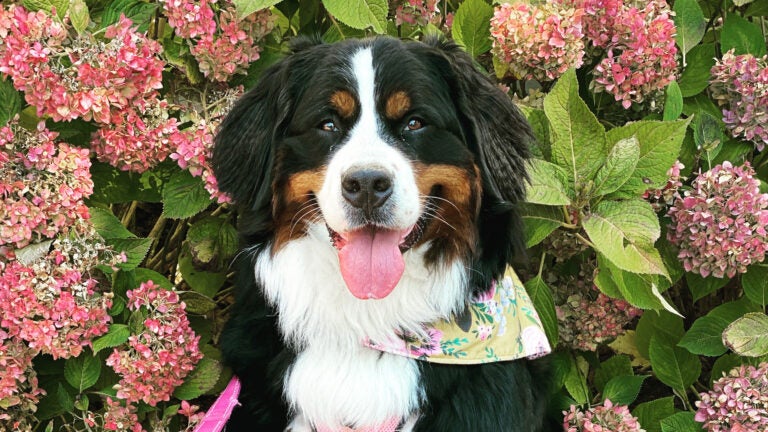 Last week, to mark the return of dogs into the White House with President-elect Joe Biden's two beloved dogs, Champ and Major Biden, we asked Boston.com readers if their pets were just as worthy of fame. Major Biden will also be the first rescue dog in the White House. To no surprise, readers, over a hundred of them, delivered their cutest, furriest, and most cherished pets. Here are all the pets submitted, shown off by their owners,  who seem to love them very much.
Some submission captions were edited lightly for clarity and grammar. 
Albert Einstein, the Pekingese
Jax, the plant-loving Basenji
Coco, a pup that's come along way
Moose and Duncan
This sweet gal, Annie
Wilfork, the 8-month-old rescue
Benny, a Brookline pup
Astrid, a 6-year-old cat
Aloysius, a multi-colored 10-year-old
This yawning boy, Beanie
This blue-eyed Bruins fan, Ruby
Molly, the Briard
Ludo the poodle
Baxter, a goofball that snores loud and has a need for scattering the seagulls
A lovebug named Cooper
Looch, a cat named after former Boston Bruin Milan Lucic
Dunkin, this best buddy named after New England's favorite coffee brand
Buttermilk, the sweet rescue
Hobbes, a three-legged cutie
Stella, a local celebrity
Enzo, who likes the snow
Cody, age 7
Peachy the cat, who may or may not have sent in her own spotlight submission
A spoiled whiner, Dunkin
Rico, new in town, but fitting in right at home
Dashing boy, Spruce
Bunny, with sweet eyes
These bunnies, suited for the spotlight, fans of civic duties
The inseparable, Kaylen and Otto
Best boy, Murphy
Jack, an informed cat
Heartwarmers Nikko and Quinze
This playful pup Hanks, named after Tom Hanks
Ace, an inspiring rescue
Mello, the sleepy pup whose bonds with his owner was love at first sight
Sadie, a virtual therapy dog-in-training.
Bailey, a local in Quincy
Bemo, the fearless husky
Chester, a wise guy
A 'floofy boy' named 'Guy'
Layla in the South End
Oliver, lover of squeaky toys
Ponkan the pom
Joe and Champ, best buds
Honey, a sweet pup
Gizmo the Basenji/Beagle
Moki in Wayland
A 'snugglebug' Ponyo
Annie, the 'Morkie'
Dixie and Chloe, ambassadors for rescue success
Adventurous Camden, named after Camden, Maine
Cheese lover, Leo
Barney, a Beagle/hound mix from West Roxbury
Spoiled pair Luke and Leia
Kayla, who was adopted from the MSPCA in Jamaica Plain
Bennie, the 4-month-old in Swampscott
Kira, who rescued her family in return
Lola
Fur-babies Lulu and Finn
Model 'Finn The Ferocious'
A dog named Snoop Dogg
Merlin, the Maine Coon curmudgeon
Beloved, queen Lucy
Chance, a blood donor for in need cats
Tipitina, the kitten
Canine first lady, Olivia
Casey, friend to all
Bentley, a 10-and-a-half year old Shih Tzu
A 43-year-old Cockatoo, Palmer
Patriotic Fauci, named for Dr. Anthony Fauci
The happy and adventurous, Tobey
Magical Millie
10 years young, Oliver the English Setter
Luna Princess Tuna, pictured on the right
Bear and Chloe, rescued siblings
Skipper, a pandemic puppy
Cooper, a New Hampshire family man
Zoom call assistant, Ciaran Eamon
Jet, a patriotic black lab
Wily Mo, a cute Boston terrier in Natick
Peanut butter lover, Charlie
Mouffette, a multi-colored cat
Willie, a well-traveled Yorkie
A TV fanatic named Maddie
Berry, the 15-month-old lab in training
Gelato
Ace Lobo and Max 'voted'
Festive Phillie, a cat in Somerville
Merlot, or 'Lo' for short
Ring bearer, Frankie
Basset Hound sisters Cate and Megan
Head-tilting cutie, Meli
Dapper boy, Notorious C.A.T.
Lily, 10-year-old Cockapoo
Phoebe Caulfield Swain, stylish Havanese
Two amazing 'skinny pigs'
Bishop, a star of his own
Wonderful pair Henry and Rosita
Siberian forest kitten, Sonia
Baby Josie
Miles, the Airedale terrier
Bailey, a smiling rescue in Wayland
Khan, a 'Shepski'
Blue Moon and Song in Connecticut
Winnie in Newton
7 month old Horton
Elvis the Irish
Winnie the Bernese Mountain Dog
Get Boston.com's browser alerts:
Enable breaking news notifications straight to your internet browser.