Animals
Meet the Middleborough horse that will only take her medication with Dunkin' jelly donuts
Zoe has become a bit of a star on TikTok in recent months.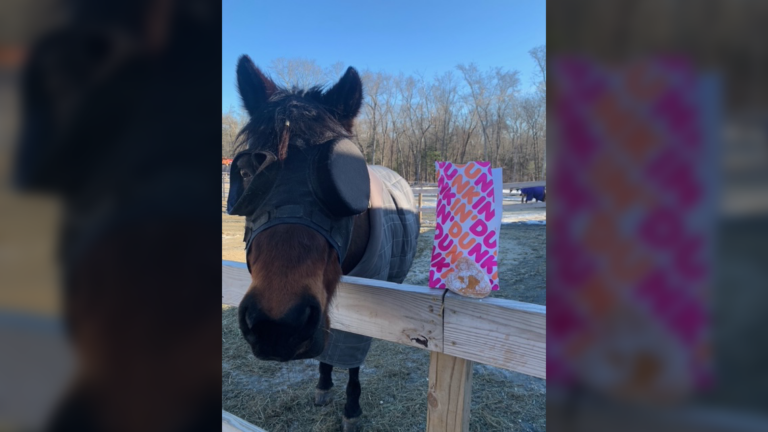 For many Massachusetts locals, no morning is complete without a trip to Dunkin'. That's the case for celebrity actors, elected officials, and one particularly picky horse.
Zoe, an equine resident of Bradford Stables in Middleborough, gets a jelly donut from the breakfast chain every morning. It's not just because it's a tasty treat for a good girl: Zoe needs to take dozens of pills every day because of an unknown tickborne illness, and owner Amy Bradford has found that stuffing the medication in a donut is the most effective way to ensure the horse gets better. And Zoe seems to have no complaints about the regimen.
"As soon as I leave in the morning, she stands by the fence waiting for the donut," Bradford said in a phone call. "The people at Dunkin' always say to tell Zoe 'hi.'"
Since around December, Bradford has shared regular updates of Zoe's daily snack to her popular TikTok account, which has close to 115 thousand followers and over 3.5 million likes on the platform. Though "jelly donut time" is short, it has proved a welcome respite for many fans.
The filmed routine quickly becomes familiar: Bradford typically starts the clip examining and stuffing the makeshift pill pocket before summoning Zoe. The hungry horse hoofs it to the barn and sticks her head through the window, chomping at the bit for her daily snack — the equine equivalent of a drive-thru. She quickly munches up the treat, often getting a little powdered sugar on her muzzle. Sometimes she sticks around, but Bradford always makes sure to remind the horse that she doesn't grow jelly donuts in the barn.
But Zoe is known to look a gift donut in the mouth. It has to be fresh and room temperature, and it absolutely must be jelly-filled. She was evidently not pleased with a cream-filled Valentine's pastry, and an attempt to add the pills as "extra sprinkles" to a strawberry frosted donut proved unsuccessful as well. (She did recently try to sneak a sip of Bradford's iced coffee, though.)
Zoe, whose registered name for shows is "A Lil Piece of My Heart," came down with her mysterious illness in late 2019. Veterinarians weren't able to make a conclusive diagnosis as she deteriorated through the spring and summer, losing most of her muscle mass within a month. It deeply impacted Bradford, who adopted Zoe six years ago from a sale lot and quickly forged a strong bond with what she calls her "heart horse."
"I thought she was going to die, she was skin and bones," Bradford said. "I literally was bedridden when she was wicked sick. My friend actually has more pictures [of Zoe at the time] than I do because looking at her was killing me."
The illness caused severe joint pain in the arthritic horse, who wouldn't lay down for months — a quick path to sleep deprivation. It also affected her left eye, which nearly had to be removed. Zoe has an IV sewn into her eye socket, so she wears an elaborate mask over her head to prevent eye rubbing and damage to the IV system.
Bradford was eventually referred to the large animal hospital at Tufts' Cummings School of Veterinary Medicine in North Grafton, which found that Zoe's immune system was attacking her joints and her eye.
"I still worry every day that we don't have a grasp on it… but Tufts is the best there is," Bradford said.
The hospital prescribed 75 daily doses of an immunosuppressant, which began Zoe's rapid road to recovery. Though Bradford has had to literally put Zoe out to pasture — the show horse can't ever be ridden again — prospects are looking up for the 15-year-old, who's down to 25 pills a day and has gained her weight back.
"All I need is for her to be comfortable," Bradford said. "They think she will live out her long happy life."
Bradford is the first to admit that jelly donuts are not very good for horses — a point that some viewers are happy to inform her of. But she says that she has to make compromises for the long-term health of the horse. Zoe wouldn't cooperate with Bradford shooting a warm mixture of the pills down her throat with a syringe, and when it comes to treats to mask the pills, Zoe isn't a fan of typical snacks like bananas or applesauce. Molasses treats worked well, but the amount needed to sneak in every pill would have been way overboard.
But Bradford knew that Zoe had an affinity for the filled pastries. She buys a Saturday morning box of Munchkins donut holes for her riding students and often snuck a jelly-filled one to Zoe. One day, Bradford tried sneaking a few pills into a Munchkin, and Zoe accepted it without a hitch. So why not go for a full-size donut?
"A horse would have to eat two pounds of dough to have a blockage, so one donut to her a day is just like a Munchkin to you," Bradford said. "The sugar is really the worst for her, but I have to pick my battles."
And it's especially important that Zoe consumes every pill she's given — not just for her health, but for Bradford's wallet. The medication, which comes in a prescription bottle from CVS, costs $450 for a two-week supply.
Bradford said the vets at Tufts are okay with Zoe's pastry indulgences, and although she always reminds viewers that she's not a veterinary professional, she may as well be an expert. She's cared for dozens of horses since she was a child riding with Briggs Stable in Hanover, and she takes care of the eight horses on her small farm from 6:30 in the morning to 7:30 at night, along with another late night check-in.
By the time the daily donuts came around, Bradford had already built a sizeable following on TikTok. Her first particularly viral post last May showed off how to clean a horse's sheath — or "male parts," as Bradford describes them.
The account ended up being good for business, with new clients discovering the videos and reaching out to Bradford to board their own horses at the stable. She's ended up specializing in horses with medical needs, and they're all part of her equine ensemble on TikTok. Luvy and Teddy are asthmatic and sometimes wear nebulizers, Annie and Raisin wear UV masks for their sensitive eyes, and Goose wears goggles to protect his eye that's missing a lid.
Many horses came to the stable from less than ideal circumstances. One was brought from a deceased aunt, another came from a fellow equestrian whose business folded, a third was rescued from a kill lot in Missouri. Although Bradford's affection for all her stable residents is clear in her videos, it's obvious who her favorite is — the one who accompanies her unattached during walks on Marshfield's Rexhame Beach or Easton's Borderland Park.
"Zoe is my pride and joy," Bradford said, "She's just the smartest horse I've ever known in my life."
So what's the plan for when Zoe is finally off her medication and jelly donut time has to come to an end?
"Back to Munchkins," Bradford said.