Arts
Interactive map showcases Greenway sculpture from every angle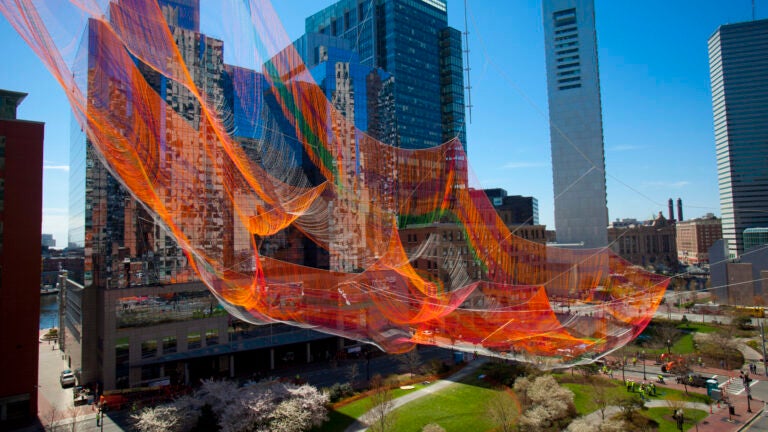 Like sheer, pearlescent rainbows on the curve of a bubble, the aerial sculpture, "As if It Were Already Here,'' which hangs above the Rose Kennedy Greenway, glimmers in the sun, as if a trick of the eye.
Spanning about half-an-acre in the air, the twine creation is hard to see in its entirety. But an interactive map, built by two local designers, is solving that problem for those of us stuck on the ground.
Dave Chiu and Kevin Wolfson created the map as a way to share all angles of the sculpture. The two have been friends for a while and joined forces before, but this is their first project together of this nature.
"Kevin and I came up with the idea one evening last week while we were hanging out with friends on the patio at Trade,'' Chiu told Boston.com. "The sculpture had just gone up, and we immediately saw streams of people taking photos from all sorts of angles, and as we were sitting there watching the sculpture shift and change in the wind and setting sun. We thought it would be nice to corral these photos being posted in a way where people could better see how dynamic the sculpture is.''
Click on the circles to see the site in action:
[fragment number=0]
At its highest point, Janet Echelman's sculpture floats 365 feet above the Greenway. Everyone who stands in awe sees it from their own perspective, Chiu and Wolfson note on the site.
"We wanted an aerial view of the sculpture, so we emailed Janet's studio, and they were more than happy to provide a computer rendering,'' Chiu said. "We then pulled in photos based on one of the hashtags we're looking for—#echelman, #greenwayart, and #asifitwerealreadyhere—and then we plotted each location onto the map.''
As of publication time, there are 169 photos that appear on the map—about 500 photos have been posted with at least one of the hashtags, but many of those do not have location tags or are too far away.
"This is something some people go to that area specifically to see, and other people just walking by are struck by the enormous sculpture above them,'' said Chiu. "The way it interacts with the public is really neat, so this project is just a way of looking at those interactions and hoping to encourage them.''
Chiu and Wolfson called the site a "loupe viewer'' after a focusing lens tool used by jewelers to magnify details. It's an appropriate name for an art installation made of over 100 miles of twine.
"I'm excited to see how this project works with this piece of art, and curious as to how it might apply to other piece of art in the future,'' said Wolfson. "It seems valuable to the artist and to the public.''
The two also see the value of this art for the city. Chiu noted that it's filling what used to be a "dead space,'' and Wolfson said the Greenway area has been transitioning into a beautiful public space.
"It's a point of pride for Boston,'' Chiu said.