Arts
A play about the Boston Marathon bombings tells survivors' stories with their exact words
"I sat with real people who were affected, who said, 'I want my story to be told," says playwright Joey Frangieh.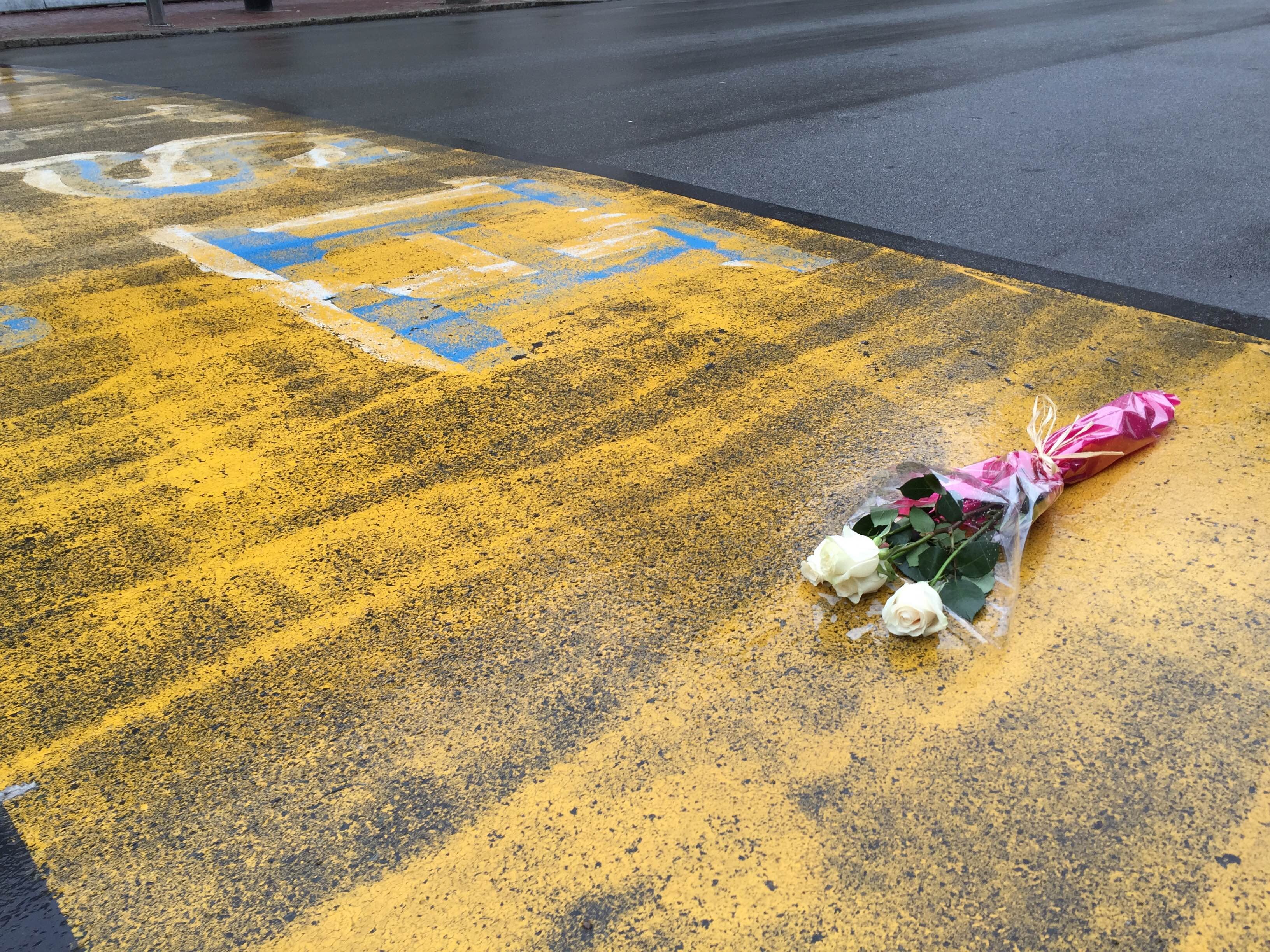 "I don't think for me, there will ever be closure. April 15th will live with my boys every single day, because every day they have to put a leg on. The small things that we take for granted now become a challenge for them… If it wasn't for the split second decision that those people, the first responders and the heroes that day that ran in to help instead of running the other way which if it wasn't for those people, those first responders that day, my kids would have been dead. I, could never thank – these people… I thank my lucky stars every single day –You know what…. The people have been so wonderful. Just – I'm talkin' – everybody. It is amazin' how much, how much good is out there. I meet people from all over, and I'm talkin' all ages, everybody. When I'm with my son Paul, people recognize him, they hug him, they shake his hand, they are just amazin'. Truly, I mean um, you know for somthin' that was so bad – and it was bad, I mean it was probably the darkest day of our lives – it was just amazin' how really nice people really are. I thank God every day, because, for all intents and purposes, it should have been different."
—Liz Norden, played by Paula Markowitz, in a monologue from Finish Line: The Untold Stories of the 2013 Boston Marathon (Words and punctuation excerpted, verbatim, from script)
Joey Frangieh started thinking about making a play to tell the story of the Boston Marathon bombings just weeks after the explosions detonated at the Boylston Street finish line, killing three and injuring more than 260. Or was it only a couple of days after? It was so long ago, he's not sure. But what he does remember clearly is how, he said, the victims and survivors faded out of the news as more and more information about the bombers, Tamerlan and Dzhokhar Tsarnaev, was revealed.
"I started reading articles on some of the survivors and heard some of their stories, and they were so powerful and so inspiring," Frangieh said. "Then, a couple of days later, I went back to find the article and I couldn't. I was inundated with articles on the terrorists—pictures, their names, I learned about their family."
Frangieh was trying to find the stories that showed how Boston came together: the ones about the doctors and volunteers who tore off their shirts to use as tourniquets, about the runners who passed the finish line and then turned back and ran toward the explosions to help. There were so many people who, he said, provided miracles and saved lives.
Over the past few years, Frangieh, his Finish Line co-creator Lisa Rafferty, and a few volunteers have set out to learn survivors' stories and put their words, verbatim, into their play, Finish Line: The Untold Stories of the 2013 Boston Marathon. The play is produced by Boston Theater Company and opens Thursday for a 17-day run of preview performances at the NonProfit Center. Finish Line will have its official world premiere in Boston in 2017.
But is it too soon?
Frangieh asked himself this often. Still, he said, he's been comforted by the support the project has received. After all, when Frangieh and Rafferty started to dive into this undertaking, Frangieh said he was scared only three or four people would be interested in sharing their stories.
In the end, Frangieh, Rafferty, and a team of volunteers conducted 88 interviews.
"I didn't sit down and make up a story," Frangieh said. "I sat with real people who were affected, who said, 'I want my story to be told.' All I'm doing is creating a platform for their stories."
Though 35 characters, played by 10 actors, appear in Finish Line, Frangieh said all 88 interviews impacted the script. The play is organized into three main structures: monologue, split scenes (with two characters telling their stories in the same scene), and what Frangieh calls thematic scenes, where it's less about an individual story and more about the community's general thoughts.
The play starts on the morning of the 2013 Marathon. There's no recreation of the explosions or violence. Instead, it opens with people wondering,'What was that sound?' 'Was it a car backfiring, an accident?'
"No one thought we were being bombed, unless they saw [the explosion]," Frangieh said. "I think it's really powerful that we as people don't necessarily assume the worst. When something goes wrong, we want to assume it was an accident, a mistake."
It wasn't until the second bomb went off that bystanders hearing the sounds really understood the gravity of the situation, he said.
From there, the play continues on to the people in the hospital, who discuss injuries sustained. It ends at the 2014 Marathon, where so many of those who had been injured the previous year came to watch and even run.
For Frangieh, this play is all about community. And it took a community to put it on—more than 200 people are involved in Finish Line, from the cast and crew to the interviewees and transcribers.
"Maybe it is too soon, I don't know," Frangieh said. "But I'm consistently reminded that [the survivors] want their stories told, and we're doing that. It's not my story, it's the story of Boston and its people, and it's from their mouths—word for word, pause for pause, 'um' for' um.'"
Tickets for Finish Line run from $20 to $35 and can be purchased online.