Arts
This is what the 2016 Boston Tattoo Convention looked like from the inside
Tattooing was illegal in Massachusetts up until 2000. (We're not joking.)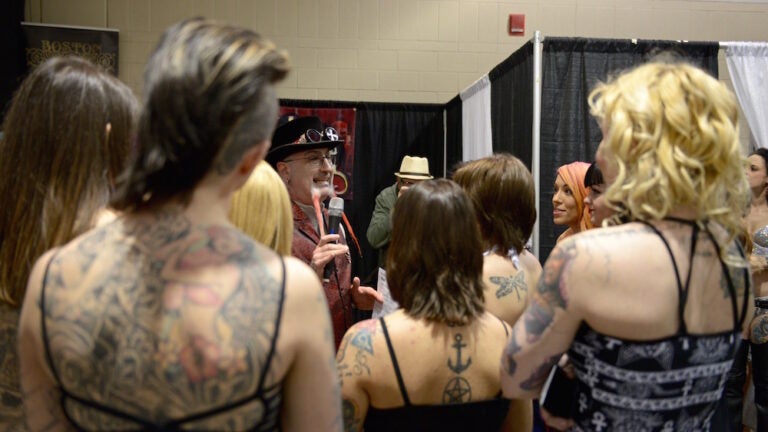 From April 8 to April 10, hundreds of tattoo aficionados attended the Boston Tattoo Convention at the Hynes Convention Center.
Attendees connected with local artists, got tattoos, and competed in tattoo-themed beauty pageants. This was the convention's 15th iteration, and it drew its largest crowd to date, according to the show's producers.
The convention, which hosted over 100 artists a day this past weekend, has been around nearly as long as the Boston tattoo scene itself.
Up until 2000, tattooing in Massachusetts was illegal. (Yes, really.)
Natan Alexander, a 23-year industry vet based out of Salem, created the Tattoo Convention right after the ban was overturned as a means of marking the occasion.
"When we got tattoos made legal again here [in 2000], I wanted to throw a party to celebrate it," he said. "Thus, the Boston Tattoo Convention."
The first convention took place in 2001 at the Boston Center for the Arts Cyclorama in the South End. Back then, Alexander organized the event in order to bring together local artists in one place, allowing for the members of the newly-formed community to convene. His goal, he said, was not just to celebrate the overturn of the tattoo ban, but to change the way the public looked at tattooing.
He wanted tattoos to be seen not as a means of rebellion or an intimidating counterculture, but as an art form.
"It's about creative expression," Alexander said. "It's about freedom of the individual, as well; the ability for people to look how they want to look."
By 3 p.m. on the event's second day this year, one would be hard-pressed to find a tattoo artist in the room who was not booked until the end of their work day—which, for some, was at midnight, when the event closed its doors to the public.
"I'm a perfect example of why people should come to a tattoo convention," said Tony Gaul, a convention attendee from Milton. "If I was looking to get a tattoo, and I didn't really know much about tattoos, I'd come here, flip through every portfolio, see what I like, see who I jive with. It's like shopping for a tattoo artist."
Gaul remembers the convention's humble beginnings. He has been coming since it first opened, and is one of Alexander's repeat customers; the two met in 2001 at the inaugural Boston Tattoo Convention. Gaul's reason for showing up at that first festival, he said, was to check out local artists.
Apart from bona fide tattoo junkies, it's these kinds of customers—ones who are still toying with the idea of getting tattooed—that the festival caters to.
"I am interested in hearing from the people who might be on the fence about it," Alexander said. "I'm interested in creating or helping shape culture for the people haven't made up their minds about it, but are curious."
Plenty of factors keep people on this fence. One of them, Alexander understands, is the fear of getting a bad tattoo, which he says is "impossible" at the Boston Tattoo Convention. The event's screening process is diligent, and each artist's body of work is closely analyzed before they are granted admission. As Gaul put it, "if you aren't up to snuff, you ain't coming here."
The decade-and-a-half-long success of the Boston Tattoo Convention has allowed Alexander to launch an even larger tattoo festival in Western Massachusetts. This fall, the first Massachusetts Tattoo Convention will be held at the DCU Center arena from September 2 to September 5, again bringing together some of the best and the brightest in the community.
"A tattoo convention is an opportunity to take time and make a very careful, deliberate choice over what you're going to wear on your body and who you're going to have put it on your body," Alexander said. "So it's a very unique opportunity to really form a relationship with an artist. And I hope that's what's happening out there."