Arts
Hold nothing back in an inflatable 'Truth Booth' at the Rose Kennedy Greenway
The artwork records people finishing the sentence, "The truth is…"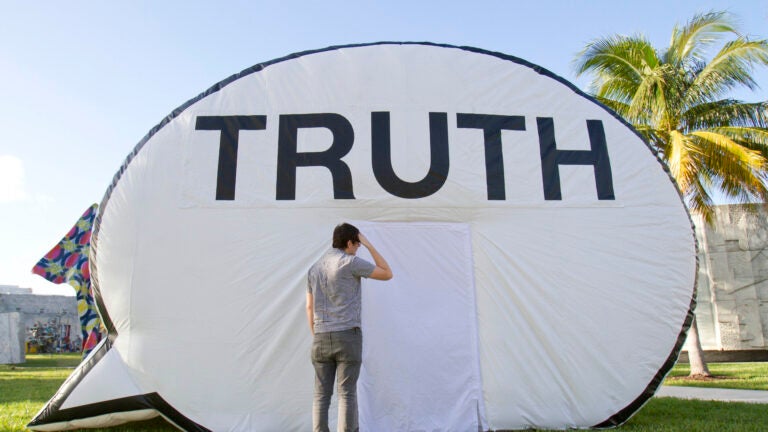 The latest Rose Kennedy Greenway art wants you to tell the truth.
The inflatable installation is called "In Search of the Truth (The Truth Booth)," and it's shaped like a comically large cartoon speech bubble. Once someone dares to enter "The Truth Booth," he or she is prompted to record an up-to-two-minute-long video of his or her thoughts and opinions as he or she finishes the statement, "The truth is…"
You can share pretty much any truth while in the booth—videos online range from a grown man saying, "The truth is [that] nobody knows anything and anybody who thinks they know anything are probably lying and they can't be trusted," to a little boy sharing, "The truth is that if you punch someone in the face and and you say, 'No,' that's a lie."
The installation originally launched at a 2011 arts festival in Ireland by artist Hank Willis Thomas and his collaborators, The Cause Collective, and now it's made its way to Boston. "The Truth Booth" has been traveling the world, from Afghanistan to South Africa, according to the project's Kickstarter, and throughout the project, the video clips are being catalogued on insearchofthetruth.net and will be compiled and edited into a piece of video art.
According to the project's Kickstarter, this installation was brought to the U.S. at this time so that Americans can discuss the presidential election and the project can document thoughts from different parts of the country "to explore how distinct and divergent politics shape notions of place and identity." (While there's no word on where the booth is going next, the collective hopes to bring it to all 50 states.)
"The Truth Booth" will be at the Greenway from April 13 to 15 and will be open for video confessionals from 11 a.m. to 7 p.m. during those days.