Arts
See two van Gogh paintings return to their original condition at the MFA
Over the next few months, conservators will work in the MFA's Conservation in Action gallery.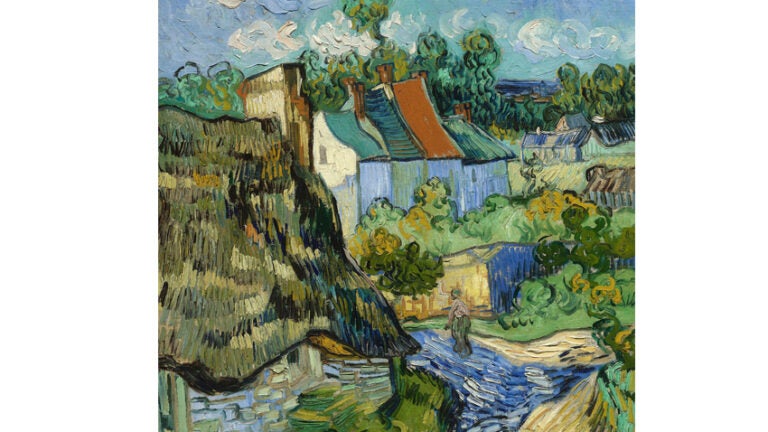 Beginning Monday, Boston Museum of Fine Arts visitors will be able to watch as conservator Lydia Vagts works on Vincent van Gogh's 1890's painting, "Houses at Auvers."
Vagts isn't replicating or repainting the piece, but actually removing a layer of synthetic varnish from on top of the artwork. The piece had been coated in the stuff—meant to protect the painting—which subdued the paint's varying textures and oversaturated the colors, according to a press release from the MFA.
Now, Vagts will restore the piece to its authentic appearance, and visitors can stop by the MFA's Conservation in Action gallery to watch her work between this Monday, May 2, and June 3.
When she's finished with "Houses at Auvers," conservator Irene Konefal will take over the gallery from June 6 to July 5 to remove a varnish from van Gogh's "Enclosed Field with Ploughman," which has yellowed with age, altering its true colors.
Removing the varnishes will "revive the life of the brushstrokes and allow the colors to interact as conservators believe van Gogh would have wanted them to," according to the release.
When the MFA loaned "Houses at Auvers" to the Clark Museum in western Massachusetts for a van Gogh exhibition in 2015, Rhona MacBeth, the museum's head of paintings conservation, realized just how much the paintings had changed, WBUR reports.
"It became even more abundantly clear to me how much the surface of this painting looked different than the surfaces of other paintings made in the same moment," she told WBUR.
For a 2014 crowdsourced MFA exhibit, Boston residents chose "Houses at Auvers" as their favorite impressionist painting. van Gogh painted "Enclosed Field with Ploughman" in the autumn of 1889, based on a view from his window at an asylum in southern France, and "Houses at Auvers" the following summer when he moved northwest of Paris.
Throughout the conservation project, both Vagts and Konefal will study the paintings' materials and techniques to better understand van Gogh. They'll share their discoveries in multiple Spotlight Talks hosted in the Conservation in Action gallery and free with museum admission.