Arts
An 11-foot-tall monkey sculpture is coming to the Rose Kennedy Greenway
The park is getting another giant animal statue.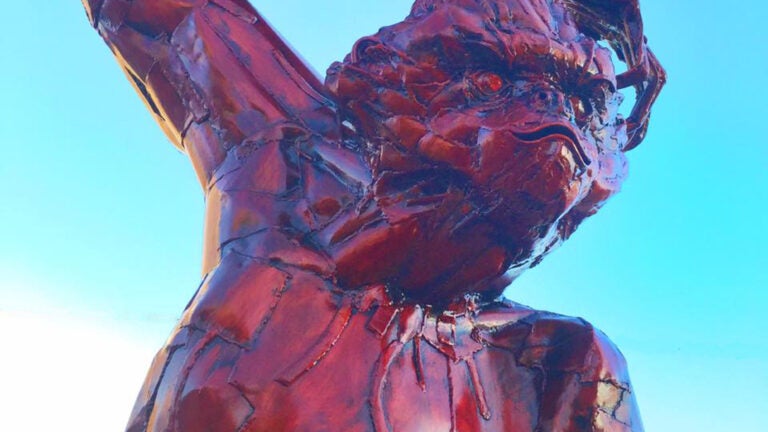 By now, you may have seen the giant bronze animal heads installed on the Rose Kennedy Greenway, which symbolize the Chinese Zodiac calendar. Soon, another colossal creature will appear downtown.
An 11-foot-tall monkey statue will grace the Greenway's Chinatown Park beginning on May 11. Made by Sante Fe artist Don Kennell, the sculpture is called Monkey See and was commissioned by the Greenway to keep up with the Chinese Zodiac theme. It will replace artist Kyu Seok Oh's Wandering Sheep that has stood in Chinatown Park for the previous Year of the Sheep.
"I want works on The Greenway to have a visual impact on the many visitors to the park… and Don's work stops people in their tracks," said Lucas Cowan, public art curator for the Greenway Conservancy, according to a release. "I think Monkey See will become an instant – and Instagram – favorite in Chinatown Park during the Chinese Zodiac's Year of the Monkey."
Kennell is most known for his metal sculptures that have appeared at Coachella Music Festival, like his Big Bear (above) and Yard Dog pieces.
The Greenway also commissioned two Massachusetts artists, Carolina Aragón and Gianna Stewart, to create temporary artworks that will be installed Tuesday. Aragón and Stewart were selected from "The Local," an effort by the Greenway Conservancy to identify and commission Massachusetts-based artists to make pieces for the public space.
Janet Echelman, whose expansive twine sculpture hung above the Greenway last year, is a Brookline artist and was a commission from "The Local."
Aragón's piece is called High Tide and will be installed along Cross Street in a grassy area next to the North End Parks. It will consist of more than 500 six- to eight-foot-tall fiberglass rods embedded in the lawn, which will simulate marsh reeds, much like the ones that "existed for hundreds of years along Boston's natural and manmade shoreline," according to the release.
Stewart's artwork is called Midden and will be installed along Surface Road, between Dewey Square and Chinatown Park. Midden features 12 oysters in five groupings, each of which will be several feet across. They will pulse with colored light at night to symbolize the shells unearthed during the construction of Boston's Big Dig.
"Both Carolina's and Gianna's pieces evoke Boston's status as a coastal city, including the issues of climate change and the evolution of our waterfront," said Jesse Brackenbury, the Conservancy's executive director, in the release.
Visitors can see all of these art pieces ahead of the Public Art Season Kickoff Celebration throughout the Greenway on May 19. And check out Ai Weiwei's Circle of Animals / Zodiac Heads now around the Greenway's Rings Fountain.