Arts
This MFA exhibit was created and curated by Boston teenagers
"HOMiE: In our Eyes" is open until January 22, 2017.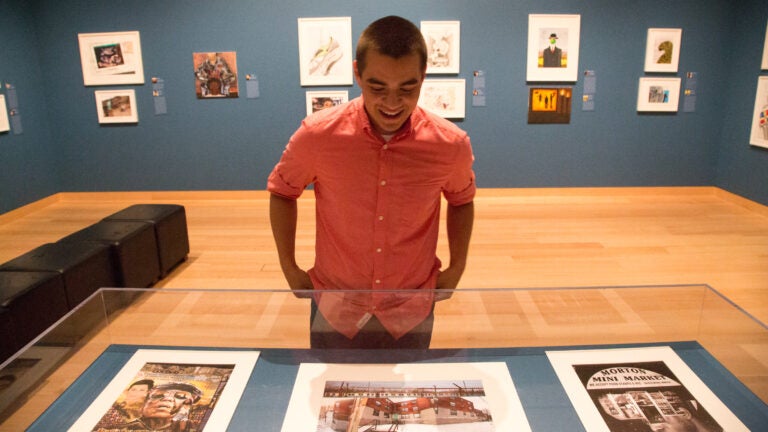 Want fun things to do in Boston, delivered to your inbox every Thursday? Sign up for the BosTen newsletter, our weekly roundup of 10 not-lame events in the city. You can also out our events calendar at boston.com/events.
What does "home" mean to a teenager? It's more than just a place to get food or use your parents' Netflix subscription—at least, to the 44 teens who currently have artwork showcased at the MFA for the "HOMiE: In our Eyes" exhibit.
The exhibit, which runs until January 22, 2017, asked high school students to explore the idea of "home." It's the MFA's first show created and curated by teenagers. Students from Boston Public Schools submitted their work, and members of the MFA's Teen Arts Council—a leadership development program through which teens work at the museum and act as ambassadors to the community—were mentored by six professionals who have previously curated to pick which pieces to display.
"It came out beautiful," Teen Arts Council Program Manager Shilo Kuriakose said. "The artist statements are very powerful, and no two perspectives are the same. I was blown away by how thoughtful they were."
Frankie Leon, 18, who recently graduated from Brighton High, made a digital media photo collage for the show called "Next Stop Waldemar Ave." Leon's piece shows shots of his East Boston apartment building from various angles, including the view he sees from his bedroom window.
"I called [that one] my laziness work. It was during the winter and obviously cold, so I took it from my window. … [In all,] I took more than 100 photos." Leon said. "My home's not something you look at and really admire—it's not a mansion—but to me it is."
In his artist statement he wrote to accompany his piece, Leon expanded on what home means to him, writing that his building "is my safe haven, the place where I can share and be free of judgment and the place where I know I will never be turned away. People may not think it's much because of where it is but my home has provided me with many childhood memories and life lessons I will one day share with my own children."
Dahlia Elamin, 16, is a current member of the Teen Arts Council and, though she said she doesn't consider herself an artist, she is an appreciator. While curating the exhibit, Elamin, Oliver Reskick, 16, and other council members had to take into consideration a piece's style, color, what it was saying, and the overall composition of the exhibit.
Elamin said that helping to curate was a lot of work, but it was worth it.
"It gives you a lot of pride in Boston's teens," she said. "It's like, wow, look at these Boston teens in the MFA. Everybody from around the world comes here."