Arts
Meet the 10 locals accepted into Boston's artists-in-residence program
The program, Boston AIR, aims to uplift the roles of art and culture in the city.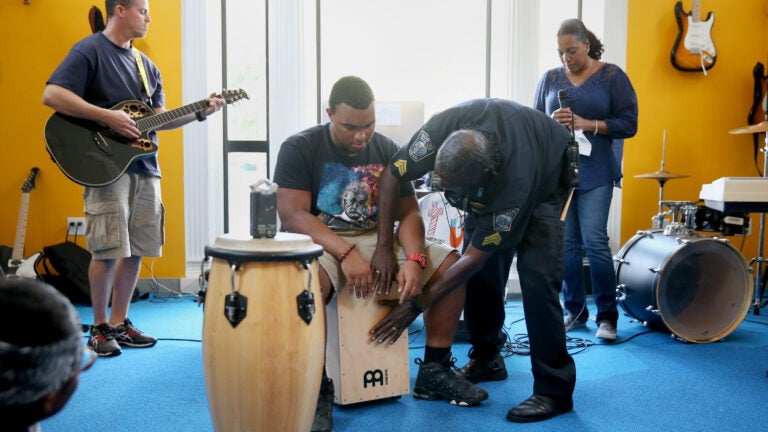 Ten Boston artists will receive a personal studio space and a $22,500 stipend as participants in the city's second annual artists-in-residence program.
Mayor Marty Walsh announced in a statement earlier this week that 10 locals have been chosen for the nine-month residency supported by Boston AIR. The artists will help develop ways to improve Boston by promoting the presence of art and culture in everyday life.
"Arts and culture form the building blocks that make our city thrive," Walsh said in the statement. "They encourage us to engage with each other and connect to the larger community."
Last year, Boston AIR selected 11 artists to attend workshops and refine project proposals. In February, three of those artists each received a $20,000 stipend for a six-month residency. The programs included quilt and poetry workshops to help women in recovery from drug abuse, video installations taking advantage of unused city space, and an initiative using music to understand police relations.
Check out the list below to learn a little bit more about this year's selection of Boston-based artists.
<h2>Salvador Jiménez­-Flores</h2>
Jiménez­-Flores is an interdisciplinary artist hailing from Jalisco, Mexico. He specializes in socially conscious art and works with a variety of mediums, from prints and drawings to installations. His work is often presented in both English and Spanish, and has been exhibited at the National Museum of Mexican Art and the Urban Institute of Contemporary Art, among others. He is currently in the middle of a two-year residency at the Harvard Ceramics Program, Office of the Arts at Harvard University.
<h2>Maria Molteni</h2>
Molteni is a Boston transplant from Nashville, who has worked in Boston for the past 15 years with multimedia, performance art, and education. She is an alumnus of Boston University, where she studied painting and printmaking in the College of Fine Arts. Molteni's works "introduce original or absurdist processes as applied aesthetic solutions" and encourage participation amongst her viewers, according to her website.
<h2>Lina Giraldo</h2>
As a Colombia-born artist based in Boston, Giraldo's work explores the tension between being both Latino and American. She works mainly with multimedia, using combinations of video, photography, animation, physical computing and data to create interactive installations. Giraldo's work emphasizes the themes of immigration, equality, and the environment.
<h2>Jennifer De Leon</h2>
De Leon is an author, editor, public speaker, and creative writing instructor, currently teaching at Emerson and Berklee while working on two novels and an essay collection. Her short story, "Home Movie," was a 2015 Boston Book Festival selection. De Leon was also named the 2015-2016 Writer-in-Residence by the Associates of the Boston Public Library. She is currently working with GrubStreet and the Boston Public Library on "Write Down the Street," a program providing free creative writing workshops at various BPL branches across the city.
<h2>Marjorie Saintil-Belizaire</h2>
Mattapan native Saintil-Belizaire is a Haitian-American artist whose work highlights her interests in color and texture. She studied art at both the University of Massachusetts Amherst and Boston University and currently owns and works at K. Fine Arts Studio. She was one of 60 artists chosen to decorate a piano for the public Boston art and music display Street Pianos.
<h2>Cornell Coley</h2>
Coley is a teaching artist in education and health, specializing in drumming, dance, culture, and performance art. Born in Kingston, Jamaica to Cuban and Jamaican parents, Coley's artistic and musical stylings are greatly influenced by the traditions of west and central Africa, the Caribbean, and Brazil. He studied holds a BA from Tufts University and an M.Ed from Cambridge College. Coley wrote the first draft of the arts curriculum framework for the Massachusetts Department of Education in 1994.
<h2>Charles Coe</h2>
Coe is an author and poet living in Cambridge, whose work has been published in literary reviews, anthologies, and two of his own books of poetry: All Sins Forgiven: Poems for my Parents and Picnic on the Moon. He is in the second year of a three-year term as an Artist Fellow for the St. Botolph Club, an organization in Back Bay that supports arts and the humanities in Boston.
<h2>Ann Hirsch</h2>
Hirsch is a public artist, sculptor and educator at the Rhode Island School of Design, who often creates site-specific works. She rose to prominence with a commissioned sculpture of human rights activist and basketball champion Bill Russell, which stands on the plaza of Boston City Hall. In October 2015, Hirsch unveiled "Phase II" sculptures depicting a 16-year-old girl and a nine-year-old boy, commemorating Russell's commitment to mentorship and his inspirational life.
<h2>John A. Walsh</h2>
Walsh is a writer and illustrator who most recently co-authored and illustrated a graphic novel titled The Bad Times, "a story of pain and suffering, but also one of love and loyalty" set during the Irish Famine. His graphic narratives often explore the intersection of racism, religious bigotry, and immigration.
<h2>Rashin Fahandej</h2>
Fahandej, born and raised in Iran, received her BFA in painting from the Massachusetts College of Art and Design. She also studied film at the San Francisco Art Institute and currently lives in Boston, teaching at various local colleges and working as a research fellow at the MIT Open Documentary Lab. Fahandej is researching new forms of documentary filmmaking and developing a transmedia project on Boston-based stories.