Arts
Sip beers and bedazzle your denim at the ICA this Friday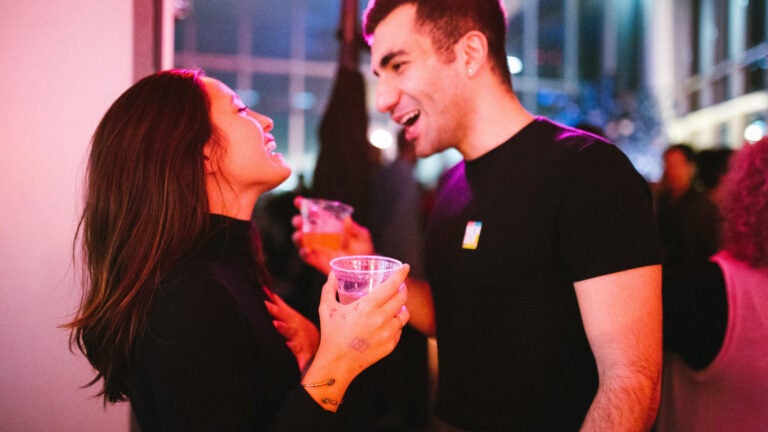 Looking to add more rhinestones to your wardrobe? Get your '90s flare on at the ICA this Friday. The contemporary art museum is hosting a night of embellishment, brews, and art at their ICA After 5: Beers + Bedazzling event.
The ICA will supply the heat guns, stampers, and bedazzling supplies. While they will also have a limited number of headbands and hair clips handy, they highly recommend that you BYOB (Bring Your Own Basic)—such as plain denim, sunglasses, or a water bottle—with which to get artsy.
To add to the fun, the ICA will offer beer samples from Harpoon Brewery for participants who are 21-plus.
Hannah Gathman, director of events and social programs at the ICA, said the museum sees crowds of all ages at ICA After 5 events, ranging from families with kids to couples on first dates. She said that ICA After 5 events are much "lower key" than other ICA night events, like First Fridays or Summer Fridays, which bring about 1,000 people to the Seaport museum.
Beers + Bedazzling will take place in the ICA's lobby, which also plays host to a sculpture from the ICA's newest exhibit, Nari Ward: Sun Splashed. The rest of the exhibit, which opened Wednesday, will be on view in the West Gallery.
It costs no extra fee to bedazzle, just museum admission.
"It's a drop-in event," Gathman said. "It's something you could do for 20 minutes, then head up to the galleries."
ICA After 5: Beers + Bedazzling; Friday, April 28 from 5 p.m. to 8 p.m.; The Institute of Contemporary Art, 25 Harbor Shore Drive, Boston; icaboston.org