Arts
You can visit Star Wars Days at the Boston Children's Museum this rainy weekend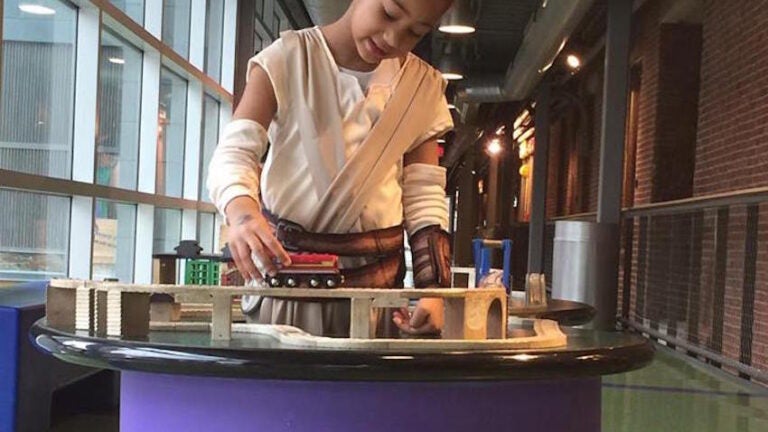 With a seriously rainy weekend ahead, parents may already be dreading the prospect of energetic children tearing around the house nonstop.
If your family is made up of big Star Wars fans and you're looking for a way to keep everyone occupied, the Boston Children's Museum is hosting Star Wars Days from Friday to Sunday, with activities ranging from building your own lightsaber to Star Wars-themed yoga.
"We know how popular Star Wars is, and we wanted to do a themed event because we wanted to celebrate the art, science, and design of the franchise," said Jo-Anne Baxter, the museum's director of public relations. "We'll have robots, art, yoga, people in costumes, and fun, engaging activities for the whole family."
This is the first year that the museum has offered a Star Wars weekend, and they're looking at the event as a chance to draw in visitors who haven't been to the Boston Children's Museum before. Many of the museum's regular activities will still be open, as well.
The full list of activities can be found on the museum's website, but here are a few of the highlights on the schedule:
Build your own lightsaber
The museum will provide kids with two different ways to make their own lightsabers. The first involves building miniature ones that light up; the second involves pool noodles, which seem like a better size for friendly lightsaber duels.
 Star Wars yoga
If you want to get a bit of exercise in—or see your little one attempt downward dog in a Jedi costume—this is the activity for you. "It's all about the breathing, just like Darth Vader," Baxter joked. "We just want everyone to relax and have a good time, and master the force within each one of us."
Star Wars Keva challenge
Heads up for those who have built their own Star Wars Lego sets at home: The museum will challenge visitors to build anything from an X-wing to a BB-8 droid with Keva Planks, wooden building blocks that can turn into amazing structures with a bit of imagination.
Meet Star Wars characters
Chat and pose for pictures with Boba Fett, Kylo Ren, and Princess Leia in the museum lobby.
Star Wars origami
The museum's Japanese House will play host to this activity, through which kids can learn to turn a sheet of paper into something usually found in a galaxy far, far away.