Arts
Dorchester native Dennis Lehane: "I was a little bit tired of just writing dudes"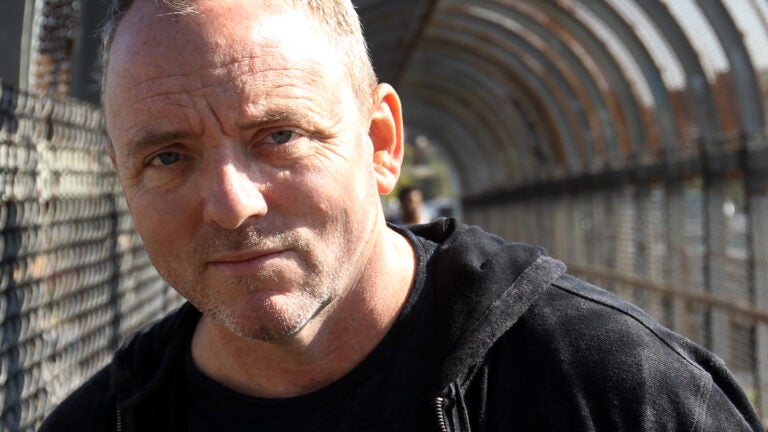 From the mean streets of the fictional East Buckingham in Mystic River to Patrick Kenzie's crime-ridden Dorchester in Gone, Baby, Gone, author Dennis Lehane has probed the lives of policemen, private investigators, criminals, and ex-criminals in some of the roughest neighborhoods in Boston, real or imagined.
Lehane's newest novel, Since We Fell, is a departure from his previous works. 
Sure, Since We Fell still takes place in Boston, and yes, there's a criminal element to it, but unlike Lehane's last three books, it's set in the present day. And, for the first time, Lehane's protagonist is a woman.
Since We Fell centers around Rachel, a TV journalist who becomes a recluse after an on-air panic attack turns her into an object of ridicule in the city. Her only solace is her husband, Brian, who understands her like no one else does. Then her life is rattled once more when she discovers that her husband isn't who he says he is.
Lehane said that a female protagonist fit the Hitchcockian vibe he was going for with the novel, and that after decades of writing stories about men, he was ready for a change.
"I was worried that [a male protagonist] was becoming my only consistent characteristic," Lehane said. "I wanted to mix it up a bit. I'd just done three books set in the past that were very guy-heavy. I was a little bit tired of just writing dudes."
In an effort to make sure Since We Fell didn't read like a male writer simply funneled his own words and thoughts through a woman, Lehane sent passages to female writer friends and scrupulously catalogued what he deemed questionable paragraphs.
"I was worried going in," Lehane said, "but I kept taking the temperature of it, mentally red-flagging places where I might be a little bit out of my depth, where I might see something through guy goggles instead of a woman's perspective."
Some Emerson College students may have thought Lehane lacked perspective when he faced complaints of insensitivity for using the n-word while giving a commencement speech to the school's graduating class this past Sunday.
"In 1975, I was driving with my parents in a car, and we turned a corner into a riot in South Boston on Broadway, at night," Lehane said in the speech. "I will never forget this for the rest of my life. We were trapped in the back of a car. We couldn't move. We could just be buffeted down the street. And they had hung effigies of Arthur Garrity, who was a judge at the time, of Teddy Kennedy, and they were lighting them on fire with torches. And they were screaming, 'N****** out.'"
Lehane apologized via a statement issued by his publicist.
"The word is the most offensive word in the English language," he said in the statement. "To use it in the context of the times in which I was describing was to show exactly how ugly those times were and that particular night was. If, in an attempt to convey that with absolute authenticity, I managed to offend, then I apologize to those who were offended. Hurting people with the use of that word, of all words, was about as far from my intention as one could get, but I take ownership of the result. I should have known better."
The Dorchester that Lehane grew up in (and the Boston portrayed in many of his novels) is quite different than the one Rachel inhabits in Since We Fell. Rachel lives in a Beacon Hill apartment. Her life outside of work as an anchor for the fictional Channel 6 is regularly chronicled by The Boston Globe's Names section and the Boston Herald's Inside Track. She is "a creature of privilege," as Lehane put it.
"There was something kind of fun for once to say, OK, these people aren't working-class," Lehane said. "They aren't connected to a struggle that affects their monetary situation."
Lehane's book features a mix of real and fictional Boston locations and institutions, which can be enjoyable for local readers who know the difference. Rachel takes jobs at the Patriot Ledger and the Globe before moving on to the fictional Channel 6. In one scene, she grabs drinks at Grendel's Den in Harvard Square, while in another, she enters O'Halloran's Pub, a fictional South End bar that once served domestic beers to a crowd of elder regulars but now dishes out IPAs and trendy dishes to tech and finance bros wearing Oxford shirts in various shades of blue.
Lehane said that there isn't always a rhyme or reason when he chooses between real-life and fictional elements. For Channel 6, which comes off as a callous employer, he didn't want to criticize one of the local stations like WBZ (Channel 4) or WCVB (Channel 5). As for the bars, Lehane cited the desire to paint a scene completely from the mind's eye.
"I wanted it to feel almost mythical in some ways, like a fairy tale," Lehane said, referring to a scene that takes place at a fictional bar. "When I want a scene like that, I go completely fictitious, so that I'm not locked into anything or grounded by reality."
That said, Lehane admitted that events in his life do play a role in the themes of his novels — though he prefers to cloak anything personal under several layers of metaphor.
"I'm an oblique writer, not an autobiographical writer," Lehane said. "I'm very much obliquely writing about my life at the time. My brother once said to me, 'If people really knew what was going on [in your life] when you wrote Shutter Island, it would be clear to them about how autobiographical it was, in some ways.' But it's all metaphor. I just took metaphor and I ran with it. That allows me to work through it mentally and emotionally."
Since We Fell by Dennis Lehane; Ecco; $16.79