Arts
17 books that local experts say you should read this summer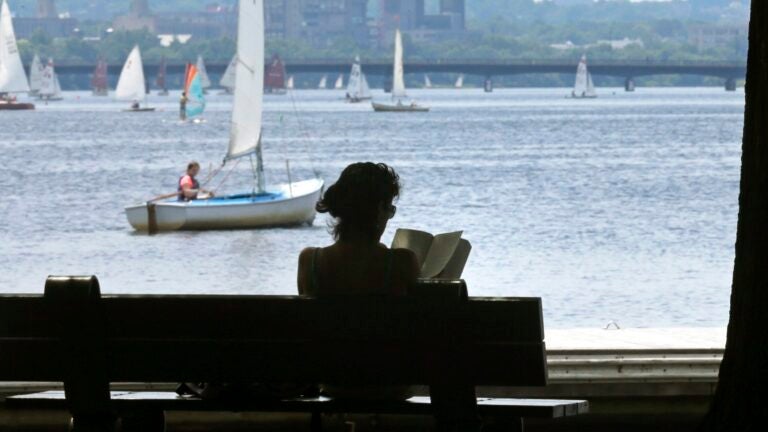 With thousands of new books published each year — not to mention all of the older titles you keep meaning to read — choosing the perfect book for your New England vacation or global adventure can be overwhelming. That's why we turned to book buyers at four local shops—Brookline Booksmith, Harvard Book Store, Porter Square Books, and Trident Booksellers and Cafe—for the 2017 titles they're most excited about this summer.
Their picks will help you make your escape, whether you're lounging at the beach with family or beating the heat on your lunch break by the Charles River.
Rachel Cass, head buyer at Harvard Book Store, said this book is a different take on the summer beach house tale. "It is very atmospheric," she said. "You really get the sense of being on the Cape in the off-season, so [it's] a fun thing to read in the summer." The novel chronicles what happens when a man returns to his family's Cape home. According to Cass, it delves into the secrets people keep from each other and how hard it is to ask for help.

Cass said that this memoir—which is both riveting and harrowing at times—doesn't exactly make for easy reading. In it, Levy, who is a staff writer for The New Yorker, shares how she went from being both married and pregnant with her life totally mapped out to having everything fall apart at once. "You really get to dive into someone's head and dive into someone's life," Cass said. "You see people from the outside, and you get a good glance at what's going on underneath and the struggle people are having that you don't necessarily see."
American War by Omar El Akkad
(April 4)
 The first novel from award-winning journalist Omar El Akkad centers on one family, the Chestnuts, who are forced to leave Louisiana for a refugee camp. Cass described the story, set during an imagined Second American Civil War, as an engrossing read that also incorporates fictional historical documents into each chapter and speaks to this country's current political climate. "It's a really compelling family revenge story in addition to having political resonance for what's going on now," she said.
Shuchi Saraswat, book buyer at Brookline Booksmith, said you won't be able to help falling in love with this novel's main character. Set in San Francisco, the story follows Dr. Morayo Da Silva, a Nigerian woman, as she turns 75 years old and forges connections and friendships. "While it deals with some maybe more relevant and weightier issues, the narrator is kind of a lighter, more charismatic protagonist," Saraswat said. "It's a fun and an enjoyable read."
Best-selling author Neil deGrasse Tyson makes astrophysics accessible for everyone in just over 200 pages. Ellen Jarrett, book buyer at Porter Square Books, described the writing as entertaining and very easy to read. "It just feels like something you could pick up, turn to any part, and learn something," she said.
This collection of 11 stories, many of which were published in The New Yorker, follows the common theme of misinterpretations that turn ordinary lives upside down. "They're basically very human stories about common misunderstandings between people that can change people's lives," Jarrett said. She said that some of the stories from Ferris, who gained notoriety with his 2006 novel Then We Came to the End, are "quite quirky." 
The latest novel from the author of Maine and Commencement is about a big, sprawling, Irish Catholic family in Boston. "This one is just great because it's so Boston," said Courtney Flynn, book buyer at Trident Booksellers and Cafe. The story weaves between the past and present, following the lives of two sisters and what made their family split apart.
Jarrett said anyone who's from the Boston area will recognize the bars, streets, and intersections in this fast-paced novel from from Dorchester native Lehane. The book follows a former television journalist named Rachel Childs who lives as a recluse after having an on-air mental breakdown, until her life is turned upside down when she learns her husband isn't who he says he is. "Everybody [at Porter Square Books] who read it just couldn't put it down," Jarrett said.
Nature writer Robert Finch has been writing about Cape Cod for the last 50 years. In this book of essays, the lifelong student of the Cape's wildlife and geology focuses on his relationship with the stretch of beach along its Atlantic shore: its literary legacy and history. "A lot of people are going to the Cape," Jarrett said. "They might actually be interested in learning about the natural surroundings they're seeing and visiting and looking at."
The Fact of a Body by Alexandria Marzano-Lesnevich
(May 16)
Marzano-Lesnevich mixes true crime with a memoir in her debut work chronicling her summer job with a Louisiana law firm working to defend men on death row. According to Saraswat, the book grapples with the author's own personal history and grief while examining the story of one crime and the nature of forgiveness. "I know the few people who have been able to read it so far have said they cannot put it down," Saraswat said. "To me that is definitely a sign of a summer read."
Chemistry by Weike Wang
(May 23)
The protagonist in this novel is a graduate student studying chemistry at a university in Boston who finds herself at a crossroads in her life. Saraswat said what makes the book unique is how the author, who has a degree in chemistry and a doctorate in public health from Harvard, tackles what may be familiar territory in a new and interesting way. "It's a coming-of-age story, but what makes it compelling is that it's told through the lens of science," Saraswat said.
This is Roy's first novel since she wrote the acclaimed The God of Small Things 20 years ago, focusing in recent years on nonfiction and politics. "She's already such an eloquent and thoughtful fiction writer, but now she's really got her finger on the pulse of what's going on in the world," Saraswat said. Saraswat said everyone at the Booksmith is excited about this new work of fiction, adding that Roy's subject matter — people on the fringe of society — seems more important than ever.
Murphy, who dropped out of college 30 years ago to work as a long-haul trucker, shares what he sees on the road as he moves people's belongings all over the country. Flynn said she was surprised at how funny and insightful the story was, admitting it was not a book she would have normally picked up. "It's fun," Flynn said. "It's a good summer read if you're traveling."

Magpie Murders by Anthony Horowitz 
(June 6)
This murder mystery with a murder mystery author as one of its main characters is perfect for the light-hearted reader to take to the beach, Cass said. Horowitz, who is also the creator of the British drama series Foyle's War, weaves together the plot of of the "author's" manuscript with the plot of his own tale. "It's a mystery within a mystery, and they're tied up within each other," Cass said. "It's really a lot of fun."
Hunger by Roxane Gay
(June 13)
In her memoir, Gay, the New York Times best-selling author of Bad Feminist and Difficult Women, tackles her struggles with weight and impactful childhood memories—which Flynn said Gay weaves in with what she and society are experiencing in the present. "It's so unbelievably wonderful," Flynn said. 
In 2015, Catron wrote a viral Modern Love column called "To Fall in Love, Do This" about trying out the steps for falling in love that were outlined in a study she had heard about. This memoir expands on that column. Flynn described the book as similar to The Opposite of Loneliness, saying that the author covers honestly the struggle of trying to find one's way following a relationship's demise. "It's a book for young people who are setting out in the world," Flynn said.
This debut short story collection comes from Curtis Dawkins, who is serving a life sentence without the possibility of parole for killing a man during a robbery in 2004. According to his publisher, Dawkins earned an MFA in fiction writing but struggled with substance abuse throughout most of his life. Flynn described the book as a "great, literary, off-the-beaten-path read" and "one of my all-time favorites." She said the story collection offers details that stick with you as it provides a window into life in a prison.