Arts
The world's first Dr. Seuss museum is opening in Springfield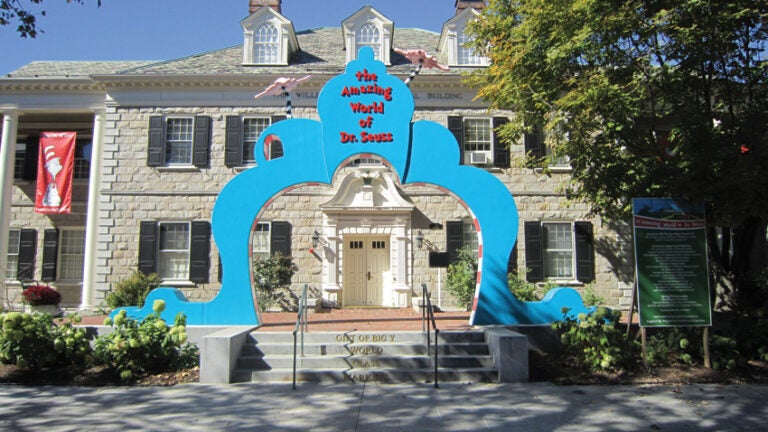 ---
Are you looking for tours and activities in Boston for this weekend? Click below for fun ways to explore the city.
[fh_link href="/activities/harbor-cruises"]Book Harbor Cruise[/fh_link]
---
The Amazing World of Dr. Seuss Museum, the world's first museum dedicated to Dr. Seuss, will open in Springfield next Saturday, June 3.
In true Seussian fashion, the museum's debut will be celebrated with a Calvacade of Conveyances parade down Mulberry Street, the street that Springfield native and iconic children's author Theodor Seuss Geisel, aka Dr. Seuss, immortalized in the book And to Think That I Saw it on Mulberry Street.
Expect a procession of 1,200 kids marching and performing original music inspired by Dr. Seuss, local dignitaries, antique cars, and an open-topped double-decker bus—all moving beneath a 75-foot Cat in the Hat balloon, said Kay Simpson, president of Springfield Museums. On the museum lawn, stilt walkers will roam, and families can check out hands-on art activities and Dr. Seuss readings.
The museum is the latest addition to the 7-acre Springfield Museums complex, which includes the George Walter Vincent Smith Art Museum, the Springfield Science Museum, the Michele and Donald D'Amour Museum of Fine Arts, and the Lyman and Merrie Wood Museum of Springfield History. A Dr. Seuss National Memorial Sculpture Garden of Geisel's characters, which opened in 2002, is also part of the complex. Visitors pay one admission price and have access to all of the museums, as well as the sculpture garden.
The new Dr. Seuss museum, which can accommodate 300 people, includes two floors of Dr. Seuss fun. It's a bilingual (exhibits are presented in both English and Spanish), interactive children's museum that traces Geisel's childhood growing up in Springfield, created with an eye toward literacy, Simpson said.
"Dr. Seuss stories have really stood the test of time and continue to get kids excited about reading, which is so important," she said.
The first floor, awash in the spectacular colors of Seuss's characters and the worlds he invented for them, contains interactive exhibits made with digital technology, 3-D sculptures, and eye-catching murals. Kids can walk among Thing 1, Thing 2, and the Cat in the Hat. They can sit on a Seven Hump Wump and rhyme at a Green Eggs and Ham rhyming station. In an area called the Cat's Corner, kids can make Seussian artwork and their own books, Simpson said.
"There's an interactive Cat in the Hat sculpture that kids can actually move around," she said. "They try to get the Cat in the Hat to balance plates."
The museum's first floor also includes recreated rooms and places that inspired Geisel as he was growing up. For example, guests can walk through a replica of Geisel's childhood bedroom, where his parents used to let him draw on the walls, Simpson said.
"A lot of the drawings represented these creatures that later evolved into the fantastical creatures you see in his books," she said.
Children can "draw on the walls," too, when they play on the digital drawing board.
An area representing Geisel's grandparents' Springfield bakery encourages kids to read recipes written in English and Spanish and make toy pies, Simpson said. Another area represents the Forest Park Zoo, where Geisel's father worked as a superintendent. Children can press buttons and hear the sound of animals.
"[Kids will] be able to create their own creatures," Simpson said. "It's designed to inspire creativity and for kids to have fun. That's what Theodor Geisel was all about."
On the second floor of the museum, visitors will get an up-close look at Geisel's personal items: whimsical hats and bowties, drawing board, books, Emmys, original oil paintings, and never-before-seen drawings and sculptures. The items from his actual studio are on display, as well — his desk, chair, pencils, and rotary phone, all donated by Geisel's family.
"It gives you a private glimpse into who he really was," Simpson said.
Simpson said visitors have been asking for a Dr. Seuss museum ever since the sculpture garden opened a decade and a half ago, so she reached out to Dr. Seuss Enterprises in California, which manages the intellectual property of Dr. Seuss, about the possibility.
"We get so many different ideas," said Susan Brandt, president of Dr. Seuss Enterprises. "We're inundated. Most we say no to."
But this idea really stood out, she said.
"The thought was, 'Well, of course,'" Brandt said. "[I thought] 'Why have we not done this? What has taken us so long to realize this vision?' We called Springfield back and said, 'This is a good idea. How do we do this?' And it just went from there."
The Dr. Seuss museum is housed in a 1920s Colonial Revival structure that is the former Connecticut Valley Historical Museum. The historical museum was absorbed into the Lyman and Merrie Wood Museum of Springfield History in 2009, Simpson said.
Brandt said she's thrilled with how the Dr. Seuss museum turned out.
"I know [Geisel] would be delighted," she said.
21 Edwards St., Springfield; springfieldmuseums.org
Boston.com will receive payment if a purchase is made through the article.