Arts
This Boston sculpture undergoes an amazing transformation at night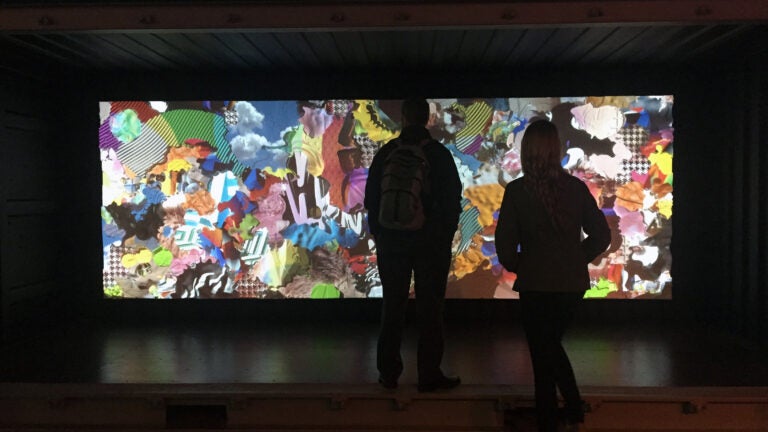 During the day, you might mistake it for a marble sculpture. At night, it's a rainbow assortment of patterns and designs.
For Jason Hoelscher of curatorial collaborative Umwelt Operations, the work created by the WidowMaker Collective for Boston innovation festival HUBweek, part of a piece called POLLINATE, is one of connectivity.
"Pollination is a weird form of a network because a pollinator lands on a flower and connects it with another flower," said Hoelscher, who conceived and brought POLLINATE to this week's HUBweek (which is co-sponsored by The Boston Globe, which shares ownership with Boston.com). "Pollination is a network structure one step removed from the way we think of networks as computers and so on."
The WidowMaker Collective, an art collaborative based in Savannah, Georgia, is made up of three artists: Will Penny, Michael Porten, and Britt Spencer.
The artists, as Hoelscher puts it, "cross-pollinated" their styles to create the large, protruding rectangle — which is actually made of Styrofoam — that's housed in an industrial 20-foot shipping container at HUBweek's centerpiece, The Hub, in City Hall Plaza.
When it's dark outside, patterns from projections move across the foam incisions.
"There are a couple of sections here where the animation is anchored in some spots, but then ripples across and flows back-and-forth," Hoelscher said.  
Hoelscher said that if you're familiar with the individual artists, it's possible to pick them out from all of the activity. Porten often uses a houndstooth-type pattern and modes of self-portraiture, while Penny is known for geometric forms. Spencer's illustration style is "some of the messier, less-focused stuff." 
"These guys like to experiment with every aspect," Hoelscher said. "I've known all three of these artists for years, and they don't like to play it safe."
POLLINATE also encompasses a solar-powered art lab from PlantBot Genetics in central Georgia. PlantBot regularly addresses issues of pollination and incorporates scientific information into their work, Hoelscher said. Among the creations in their trailer: solar-powered cockroaches.
"The groups didn't collaborate as a larger group," Hoelscher said. "It'll be interesting over the [course of the festival] to see what sorts of threads and connections and differences emerge."
See POLLINATE through Sunday at HUBweek at City Hall Plaza.