Arts
What do you call graffiti in motion? GIF-iti.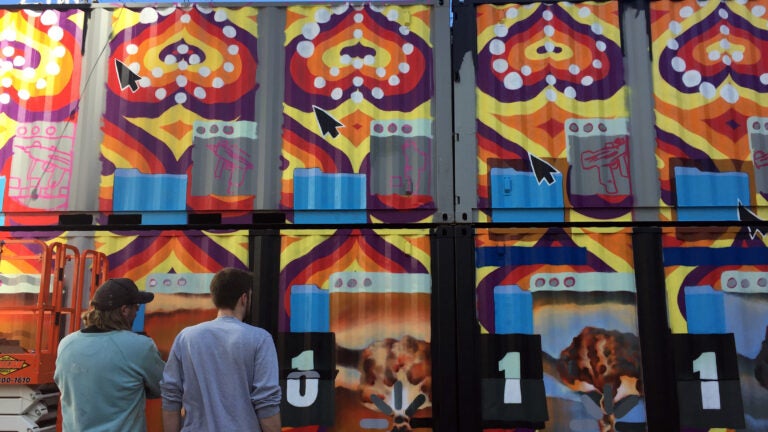 Stop by City Hall Plaza this weekend, and you'll encounter all sorts of contemporary art thanks to HUBweek, the "festival of the future" that runs through Sunday. There's a sculpture that looks plain by day, but turns into an active rainbow of colors at night.
There's a "maker wall" where passersby can use brightly colored tape to leave their mark on the side of a shipping container. And then there's a series of spray-painted images that are almost imperceptibly different, one right next to the other.
That last one is the work of British graffiti artist INSA, who could be found methodically spray-painting the side of a shipping container Thursday and Friday.
INSA pioneered the art form "GIF-iti," a melding of graffiti and GIFs, those looping animated images that form a second language on the internet.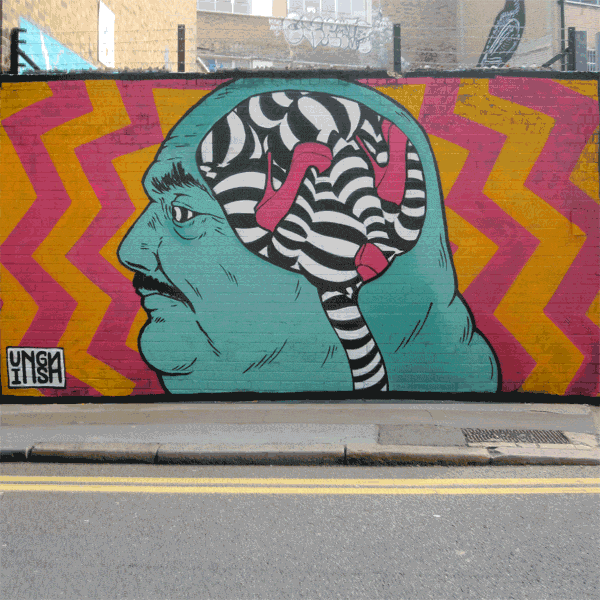 INSA usually creates his GIF-iti by painting an image, taking a photo of it, then painting over it with the next image, taking a photo of that painting, and so on, until the photos can be sequenced into an animated GIF. He came up with the idea when he realized how often people see artwork online.
"I was interested in how people are viewing artwork," INSA said during a break in the painting Friday afternoon. "More people are seeing stuff online than in real life, so I like crossing over those two worlds. All of us are living that dual life, so I wanted my work to reflect that. Online/offline identity."
The whole process usually takes a week or two, but HUBweek is only spending four days on City Hall Plaza, so INSA had to do something a little different in a shorter amount of time for the festival (which is co-sponsored by The Boston Globe, which shares ownership with Boston.com).
Instead of one image on top of the other, INSA is painting them side by side, so visitors can see each step of his process. As the hours went by on Thursday and Friday, INSA's GIF-iti became clearer and clearer.
"It's a way to show the work," INSA said. "It kind of references the old zoetrope style of animation. As technology moves forward, it's always nice to reference the past."
INSA said Friday afternoon that he hoped to finish the piece by the end of the day on Friday. You can check out the completed work on his app.