Arts
Here are the concerts coming to Fenway Park this summer
Read this, and it will *almost* feel like summertime.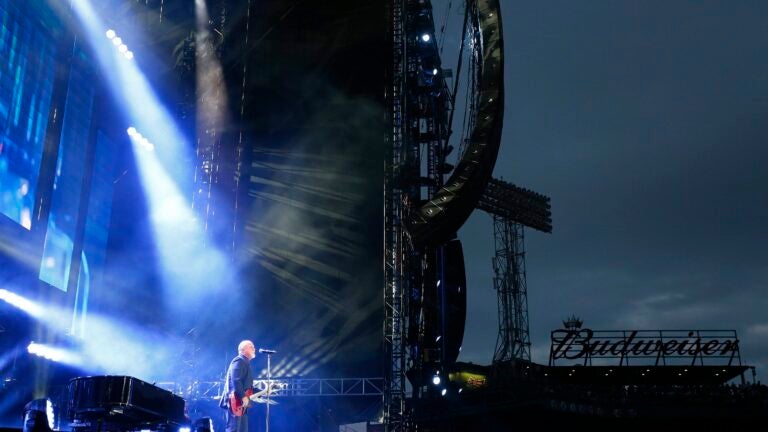 It's been 15 years since Fenway began its summer concert series, and each season seems to bring a batch of surprises. This summer, the Fenway faithful will experience multi-night runs from both big-name returnees and some new faces.
Note: This article will be updated as more information is announced.
Zac Brown Band
The Southern stompers of Zac Brown Band will return to Fenway for two nights as part of their Down the Rabbit Hole Live tour after taking last summer off from the ballpark. In 2016, the band set Fenway records for the most tickets sold at a single concert, the most tickets sold over two nights of concerts by the same artist, and the first band to sell out seven consecutive shows over three years at the ballpark. (Thursday, June 14 at 6:30 p.m. and Friday, June 15 at 6:30 p.m.; $44-$79; all ages; tickets available here)
Luke Bryan
Country superstar Luke Bryan will make his Fenway debut the day after America's birthday. He'll lead a loaded bill that also features Georgia songwriter Sam Hunt, "The Voice" singer Morgan Wallen, and Nashville newcomer Carly Pearce. (Thursday, July 5; all ages; tickets information TBA, more information available here)
Foo Fighters
The grunge gods of the Foo Fighters will head back to Friendly Fenway for two shows as part of their Concrete and Gold Tour. When the band last played Fenway in 2015, lead man Dave Grohl was bound to a custom-built guitar throne due to a broken leg he suffered earlier in the tour. This year, playing behind their ninth studio album, hopefully the band will be back to full health. (Saturday, July 21 at 5:30 p.m. and Sunday, July 22 at 5:30 p.m.; $59-$79; all ages; tickets available here)
Jimmy Buffett & The Coral Reefer Band
Attention, Parrot Heads: The king of Margaritaville is returning to Fenway as part of his "Son of a Son of a Sailor Tour." The last time Buffett played the ballpark, the Red Sox won their first World Series in 86 years. This time, with the help of Huey Lewis & The News, maybe he'll make some magic happen once again. (Thursday, Aug. 9; all ages; with Huey Lewis & The News; tickets on sale to the public on Friday, Feb. 23 at 10 a.m.) 
Billy Joel
Billy Joel may be a New York symbol, but he has quite the history in Boston's beloved ballpark. Returning to Fenway for a fifth consecutive summer, the Piano Man will assumedly bring all of his classics to Boston for one evening. (Friday, Aug. 10 at 7:30 p.m.; all ages; tickets available here)
Journey & Def Leppard
Two legends of the '80s are teaming up for a 58-date North American tour, and it includes a Fenway stop. If you've ever longed to hear "Don't Stop Believing" and "Pour Some Sugar on Me" in the same night, this is your chance. (Saturday, Aug. 11 at 5:30 p.m.; $45.50-$185.50; all ages; with Cheap Trick; tickets available here)
Pearl Jam
Any time the grunge heroes of Pearl Jam announce a tour, it's a big event. This year, the Northwest rockers will take to Fenway for the second time, and the first time since being inducted into the Rock and Roll Hall of Fame. (Sunday, Sept. 2 and Tuesday, Sept. 4; all ages; tickets on sale to the public on Wednesday, Feb. 21 at 10 a.m.)