Arts
Check out the Seaport's new kaleidoscopic sculptures
Spanish artist Okuda San Miguel adds some color to Seaport Boulevard.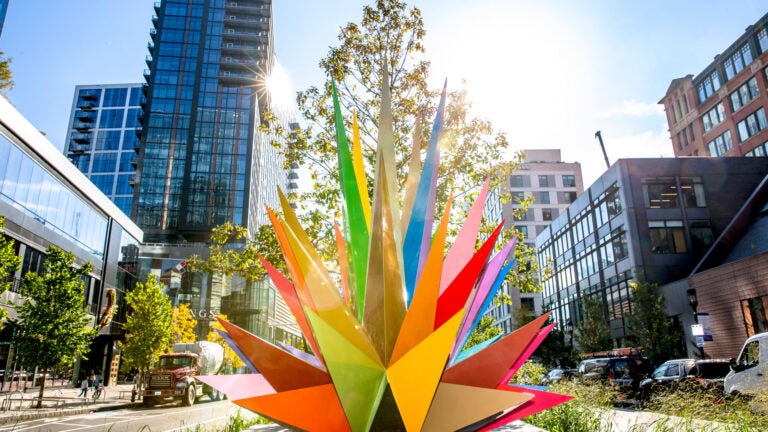 The Seaport just got a lot more colorful.
Spanish artist Okuda San Miguel just unveiled his vivid installation "Air Sea Land," in which seven polychromatic sculptures are set up along Seaport Boulevard from Sleeper Street to Pier Four Boulevard.  
The geometric sculptures, ranging from 8 to 12 feet tall, tell "… the tale of life and coexistence, and the mythological edge where the animal kingdom meets with the human world," according to a news release.
The technicolor work shows representations of creation, animals, and mythology, explained San Miguel, who said he was partially inspired by ancestral cultures. Of the seven, San Miguel told Boston.com that one of his favorites is "Mythology: Mythological Being 2," which shows a human form topped with a bird's head.  
"Art must be present in public spaces constantly, and my mission is to transform these spaces in a way that further enhances the passerby's experience," San Miguel said in a statement. "I aim to create vibrant places that are filled with color and positivity, helping and hoping to change the lives of people. I want people to stop looking at the pavement and start looking up and around."
The pieces were made from fiberglass and then hand-painted before being shipped from Spain, according to Charlotte Dutoit, the founder and art curator for Justkids, the global creative house that partnered with property developer WS Development to launch the project. Dutoit said all of the sculptures have a lacquer to protect them from the elements.
While in town, the Santander native also contributed to HUBweek: His 40-by-18 foot mural, titled "Mermaids and Other Magical Creatures," tackles respect, diversity, and harmony between the environment and its occupants. The mural, which will be on display until Oct. 14, was directly inspired by "Air Sea Land."
Although the artist had previously been to Massachusetts to paint a mural titled "Cat Witch" in Salem, he has recently become better acquainted with Boston. "Seaport for me is the coolest area [in Boston]," San Miguel told Boston.com.