Arts
Out of the gallery, into the street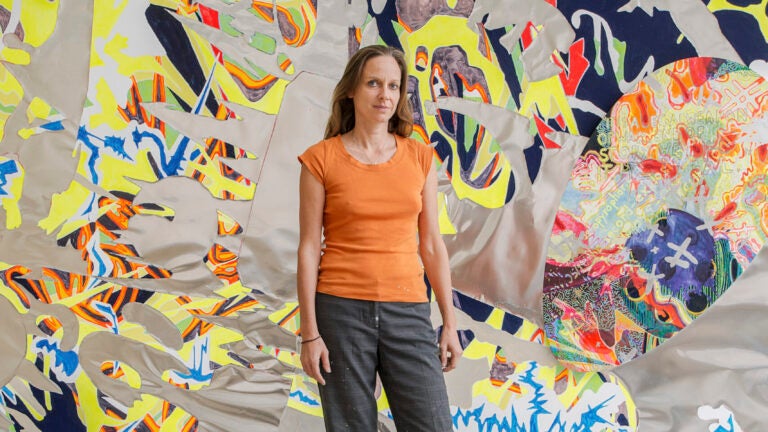 A massive Anish Kapoor sculpture integrated into the base of a Tribeca building. Custom works by Robert Indiana and Olafur Eliasson featured at a condominium opening next year in Miami. And three artistic takes on the traditional scale model by kinetic sculptor Es Devlin, which take up prime space in the sales gallery for the XI, a residential tower south of Hudson Yards in New York.
All are examples of artists trading the white-box space of galleries for upscale commercial and residential real estate projects, an idea that might have been considered "selling out" a generation ago.
"The gallery is a format that is struggling," said Argentine curator Ximena Caminos, formerly of the Malba museum in Buenos Aires and now chief creative officer of the Honey Lab cultural space in Miami's Blue Heron hotel and residential project, which is now under development. "It's transactional; the artist doesn't have that much creative freedom, and there is a lot of pressure to make money in a short period of time." Artists, she said, are seeking new places to showcase their work, especially if the pieces are large in scale.
Enter the well-financed real estate developer.
After the global financial crisis, when traditional sources of cultural funding were scaled back, corporate and individual donors stepped in to fill the void, according to Jennie Lamensdorf, who runs the Art-in-Buildings program for Time Equities, a commercial property developer based in New York. At first, well-established artists like Jeff Koons were commissioned to create pieces for condominiums in art hubs like Miami and New York.
Less than a decade on, even early and mid-career artists are being lured by real estate developers to make art for public consumption — and reach an audience they might never have been exposed to. "Having art in the lobby can communicate that they are a company that cares about culture," Lamensdorf said.
Lamensdorf recently asked abstract painter Claudia Chaseling to produce a permanent piece for the lobby of her company's building at 55 Fifth Avenue, which opened Sept. 20. Chaseling, who is German, said she took on the "unusual challenge" with relish. "A public building gives me an opportunity to be visible on a different level than a gallery space would," she said.
"In galleries, people come to see art; in public buildings you have a lot of passers-by who have no clue about art — and I am all for as many people seeing my work as possible, and for everyone having their own perspective on it," she said. Her "Radiationscape," a response to the Indian Point nuclear power plant, drips from 55 Fifth Ave.'s wall onto the lobby floor. True, the commission is not exactly what one would expect from either an avant-garde artist or a real estate developer. "I don't consider my work with developers as compromising my artistic integrity at all," Chaseling added.
Examples of major developers bringing large-scale artworks into the public sphere are especially prevalent in American art hubs like Chicago and Los Angeles, but the most prominent examples are found in New York and Miami. The Lever House in midtown Manhattan, which is owned by RFR co-founder and principal Aby Rosen, was an early adopter of this growing trend, and the midcentury building has become a de facto walk-by museum for the lunch crowd, which can view a rotating roster of large-scale pieces through the glassy walls.
"Everyone can understand, when they stand in the presence of a piece, that feeling of 'this is right' for the space," said Rosen. He helped found the Lever House Art Collection in 2003, which has commissioned pieces by artists like Jorge Pardo and John Chamberlain.
Artist Rachel Feinstein, whom Rosen commissioned to do a large mirror painting for his new Foster & Partners-designed building, 100 East 53rd St., said she appreciated the front-and-center placement her "Panorama of New York" would receive at the tower rising close to the Seagram Building. "About a billion people will see it — more people than a museum — with a much wider variety," she said.
Other developments are shifting the meaning of what — and where — an art gallery can be. Caminos hopes that her Honey Lab, which will include a gallery and art program, at Miami's Blue Heron development will engage locals of every stripe. "To use art as cultural activation is beautiful," she said. "Art is a bridge between socio-economic classes, an opportunity to give residents interesting conversations."
Also in Miami is KAR Properties' One River Point, which has a fully developed, multidisciplinary arts program within its multiple public galleries and a riverfront park. One River Point's rotating exhibition program will include shows conceived in collaboration with artists, guest curators and Miami arts institutions.
In Chicago, Magellan Development Group worked with Tony Karman, president and director of Art Expo Chicago, to fill the sales gallery of its Jeanne Gang-designed Vista Tower, set to open in 2020, with artists whose works are represented by Chicago dealers. "We are targeting a very niche audience, one that will truly observe and potentially purchase these artists' works," said Robin Loewenberg Tebbe, chief marketing officer for Magellan. "The works idyllically complement the space."
Further afield, artists are also working with developers, even in places that are only just beginning to see the value in real estate and art partnerships. Cidade Matarazzo, a residential development in São Paulo, Brazil, is built around a "house of creativity," a dedicated space for artists in residence. "I don't think museums are the exclusive way to distill the message of the prophets of modern times," the developer, Alexandre Allard, said of prominent artists today. "There is not much art in the street in Brazil. But I believe in the extraordinary potential of my country to convey messages about religion, community, race and ethnicity through art."
Allard hopes that 30 million people will visit his complex, which includes a hotel, and residential and commercial structures, each year and walk away astonished. "I believe Matarazzo is the model of the sustainable museum of the future," he said.
Carpenter & Co., in staid Boston, is following similar thinking. At the developer's Four Seasons Hotel One Dalton Street, David Bowie's personal curator, Kate Chertavian, is "using the vocabulary of Boston" to put pieces on the walls — by established artists like Duke Riley, Yinka Shonibare and Tacita Dean — that have staying power. "There are a limited number of spaces where collections can be permanently on view, and artists enjoy being included in one," Chertavian said.
Erica Samuels, who has curated projects such as the lobby of Extell's One57 in Manhattan, is always on the hunt for new places for artists to present their works, and the semi-public nature of a real estate development, she said, is a sign that the art world is evolving. "I think we may be entering a new age of patronage," she said. "There is a great responsibility on the real estate developers that maybe they don't even realize, while at the same time, the stigma of an artist working with a rich developer is fading."
Ultimately, Samuels said, galleries are still a place of prestige, but "everyone is craving a new way to create a dialogue and to be a part of culture." She said she thought of this as a new way to construct the perfect triumvirate. "A smart developer hires a great architect, who needs a great interior designer, who needs a great artist," she explained. "Taken together, you can bring out the best gestalt of a space."