Arts
This Maine artist uses an unexpected medium: turds
Mary Winchenbach's "Tirdyworks" has received an overwhelming response.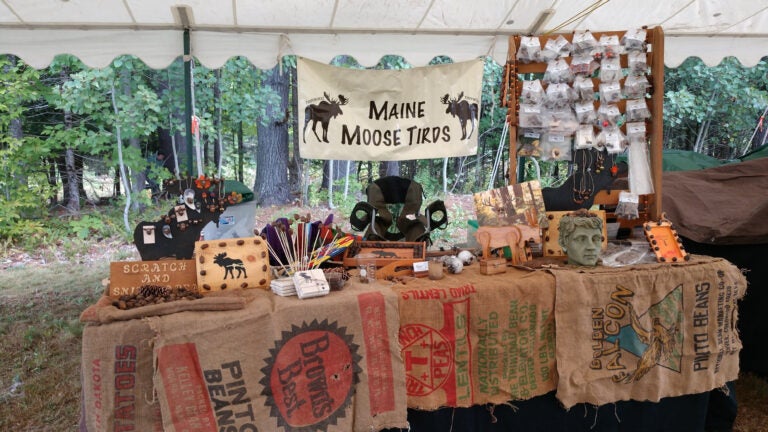 Mary Winchenbach's art is crappy — as in, it features animal feces.
The 58-year-old artist from Somerville, Maine, has become a bit of a sensation after videos of her presenting her work at mid-September's Common Ground Country Fair in Unity, Maine, went viral on Facebook.
Winchenbach first started crafting pieces with dung about 15 years ago, but went on a break after adopting three special needs children. Now that her kids are older, Winchenbach has made her return to the art scene.
"This is the first craft fair we had done in nine years at the Common Ground Fair up here in Maine," Winchenbach said. "And, boy, the s*** just hit the fan."
The artist and stand-up comedian estimates that, since then, she has received at least 1,000 orders. She calls her shop "Tirdyworks." (She spells "tird" as such because, as she puts it, "If ['turd'] is the case, you would spell 'bird' [as] 'b-u-r-d,' right?' Exactly. That's what I thought.")
"I have got turds going all over the continental US and to Russia and to Australia and Greece," she said. "Oh my god, I'm shipping s*** everywhere."
With help from about six people, Winchenbach has been "cranking out turds as fast as we can down here in Somerville." She recently quit her job in the lab at fertilizer manufacturer Ocean Organics to focus on her art full-time.  
While Tirdyworks currently operates out of Winchenbach's living room and kitchen, "at some point I'd like to get a s*** shack built, so I can do my turds in another building," Winchenbach said.
She only uses local dung ("Moose and deer turds mostly. Got a couple things we make using cow turd"), a lot of which she collects within two miles of her house, before dehydrating it and covering it in a special coating, which she calls a "trade secret."
Winchenbach said her masterpieces don't smell, despite the materials. She set up a station where visitors could take a sniff at the Common Ground Country Fair.
"We had hundreds and hundreds and hundreds of people sniff my turds, and I can honestly say my s*** don't stink," she said.
That's lucky, because Tirdyworks sells jewelry. Additionally, some of Winchenbach's most popular products include "poo poo clocks" (a clock with a turd between each hour), "fecal people" (feces arranged to look like people with googly eyes), and "dingleberries," which can decorate Christmas trees ("because you can never have enough crap hanging off the tree") and rearview mirrors.
Apparently, they might even get you out of a parking ticket.
"I overstayed my welcome in a parking spot about 10 minutes, and they were getting ready to write me a ticket. And I turn right up and I did a bit of a turd presentation and they liked that little dingleberry.  And they said, forget the ticket — they took the turd," Winchenbach said. "So that's like an insurance policy right there. Everyone should carry one of them turds in the glove box."