Arts
This fall, you can walk through a psychedelic mirror room at the ICA
The popular rooms are created by Japanese artist Yayoi Kusama.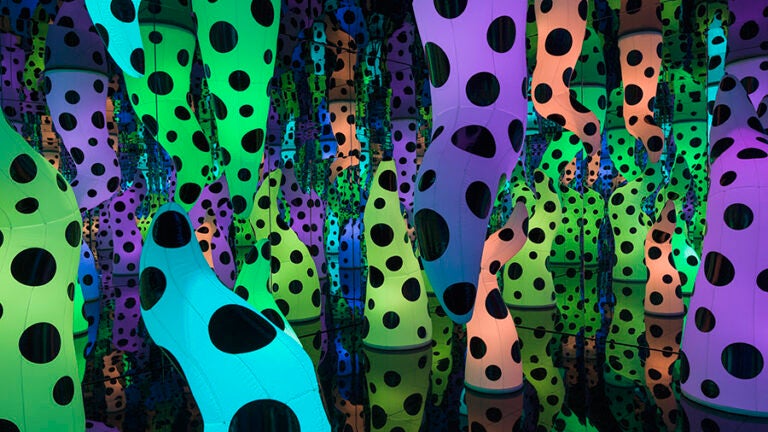 Inside contemporary Japanese artist Yayoi Kusama's "Love Is Calling," brightly colored, tentacle-like inflatable sculptures covered in her signature polka dots fill a mirrored room, creating "an illusion of infinite space," according to the Institute of Contemporary Art in Boston.
The ICA announced on Tuesday that it had acquired "Love Is Calling," which Kusama created in 2013, and will debut the installation this fall. The museum said you'll find the "immersive and psychedelic" art in the museum's Barbara Lee Collection of Art by Women, which currently includes 68 major works of 20th- and 21st-century art.
"Over a six-decade-long career, Kusama has indelibly shaped some of the most important art movements of the twentieth century, including Minimalism, Pop art, and feminist and performance art," said Eva Respini, chief curator for The Barbara Lee Collection of Art by Women at the ICA, in a statement. "LOVE IS CALLING is the largest Infinity Mirror Room of its kind held by a North American museum collection and one of Kusama's most significant artistic achievements. We are delighted that the ICA will be its new home."
As visitors move through the installation, they'll hear a recording of Kusama, 89, reciting a love poem in Japanese that she has authored. The poem's title translates to "Residing in a Castle of Shed Tears."
Kumana's infinity rooms have inspired large crowds and plenty of social media posts at other institutions, according to The Boston Globe.
"Love Is Calling" will be Kusama's second piece of art at the ICA. Her painting "A Flower (No. 14)" (1953) is already part of the museum's collection.