Arts
The MassArt Art Museum has a February opening date
The contemporary art museum opens Feb. 22 on Huntington Avenue.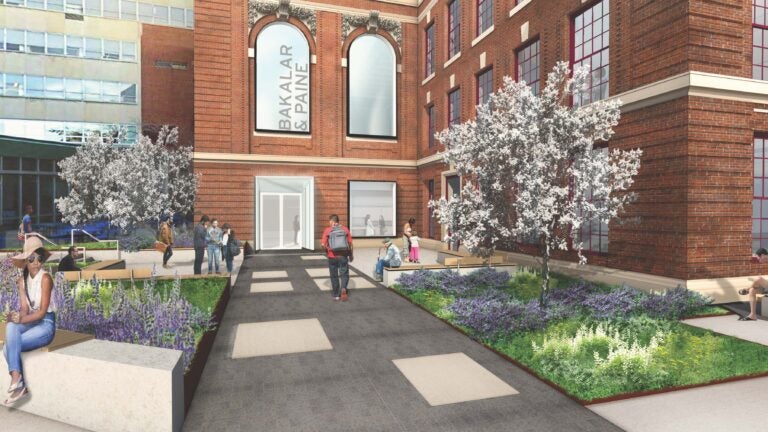 A new art museum will welcome visitors on Huntington Avenue in Boston next month.
The Massachusetts College of Art and Design announced in May that it will debut a 15,000-square-foot, contemporary art museum within an original 1906 campus building that formerly housed the school's Bakalar & Paine Galleries. The new, complimentary-to-visit destination will open Feb. 22 as the MassArt Art Museum.
Opening day festivities will include student-led art-making activities, exhibition tours offered in English and Portuguese, a meet-and-greet with the artists, and an evening reception with more art making and music by DJ Dayglow.
The museum's inaugural exhibitions will include the U.S. solo debut of internationally renowned artist Joana Vasconcelos, a group exhibition titled "Game Changers: Video Games & Contemporary Art," and an installation by sculpture and collage artist duo Ghost of a Dream.
"The museum is for everyone," said Lisa Tung, the museum's executive director. "It's a fun place where you can come, see something amazing, do something amazing, open your eyes, expand your mind, all through contemporary art. What could be better than that? And it's all free."
Tung shared five things guests can look forward to when they check out the museum next year.
For starters, expect a front door and visitor amenities
Before the renovation, it was difficult for guests to find the art galleries inside the college, Tung said.
"You would have to come into the college, and you would have to, basically, read a map to find out where the galleries were located because we were buried inside the bowels of the building," she explained.
The new museum will have a front door that opens directly onto Huntington Avenue, and inside, visitors will find facilities that didn't exist before, including a lobby, more bathrooms, a family changing room, and an elevator.
You'll have more time to view exhibits
In the past, guests have complained about too-brief running times of the exhibits, according to Tung.
"[Guests would say,] 'Well, this is such a great show, but it was only up for six weeks so I didn't get a chance to see it," she said. "Now it will be up for a minimum of at least 12 weeks and even longer."
The reason is that the museum is adding a state-of-the-art preparatory workshop. That means exhibits no longer have to be prepped in the gallery space, which is what previously reduced the time that existing ones could be viewed.
Educational events used to happen in the galleries as well, but they'll now take place in a new, 36-seat education studio, Tung said.
You'll be able to hang in an art-filled outdoor plaza
A brand-new outdoor plaza, called the Arne and Milly Glimcher Plaza, will have both benches and art.
"I imagine it will be a place of gathering," Tung said.
There will be all-new summer programs and exhibits
"In the past, we had to basically shut down at the end of May/beginning of June, because we didn't have any air-conditioning," Tung said.
New climate and relative humidity control systems will allow for year-round programming for the first time, as well as the addition of a summer exhibition season. The museum will also offer free programming for families in the summer, Tung said.
"The summer is a time when school is out, people are looking for things to do with their kids," she said.
MassArt hosts a popular Family Day twice a year, in the fall and spring, when about 500 families show up for interactive activities and art making, Tung said. Now the museum will add a third Family Day during the summer months.
Also coming: after-hours programming
The nearby Isabella Stewart Gardner Museum and Museum of Fine Arts both host events after-hours. Tung said her team is thinking about the type of programming they can provide during the evening hours.
"If our neighbors are staying open late, we want to be able to stay open as well," she said.