Arts
Interactive drip art and handcrafted ice cream will pop up at the ICA this summer
Catch Dan Lam's otherworldly installations while sampling Steve's Ice Cream.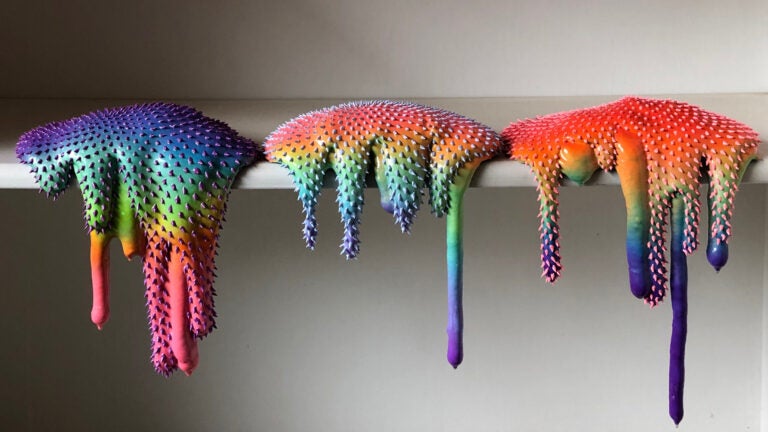 Artist Dan Lam is known for her "drip and blob" installations: vibrant, amorphous sculptures that she describes as "organic, blobby, colorful, and otherworldly." On Sunday, Lam's artwork will be displayed at the Institute of Contemporary Art in the Seaport, one of three days in which her drips and blobs will decorate the museum's waterfront steps and facade.
The installation, titled "Crave the Unexpected," will feature interactive pieces that Lam has constructed primarily from polyurethane foam, resin, and acrylic paint. Three sculptures will adorn the stairs at various levels, while others will drip from the facade's overhang and along the step's railing. The most exciting part, Lam told Boston.com, will be the ability for visitors to interact with her sculptures.
"My work has this appeal of people always wanting to touch it, but because I've shown mostly in galleries, that hasn't happened," she said. "I wanted people to take the liberty to explore [them]. There's one piece that has thermal chromatic properties — it'll change color based on the temperature of the hand."
Two other sculptures will encourage visitors to venture into the sculpture and explore and touch.
Lam said her aesthetic was borne out of her draw to both beautiful and ugly attributes while she tried to make sense of the purpose behind creating art.
"My work deals with attraction and repulsion," Lam said. "I find that I am interested in a lot of opposing or contrasting concepts. Anywhere where there's opposing concepts, there's opportunity in that space in between."
The installation is part of a partnership with Steve's Ice Cream, a Somerville-founded ice cream brand that's now based in Brooklyn. On each exhibition day — Sunday, June 9, as part of the museums's Harbor Market; and Friday, July 5, and Friday, August 6, as part of First Fridays — guests will be able to interact with Lam's artwork and sample flavors of Steve's Ice Cream, including Brooklyn Blackout Cake and the new Moroccan Mash Up.
"Crave the Unexpected" at the ICA; 25 Harbor Shore Dr., Boston; Sunday, June 9 from 11 a.m.–4 p.m., Friday, July 5 from 5 p.m.–9:30 p.m., Friday, August 6 from 5 p.m.–9:30 p.m.; icaboston.org