Arts
Here's the art that students have made during the coronavirus pandemic
"I know I am helping them through their grief when I give them my paintings."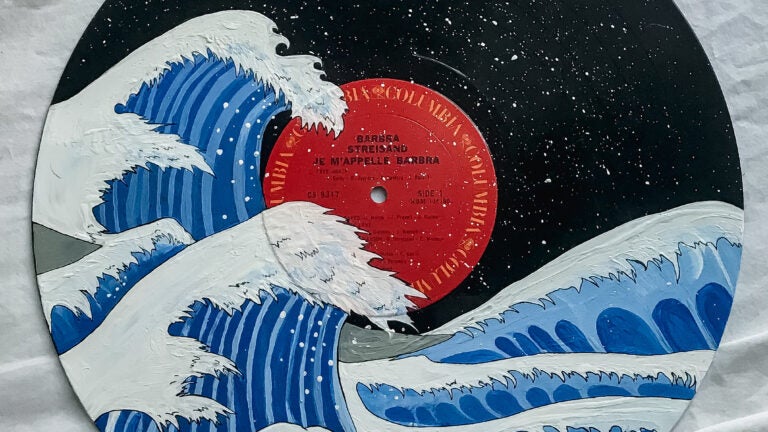 The stay-at-home advisory has uprooted routines for everyone — and we're all coping differently. For students whose school year will end online, being at home has inspired many to make art. 
Last week, we asked for student submissions on the art they've been making during the coronavirus pandemic. We received works that grapple with changing norms and an uncertain future; some were made as gifts for friends and family who can't celebrate major milestones together; some were made just for the sake of making art. 
Ahead, see the art that 20 students have made since the beginning of the pandemic.
Brendan Nee, 8 years old, South Boston Catholic Academy, Boston
"Watercolor Still life: blue vase of tulips"
Caleb, Grade 3, Charles C. Cashman Elementary School, Amesbury
"I have been taking online art classes at Essex Art Center during this time. I am also painting and drawing a lot in my free time because art is my passion. My favorite thing to create is animals. I love big cats the most. I want to be an artist when I grow up like my great-grandpa was. Here is…a lion painted with brewed coffee."
Liliana Vincent Dahlbeck, Grade 3, Thomas J. Kenny Elementary School, Boston
"I have been making wreaths out of wire. One of the wreaths is wire with scraps of paper around it to look like a flower and the other is an Easter wreath with a bunny in the middle of it. I have been doing art these past weeks because I love art. I forgot that I had this wire in my art supply bin and when I took a walk in the neighborhood and saw everyone's Easter wreaths, I decided to make some of my own using my wire. I gave them out as birthday presents, I made one for my front door, I made matching Easter wreaths for my grandmother and me, and I made some just for fun. I love making wreaths!" 
No one us at my house anymore, I am all alone. 

The pictures are seen only by my family and me and I am bored to the bone.

I am adjusting to this each day, that way I won't have to pay.

I cannot wait until this is done, so my friends can come over and have fun.
Brody Ruka, Grade 3, Thomas J. Kenny Elementary School, Boston
"A poem Brody Ruka wrote for his ELA class regarding this pandemic and his feelings about it."
Charlotte and Lily Randazza, Grades 3 and 4, Beeman Elementary School, Gloucester
Jack E. Collins, Grade 5, Deerfield School, Westwood
"My name is Jack Collins and I am a ten-year-old artist. My favorite form of art right now is photography. [The photos] were all taken with my mom's iPhone at places we've been going to get fresh air during quarantine—Hale Reservation in Westwood and Springdale Field in Dover."
Addison Lai, Grade 6, Manchester Essex Regional Middle School, Manchester-by-the-Sea
"Yard Art"
Luke Lenzi, Grade 6, Gates Middle School, Scituate
Linh Duong, Grade 6, Richard J. Murphy K-8 School, Boston
"I was doing a project. It was the #StayArtHomePejac campaign. It is a silhouette of one of my family members cut out and taped on a window. This person is walking on a utility pole wire as if they are walking on a tightrope but without a pole to balance them." 
Kathrine Nguyen, Grade 6, Richard J. Murphy K-8 School, Boston
"This art work goes along with the #StayArtHomePejac campaign. The art is using what we see outside our windows and using silhouettes to create an image or scene. When I looked out a window I saw a basketball hoop so of course I thought of basketball, so I made a silhouette of someone shooting hoops."
Patrick Foley, Age 17, Granite Academy, Braintree; Ryan Foley, Grade 9, Weston High School, Weston; Maggie Foley, Grade 6, Weston Middle School, Weston; Becky Dempsey, mother
"We all started a month ago, taking turns with black paint to make shapes or lines etc. When the sun pops out, we pull it out to the grass and add color! It started with lots of dark colors, but has ended up so bright and happy. 
I'm a single mom of these lovely monsters and have enjoyed watching our "QT" (Quarantine Time) painting transform over the past month!  We are planning to hang it in our house after it's framed to remind us of this time together. Hope you enjoy!"
Zinnia Davis, Grade 7, Boston Latin School, Boston
"My piece of art is of a girl making a mask. This was inspired by me making masks with my sister :)"
Islay Shilland, Grade 7, Boston Latin School, Boston
"This drawing is for my mother. Every year on Mother's day, we go to the Arnold Arboretum to see the lilacs. Since we can't go this year, I drew the lilacs for my mother instead."
Gwen Robinson, Grade 8, Norwell Middle School, Norwell
"A peaceful dove landing on someone's hand to represent hope. The hand is reaching for it even if it is not there yet."
Julia Kauffman, Grade 10, Sharon High School, Sharon
"Many kids get their frustrations, emotions (happy or sad) out through art. I like to pour all my emotions onto a piece of canvas and through embroidery. 
A little background on me…..I am a sophomore at Sharon High School. My favorite classes at school are math and ceramics. Painting and doing embroidery (on my sneakers) has given me an outlet and a really nice way to pass the time (besides doing schoolwork) these days. Sadly, my Grandmother passed away last week so this period has been especially hard. The paintings that I have submitted to you were ones that I did as a gift for family members. For example, the starfish was for my aunt, rose for my Mom, and the ocean was for my uncle. In a very small way, I know I am helping them through their grief when I give them my paintings. Besides, my grandmother loved my artwork! She was very proud of me!"
Cate Mulholland, Grade 10, Natick High School, Natick
"The video I made was for a school project to create a one-minute short film. I decided to create a time lapse of a day in quarantine. The camera is positioned to look out a window upon the outside world. It shows that natural life carries on even when we are all trapped inside. The sun still rises and sets, the moon comes out, and the clouds pass and go."
Judit Laidlaw, Grade 10, Natick High School
"My friend and I started a nonprofit to raise money for charity by selling custom artwork. Due to the pandemic, we've decided to raise money for Voices Against Violence. [Here's] an example of some of the work we have been doing during the pandemic. More examples can be found on our website (mudarts22.com)."
Jana DeMartino, Grade 10, Walpole High School. 
"This is a painting I did as part of my art homework. It is supposed to capture the current time and how I feel about it. I called it 'The CoVoid.'"
Alethea Bradford, Grade 11, Boston Latin School, Boston
"I painted a record inspired by Hokusai's 'The Great Wave of Konugawa.' Hope you stay safe!"
Sydney Charles Kwaku, Grade 11, Hanover High School, Hanover
"During this period of remote learning, my art teacher gave us the challenge to craft some sort of art piece with the theme of Mona Lisa; I decided to put a covid twist on the traditional art piece and hence my 'Corona Lisa' was born. I hope you like my drawing."