Arts
Boston museums react to the rollback of the city's coronavirus reopening plans
"We are not aware of any transmissions at the Museum. However, we support the effort to take every measure possible at this critical time."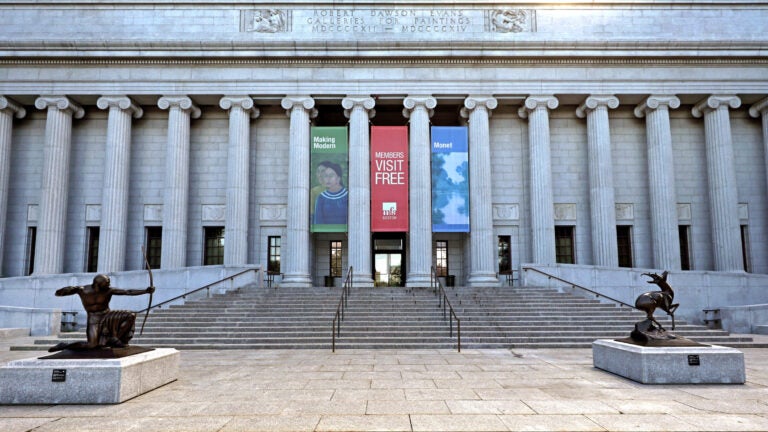 With the news that Boston will be rolling back its coronavirus reopening plan to a modified version of Phase 2, Step 2 starting Wednesday, many local businesses and cultural institutions learned on Monday that they would be required to shut their doors for at least three weeks.
Among the businesses and cultural institutions affected by the rollback: museums; movie theaters; aquariums; sightseeing and other organized tours; indoor historical spaces and sites; fitness centers, health clubs, and gyms; bowling alleys; batting cages; and rock climbing facilities.
In a Monday press conference, Mayor Marty Walsh said that the rollback didn't mean the city was necessarily targeting those businesses, and that the city would reevaluate in three weeks.
"I want to be clear: This is not about targeting specific sectors that cause the virus," Walsh said. "This is an effort to reduce overall activity outside the home using mechanisms afforded by the state's reopening plan."
Some museums, including the Institute of Contemporary Art and the Boston Children's Museum, preemptively closed their doors before Walsh's announcement. The ICA voluntarily closed on Dec. 7, while the Children's Museum announced that it was ceasing operations until at least Jan. 7 on Sunday.
"We have been paying close attention to the data provided by the city and state as COVID cases continue to rise and have listened to the Governor's and Mayor's calls for all of us to stay home and do our part to limit the virus's spread,"  ICA director Jill Medvedow wrote in a Dec. 7 statement to Boston.com. "With this in mind, we decided to voluntarily close the museum to the public to ensure the health and safety of our staff, visitors, and community. At this time, we do not have a projected reopening date but will continue to follow the data and advice of public health experts."
Here's what other Boston museums are saying about the impending closures.
Matthew Teitelbaum, Ann and Graham Gund Director of the Museum of Fine Arts, Boston
"We appreciate the Mayor's efforts to keep Bostonians safe, and are committed to doing our part. Museums and cultural institutions understand the need to take significant action to curb increasing infection rates, and we have helped keep our communities safe by exceeding public health guidelines. As we move to reopening in the new year, we know that museums will provide a welcoming space for all of Boston long into the future."​
Vikki N. Spruill, President & CEO, New England Aquarium
"The New England Aquarium has prioritized safety throughout the pandemic and will continue to do so during this temporary public closure. Above all else, we put the health of our visitors, staff, and animals first. Even though we have no evidence of community transmission among visitors or staff at the Aquarium, we must do our part to help slow the spread. Our team will be closely following guidance from the City of Boston. While our doors are closed to visitors, our staff will continue to provide dedicated care daily to our animals. We encourage our supporters to visit us from afar with a variety of virtual programming opportunities available and to consider a donation to the Mission Forward Fund, which directly supports the institution's most urgent needs."
Museum of Science, Boston
"We have been in close communication with Mayor Walsh's staff as community transmission rates have grown to alarming levels. During this time, the Museum has maintained a safe experience for all through reduced operating capacities, strict cleaning and safety protocols and adherence to health guidelines. We are not aware of any transmissions at the Museum. However, we support the effort to take every measure possible at this critical time. While the Museum will be closed to the public, our work and mission continue. We will continue to work on various on-site projects and will expand our service to the community through our digital efforts at MOS at Home and MOS at School. We have a unique opportunity to help our community through this difficult time. This is another setback for our already fragile cultural community, particularly during the holidays, but we are dedicated to emerge from this global pandemic stronger than ever in service to our community."
Peggy Fogelman, Norma Jean Calderwood Director, Isabella Stewart Gardner Museum
"We appreciate the efforts of our Mayor, and Governor, as well as hospital, frontline and other essential workers, to keep our City safe, especially during this holiday season. We look forward to the time in the new year when we can once again welcome visitors, and serve as a place of beauty and respite for all."