Arts
Here's why Boston and other cities are getting 2 'immersive' van Gogh exhibits
Confused? So are ticket buyers, who have complained on social media that they bought advance tickets to the wrong events because the names were so similar.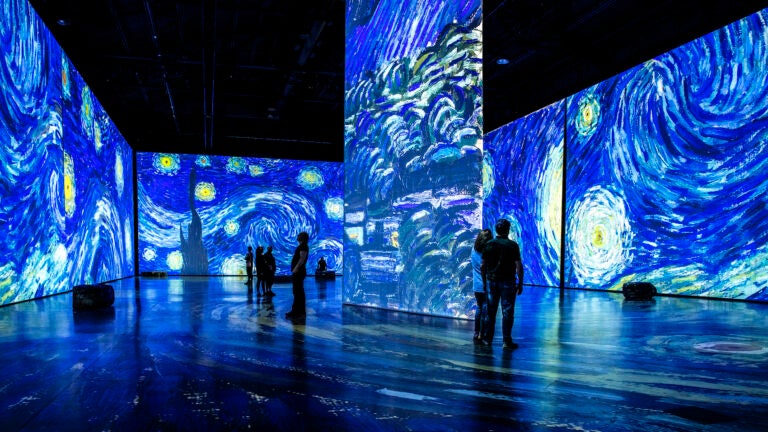 For all those Vincent van Gogh fans who once stood cheek-by-jowl at the Museum of Modern Art to get a selfie in front of "The Starry Night," there are, suddenly, increasing opportunities to just about bathe in the painting.
Immersive experiences that turn the walls and floors of an exhibition space into a kind of van Gogh dream world have popped up in Chicago and St. Petersburg, Florida.
More are coming to Atlanta, Houston, Indianapolis, Los Angeles, Phoenix, San Francisco, Seattle, Philadelphia and Charlotte, North Carolina.
Boston, Dallas, Miami and New York are getting two "experiences" apiece, created separately by some of the half-dozen companies that are now engaged in producing immersive van Gogh shows.
"In a world of competition, of course, people will try to replicate," said Rob Kirk, head of traveling experiences at Grande Experiences, whose "Van Gogh Alive" show (currently at the Dalí Museum in St. Petersburg) has been exhibited since 2011. "It's flattering."
Depending on where they live, fans also have a choice between "Imagine Van Gogh: The Immersive Exhibition," or the "Immersive Van Gogh Exhibit" or "Van Gogh: The Immersive Experience," or "Beyond Van Gogh."
Confused? So have been some ticket buyers who have complained on social media that they bought advance tickets to the wrong events because the names were so similar.
The immersive experiences were made popular first in Europe more than a decade ago; one involving van Gogh was even featured last year on the Netflix show "Emily in Paris."
At most of the experiences in the United States, socially distanced guests wearing masks walk through rooms hearing a score set to van Gogh's work. The projections move, the images shift from dark to light, the colors explode. The scale, the images and the effect of being inside van Gogh's work have led some visitors to cry.
Groups and families often sit in circles on the ground, 6 feet apart, to drink in his almond blossoms or "The Starry Night Over the Rhône" (1888). At times, children run among the projected sunflowers. Some exhibitions include aromas of cypress, cedar, sandalwood and nutmeg with hints of lemon and vetiver to transport people to orchards, gardens and fields. Another employs a virtual reality headset.
Nadine Granoff, the director of research for a company that authenticates and appraises works of art by van Gogh, said the immersive experiences have "the potential to be really helpful in understanding the whole artist instead of seeing something just isolated on the wall. It can really make it come alive."
Other artists, like Picasso and Monet, have been the subject of immersive experiences, but as the ubiquity of the traveling van Gogh shows makes clear, he is the rock star of this genre. Experts say van Gogh's popularity arises from the fact that his images of people, landscapes and still lifes are so accessible, but still glow with innovative and bold colors. The back story of his life, including a struggle with mental health issues, resonates with many as well.
In 2008, Annabelle Mauger created her first immersive van Gogh exhibition, building off what she learned about immersive experiences from her husband's grandfather, who created an early model known as Image Totale. She has continued to adapt it, working with an art historian to present the last two years of the artist's life. She wanted people to appreciate the details of van Gogh's artwork and his thick and sometimes violent-looking brush strokes without the barrier of a frame.
"It's just you inside the painting," Mauger said.
The immersive experiences are meant to compliment the work displayed in a museum, not take away from it, according to Mauger and other producers of the exhibitions. They are particularly useful, they said, in introducing art to children, who, because of their height, may not see paintings well in crowded museums. It also replaces the often rigid museum etiquette, with its near silence and strictures intended to protect the artwork, with a looser atmosphere filled by music, lounging and chitchat.
The show she helped create, "Imagine Van Gogh: The Immersive Exhibition," will arrive at the SoWa Power Station in Boston in December.
The "Immersive Van Gogh Exhibit," (be careful, readers, that is the name of a different show) is already open in Chicago, and is headed to six more cities, including New York. It is the exhibit that was featured in "Emily in Paris" and was designed by Massimiliano Siccardi, who has done previous van Gogh projects in Europe.
Siccardi redesigns the experience to fit with the architecture of the space holding the exhibition and tries to tell the story following a loose stream of consciousness that takes visitors through a recreation of van Gogh's perspective using large images and animations, said Corey Ross, a producer of the exhibition.
Siccardi's intention, Ross said, is "to go into van Gogh's mind to show us what flashed before his eyes before he passed away."
Tickets for the van Gogh shows, which are produced by for profit entities, range in price from $25 to $65 for adults. In Indianapolis, ticket prices are not set for a van Gogh exhibition to open THE LUME, a new digital art installation space at Newfield's, the city's art campus, that will feature content produced by Grande Experiences, the makers of "Van Gogh Alive."
A price tag of $25 did little to dampen the enthusiasm of Sarah Bevil, 29, a self-described van Gogh fanatic from Zephyrhills, Florida.
She waited months to attend the "Van Gogh Alive" exhibit at the Dalí Museum. Bevil, who decorated her entire office with images of "The Starry Night," traveled through the exhibition in January with her partner and her children.
"You look down and you have half of 'Starry Night' on your body," she said of the experience. "It catches you off guard and brings you into the painting."
Also a surprise for Bevil that evening: her partner of 10 years got down on one knee to propose in the museum's gardens.
It was indeed a starry, starry night. She said yes.