Arts
'Stories that need to be told': A new event in Roxbury spotlights comics creators of color
The Comics in Color Festival will feature more than 40 presenters in online sessions and an in-person, open-air market, says co-founder Cagen Luse.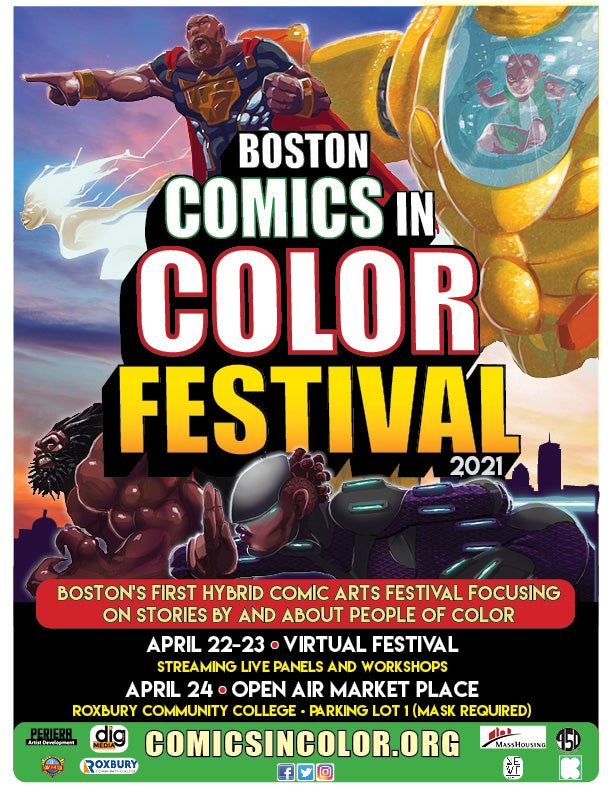 In 2015, Boston-area comics creators Cagen Luse and Barrington Edwards hopped on a bus to New York City to check out the Black Comic Book Festival at Harlem's Schomburg Center. And when they left, they had one thought on their minds: "This has to happen in Boston."
"It was just eye opening to see so many people of color enjoying comics and making comics," says Luse, who draws "Lunchtime Comix," an autobiographical comic strip about a mixed-race family, for DigBoston, and is the author of the Racially Ambiguous Guidebook. "It was such a great experience to be there and feel a part of this community that I wanted to build this in Boston."
It took a while, but after a false start last year thanks to that global pandemic, Luse and Edwards are finally ready to unveil the results of their efforts: The Comics in Color Festival, which Luse describes as "kind of the big culmination of everything that we've been working on."
The event, coming Thursday-Saturday, April 22-24, will feature a veritable who's-who of creators of color from Boston and beyond, offering a wide variety of virtual seminars, panels, and workshops, including a one-on-one session with Malden native Keith Knight of the nationally syndicated comic strip "The Knight Life," the inspiration for the Hulu show "Woke."
"And then on Saturday, we're going to have an open air market at the Roxbury Community College in a parking lot, because now, you know, everything has to be outdoors," said Luse. "We're going to have vendors and be very COVID aware and socially distanced and all of that."
Boston.com caught up with Luse recently to talk about Comics in Color, what this watershed period for racial justice has meant for the world of comics, and what the future holds.
Boston.com: To start off, tell us a little bit about Comics in Color.
Cagen Luse: Comics in Color is kind of two different things. Comics in Color is a monthly meetup series that we used to do at the Grove Hall Library when you could actually meet in person, and now is on Zoom. And then we have the Boston Comics in Color Festival, which is a three-day festival happening here in Roxbury and virtually, highlighting stories by and about people of color.
[At] the monthly sessions … we would do workshops and have artists come in and talk about their work, about process, and kind of developing young artists. It took a little while — we talked over it and wrestled with it back and forth, but then when the movie Black Panther came out it felt like that was the right moment all of a sudden. The stories were becoming more interesting, and it was kind of blowing up, so we said this is the moment.
We just put a call out there [saying] let's all get together at the library, and folks came. Originally it was just us sitting around, literally — I brought some of the comics I had, we sat around, we read them, we talked about them, and it kind of has developed since then into something much bigger, and now the festival.
[For] our monthly sessions, we would conduct workshops where we would do comic prompts or some simple things like that. We had a lot of younger kids, and they just dove right into it and were awesome. But we also had like some grandparents and parents come along, and because they were there, they would try it out.
This is one of the stories I love: There's this older woman who brought her grandson there, and she had never written a comic before in her life, and we were just doing a little exercise and she was sitting over there in the corner just drawing away and drawing away, and I was watching her. I went over there and looked at it and asked her to share what she had drawn. It was this amazing comic — just like little line art drawings about her story, where she was born, her growing up, her getting married, her having children, grandchildren — it was this story of her entire life in this couple of pages.
And she was like, "I had never drawn comics before because I'd never thought I could do it." It was just this amazing moment of someone really discovering that the power is in their hands to tell their story.
Boston.com: How has Boston, and the Roxbury community in particular, reacted to the things you've done previously and the fact that this festival is coming to Roxbury?
Cagen Luse: Everyone's been really supportive and really excited about this. It's something different, something that's never really happened in this community before, and there's been a lot of excitement from people that you just meet on the street, there's a lot of excitement on social media.
So I think that will carry through to make a really exciting and fun event that will continue annually — you know, a long line of Comics in Color festivals.
I guess the ultimate goal of the festival is to develop a network and community of artists of color, to kind of uplift artists of color, to get more people of color telling their stories, writing comics, drawing comics … just feeling like their stories matter. So yeah, ultimately it's just to create a kind of a community here for folks to support one another and get their stories out.
Boston.com: How important was it to be able to have an in-person aspect to the festival?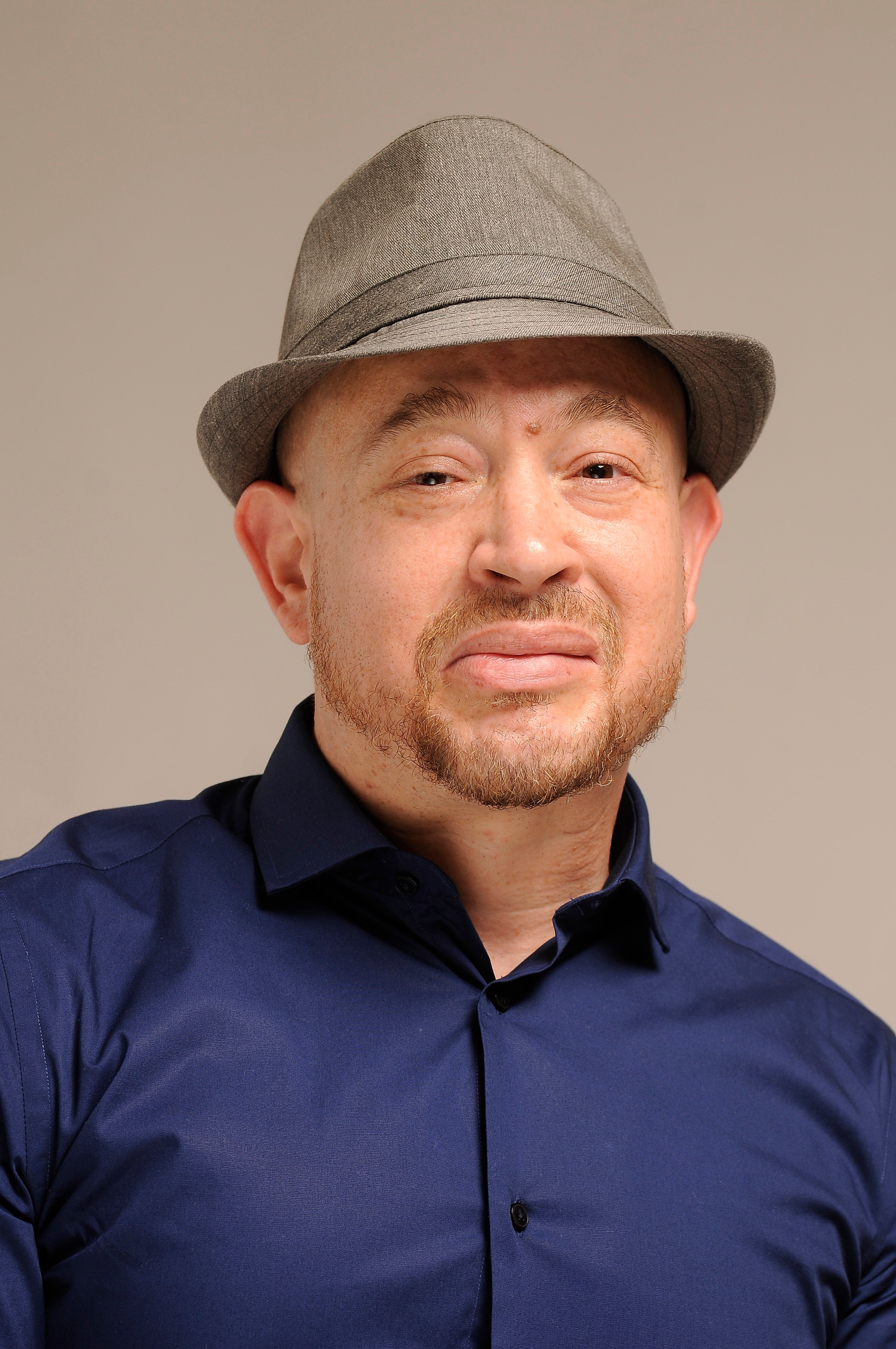 Cagen Luse: I felt like the in-person part was really important, even though it would have been easier just to do a virtual festival at this point. But I felt like being in the space with people and meeting the authors face to face — you know, six feet apart face to face — I felt like that was really an important part of the festival, and I didn't want to not have that, even if it's somewhat pulled back from what we'd like it to be, like in the 2020 festival that never was.
We had so many exciting performances and all these other pieces we were going to have, like live art happening on the scene, but we can't really do that. This time it's going to be more of a controlled environment because of COVID, but I still think that it's a really important part of the experience of a con or a festival.
Boston.com: How does a project like this fit into what's been sort of a watershed year for the racial justice movement?
Cagen Luse: Well, I think comics have always been part of political movements, and I think what's so great about comics is that anybody can do it — anybody can tell their story, and there are a lot of stories that need to be told. And I really believe that the more diverse the storytelling, the better for everyone, not just people of color but for everybody across the board.
And I think that now is really a time when people are more open to receiving more diverse stories and wanting to learn more about other cultures and how other people live, so I think this is a perfect time to have an event like this and tell these stories.
Boston.com: Where does the Racially Ambiguous Guidebook fit into that?
Cagen Luse: The Racially Ambiguous Guidebook is really about my own personal experiences as a racially ambiguous person. And I just felt like no one had really explored that — you know, kind of being in the center and people asking you all the time, what are you, where are you from?
And you know, since I've put this book out there it's been amazing that so many other people identified with that experience. It's not just people of color — racial ambiguity is kind of across the board. If it's not immediately apparent where you're from or what race you are, then people question it. A lot of people have had that same experience.
And if my light skin privilege, as I call it, opens any doors for me, I would like to use that to bring in other folks of color to this world which I just love so much.
The Comics in Color Festival, running April 22-24, will feature more than 40 presenters at online sessions covering topics including writing for comics; crowdfunding; comics in TV, movies, fashion, and literature; animation; and women creators and characters. For the full schedule, visit comicsincolor.org. Saturday's open-air marketplace takes place in Parking Lot 1 at Roxbury Community College, 1350 Tremont St., from noon until 5 p.m.
For more on the Comics in Color Festival and Cagen Luse's work, including "Lunchtime Comix" and the Racially Ambiguous Guidebook, listen to his appearance on Strip Search: The Comic Strip Podcast below.
Get Boston.com's browser alerts:
Enable breaking news notifications straight to your internet browser.