Arts
'You ain't seen nothing yet': Mural project pairs artists for rotating installations in Grove Hall
"It's great to have that cooperation and collaboration."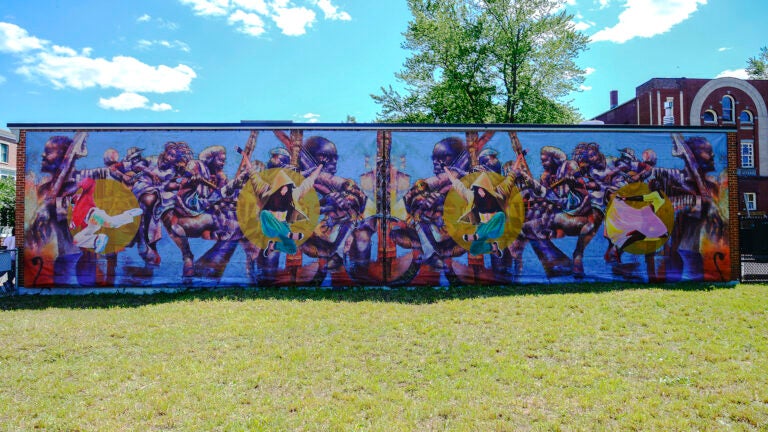 Dancers and musicians are stretched across the wall of a laundromat in Boston's Grove Hall, the splash of color and activity just one of the latest murals to arrive in the neighborhood.
The thrum of the music being played is palpable; the movement of the dancers effortlessly fluid.
The moment of celebration is the work of two prominent Boston-based artists, Paul Goodnight and Larry Pierce, and the start of a series of new murals that will arrive in the neighborhood over the next year.
The project, Mentoring Murals, launched in June with the installation of Goodnight and Pierce's work, "No Strings Detached." Theirs is the first work in the pilot program organized by Now + There, a nonprofit arts organization dedicated to bringing more public art to Boston neighborhoods, and Greater Grove Hall Main Streets.
As part of the project, local artists will be paired together to collaborate on printed murals, which will be installed over the next year on the wall of Breezes Laundromat at 345 Blue Hill Ave.
A total of six artworks will be displayed on the side of the business in Grove Hall, which links the neighborhoods of Dorchester and Roxbury.
The installations will change every three or four months.
According to Now + There, one of the goals of the project is to pair "celebrated Black muralists with up-and-coming artists" to highlight the importance of mentorship in maintaining a robust arts community. But the pilot was kicked off with the collaboration between the established artists Goodnight and Pierce.
The two men, who have done several art shows together, had never worked together. But their collaboration began in the spring when they were approached about participating in Mentoring Murals.
Pierce told Boston.com he'd wanted to meet Goodnight since he arrived in Boston as a transplant from New York and had been influenced by the artist long before.
"When this opportunity for the mural came up, I jumped at the chance because I thought it was going to be an exciting opportunity," Pierce said.
For Goodnight, whose work has been featured in television shows including the "The Cosby Show" and "E.R.," it's the kind of project he's always wanted to do.
"When I thought of a person I would love to work with, that was an easy decision," he said. "Larry is somebody that — I've admired his work and bought some of his work, as a matter of fact. And I find him highly imaginative, challenging everybody's eye to see what he's done. So to be able to do that, to really see that person and work with them, it's a whole different ball game."
The outcome, they agreed, feels great.
In developing the concept for their mural, Goodnight said he was reflecting on themes that have universal appeal and a cultural connection.
"The universal appeal, obviously, was music, and I used string instruments to emphasize a certain kind of music," Goodnight said. "And the banjo itself was a cultural part. There were a couple of cultural parts, but the banjo itself, which is the centerpiece, came from Africa and of course it has been modified over the years."
After developing the idea, he showed Pierce what he was thinking about for the work.
"Paul Goodnight is and always has been the master of movement," Pierce said. "And so when he came up with the concept and invited me in on it, I looked at what he did as initial studies and sketches and I said, 'Yeah, I have to think of something that will complement this.' What we were going with actually was a drama and theater really. And Paul came up with this really beautiful concept of instruments and people playing stringed instruments, and I decided I had to do something that would continue that narrative."
Pierce developed images of three dancers inside circular shapes, which were made transparent with the help of their technical advisor, Robert Murrell, in order to merge the images of the musicians and instruments created by Goodnight.
"It just kept the piece flowing," Goodnight said.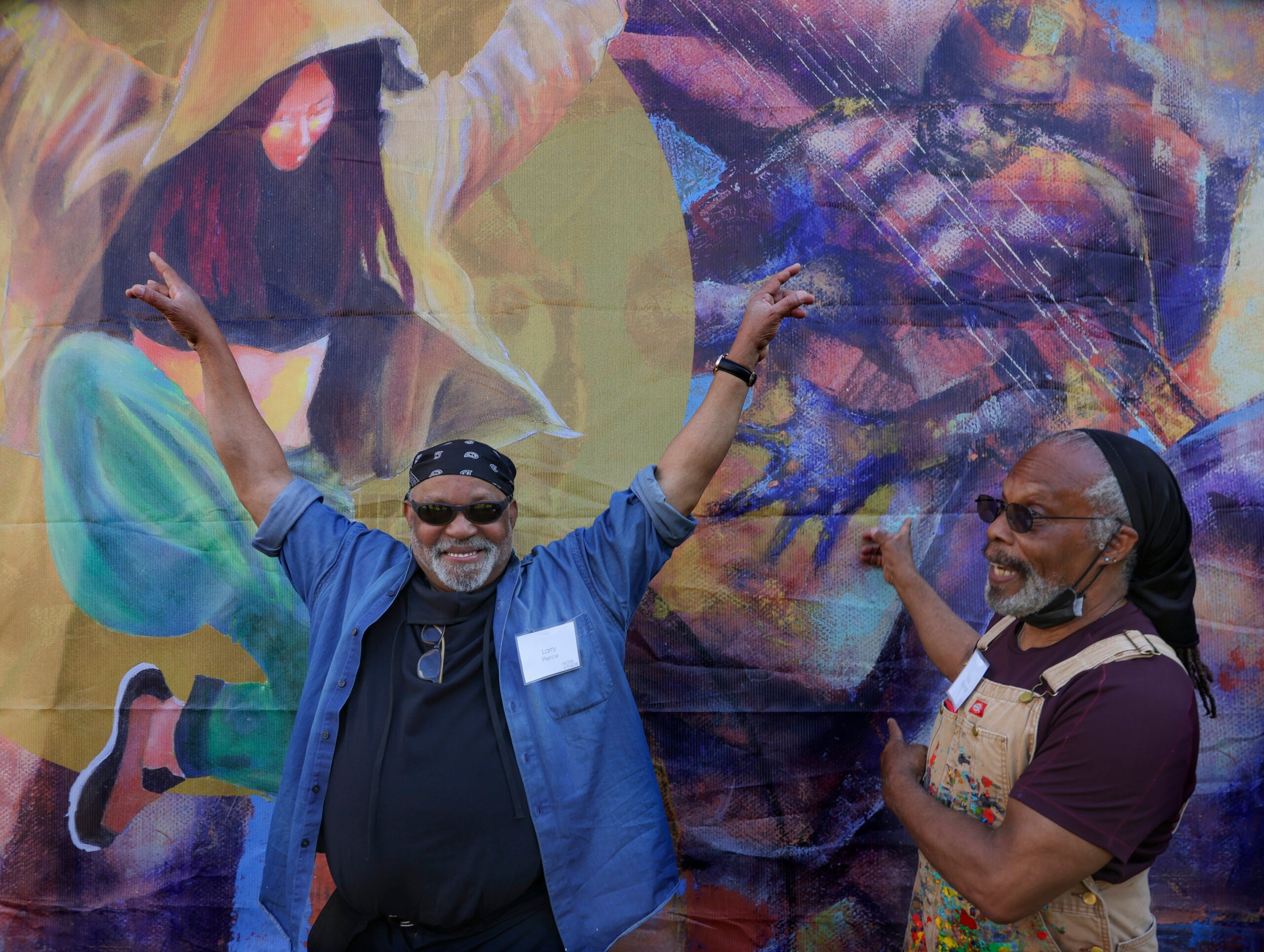 The two muralists agreed that what was so unique about the project was the opportunity to work collaboratively with another artist. In addition, the murals are printed on weather-resistant canvas, which means artists weren't required to climb up on ladders to paint the works.
Because the murals are printed on a canvas, it also means there is a possibility that the works could be installed elsewhere after being taken down off the laundromat's wall.
"To me, this is revolutionary because these are not works that are permanently affixed to any surface," Pierce said.
Goodnight said the impact of the Mentoring Murals program is already evident in the way it is stirring conversation and excitement in the local arts community.
"It's great to have that cooperation and collaboration," he said.
And so far, he said it appears the mural has been embraced by the surrounding community.
"We're glad, because the neighborhood usually accepts things that usually pertain to them, that has some kind of message for them," Goodnight said. "And that's what that whole thing is about. Public art is for the public."
It is clear to Pierce that the residents of Grove Hall, Dorchester, and Roxbury are tuned into art and incorporating the "concept of art" into their daily lives.
"There's an explosion of public art that's gone on now in Dorchester and Roxbury, that's echoing some of the beautiful public art that is happening in cities like Lynn. … Almost every other day when I go outside I see a new piece going up," he said.
It's a movement Pierce said he's proud to be participating in with this project, which is only just beginning.
Both artists are looking forward to seeing the works that follow them.
"Stay tuned, because … you ain't seen nothing yet," Pierce said.
The mural by Goodnight and Pierce will be on display through Sept. 10. Up next is a piece designed by Ekua Holmes, creator of the Roxbury Sunflower Project, and London Parker-McWhorter.
Newsletter Signup
Stay up to date on all the latest news from Boston.com