Arts
3 of Boston's biggest art museums will require face coverings
"We are all in this together — get vaccinated, wear a mask, and be well."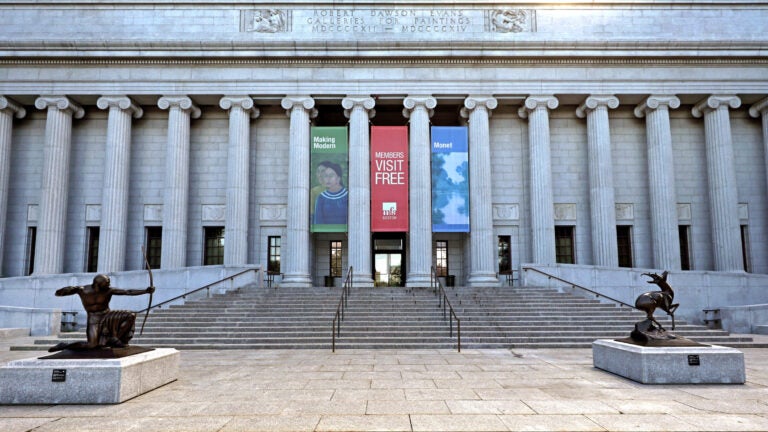 Three of Boston's biggest art museums announced Thursday that they will require visitors to wear face coverings regardless of vaccination status starting this weekend.
The Museum of Fine Arts, Isabella Stewart Gardner Museum, and Institute of Contemporary Art (ICA) announced that face coverings will be required for all visitors to the museums starting Saturday, Aug. 7, in accordance with updated guidance from the Centers for Disease Control and Prevention.
The CDC guidance issued last week recommends that people in a county with a "substantial" or "high" coronavirus transmission rate wear a face covering in indoor, public places regardless of vaccination status.
According to data released Monday, the recommendation currently applies to nine Massachusetts counties: Barnstable and Nantucket counties are in the "high" transmission rate category, while Bristol, Essex, Hampden, Middlesex, Plymouth, Suffolk, and Worcester counties are in the "substantial" category.
"This decision is based on recommendations and data from the CDC, which has designated Suffolk County as being in a period of 'substantial" transmission,'" the ICA wrote on its website. "Thank you to all of our staff and visitors for keeping one another safe by wearing masks at the museum. We are all in this together — get vaccinated, wear a mask, and be well."
The ICA also said that it would provide face coverings to visitors as needed, and that face coverings would not be required for events held in the museum's outdoor spaces.
The Gardner Museum's announcement also limited its mask mandate to "indoor spaces."
"All visitors and staff have the right to a safe, respectful experience, and we appreciate your adherence to this policy," the museum wrote on Facebook.
The MFA, on the other hand, will require face coverings in both its indoor and outdoor spaces.
"Beginning August 7, all visitors and staff will be required to wear masks both inside and outside the building regardless of vaccination status, in accordance with the latest CDC guidance," the museum wrote on Facebook. "In this time of increasing health risks, our commitment to one another is paramount, and we hope our visitors respect the members of our staff now in the position of enforcement."
Newsletter Signup
Stay up to date on all the latest news from Boston.com