Arts
We visited Boston's 2 Van Gogh 'immersive experiences.' Here's which one you should choose.
We went to both "Imagine Van Gogh" and "Van Gogh: The Immersive Experience." Here's what you need to know.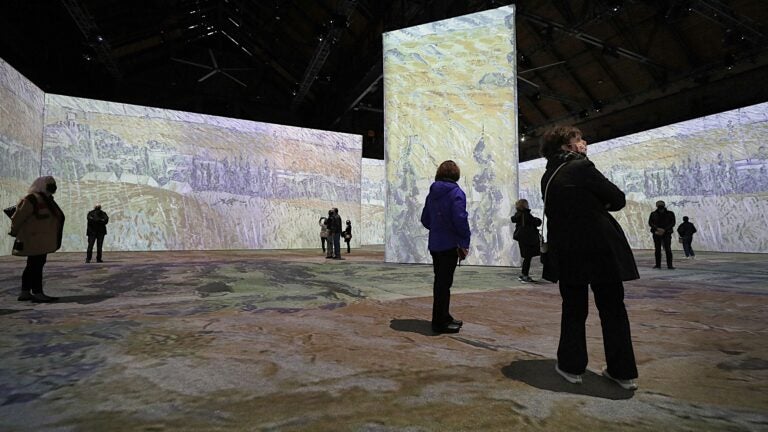 More than nine months after it was first announced, "Imagine Van Gogh: The Immersive Exhibition," made by the creators of the original immersive Van Gogh exhibit that first opened in France in 2008, arrives in Boston this week.
In the time it took for artistic director Annabelle Mauger to bring her creation to SoWa Power Station in the South End, a second exhibit, known as "Van Gogh: The Immersive Experience," made its debut at the Strand Theatre in Dorchester in October. (The Dorchester version is just one of a half-dozen copycat Van Gogh exhibits currently traveling the world that have built on the success of Mauger and co-creator Julien Baron's original exhibit.)
Both immersive experiences feature understated, museum-like introductions, with rooms offering greater context about the Dutch painter. Both are housed in an iconic space with floor-to-ceiling projections of Van Gogh's works. And both have sold a healthy number of tickets over lengthy stays in Boston, with "Van Gogh: The Immersive Experience" running from October through February and "Imagine Van Gogh" in town from December 21 through March 20.
So which of the two Boston Van Gogh exhibitions should you buy tickets to? Having now attended both immersive experiences ahead of their respective debuts, here's a breakdown of the pros and cons to each.
First Impressions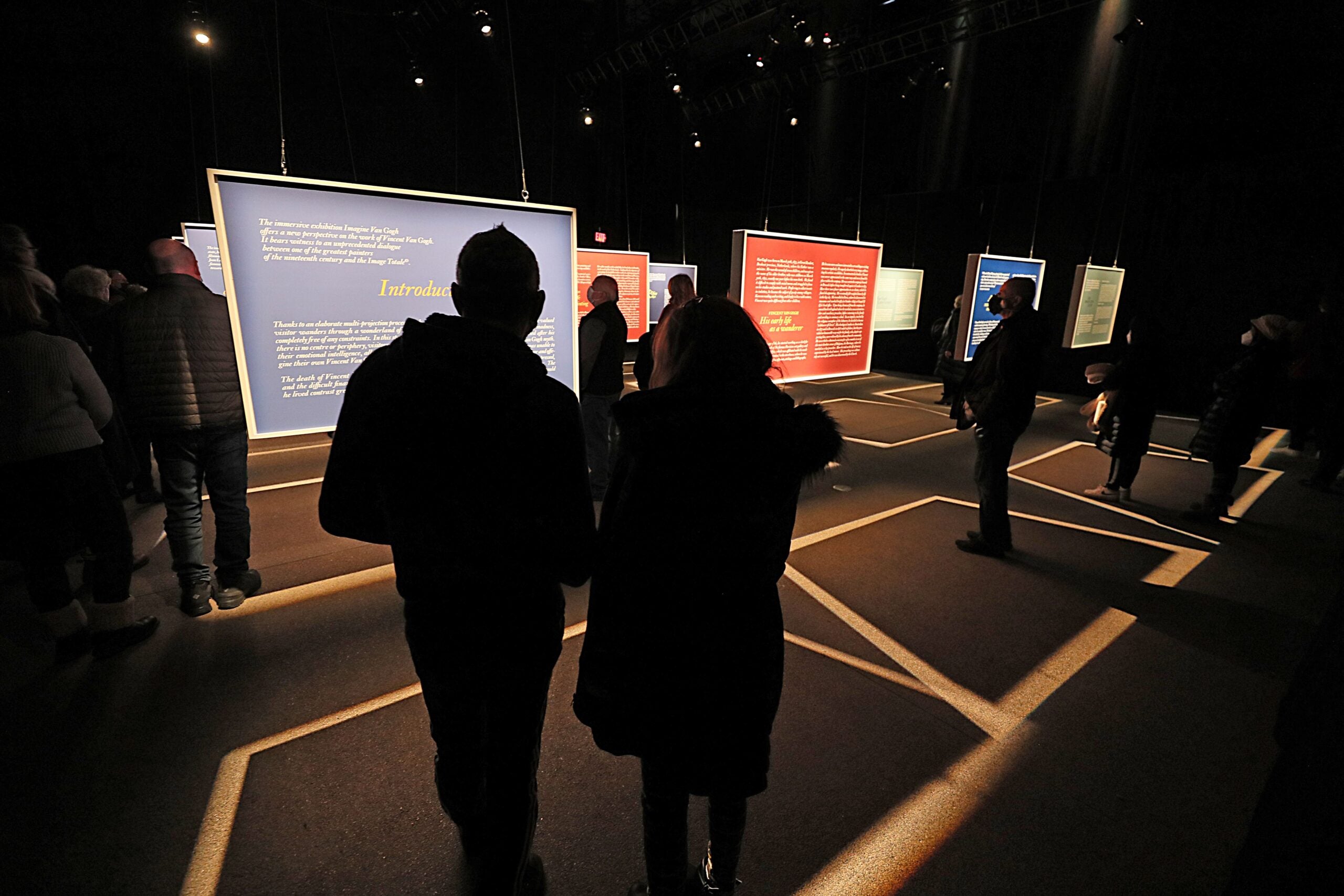 Walking into "Imagine Van Gogh," visitors are moved to a single room, where they queue up to read facts about Van Gogh's life and the story behind the exhibit's creation, including the artistic statement and additional info about the technology used in its projections.
"Van Gogh: The Immersive Experience" offers replica canvas prints of the painter's works, along with biographical info about each of them and a handful of digitally enhanced versions of the artist's most well-known paintings that offer a preview to the digital experience to come.
Verdict: "Van Gogh: The Immersive Experience" gives visitors more to look at before entering the main room.
The Space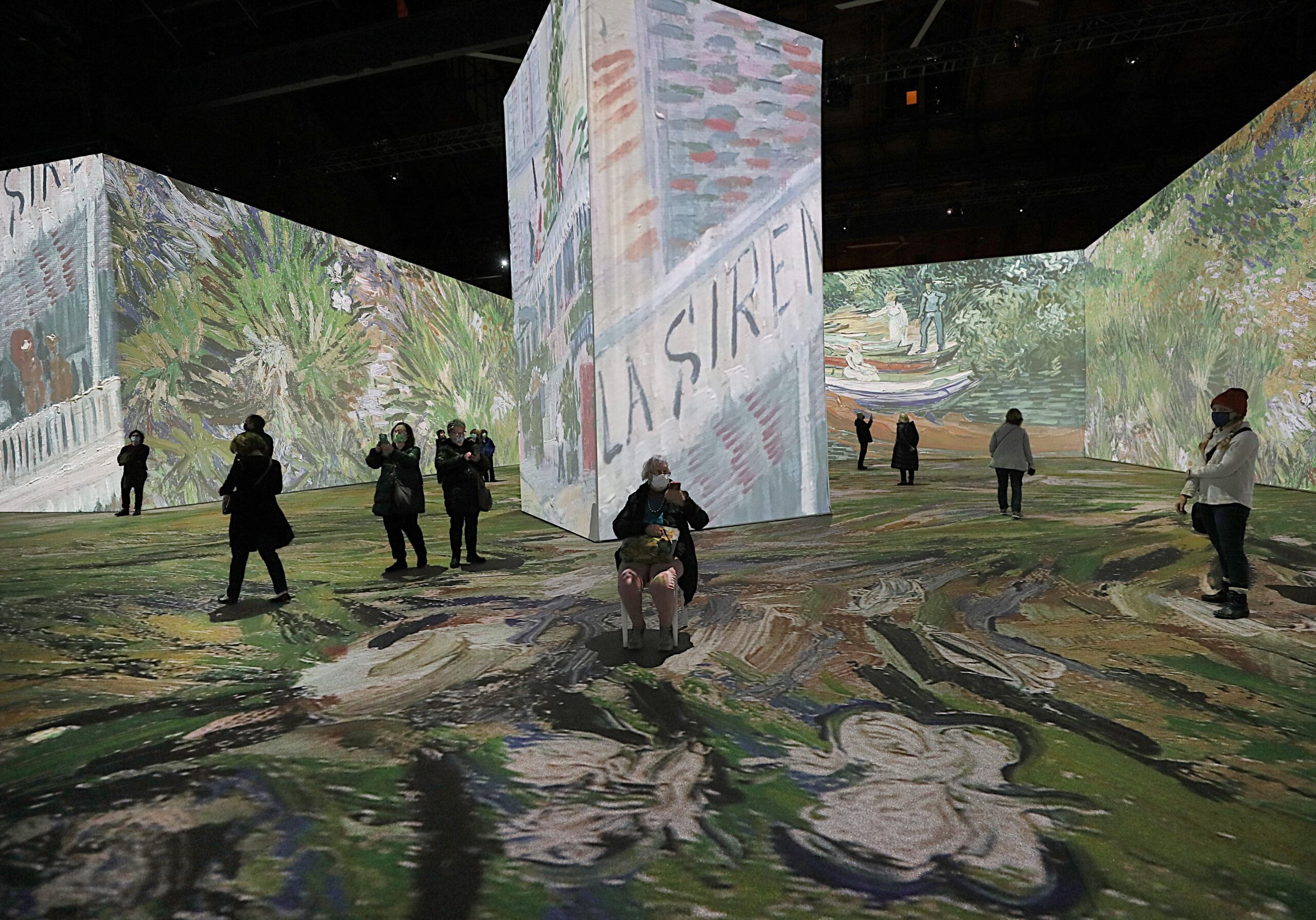 "Imagine Van Gogh" has the advantage of being staged at the SoWa Power Station, a 24,000 square foot space which allows visitors to feel totally immersed while also sufficiently spaced out from other visitors, an important factor in the age of COVID-19.
The irregular shape of the space played a factor when Mauger and Baron designed "Imagine Van Gogh." The pair used 25 screens and 57 projectors to tailor the 2008 version of their exhibit in France specifically for the Power Station.
"I couldn't dream of a better venue for this premiere in the United States," Mauger told Boston.com. "Julien was just going to make the exhibit a large rectangle, and I said, 'No! This place is huge, we can do what we want.' We created this space with all these extra corners, which is better for me because I can put many images on many screens."
With its ample size and a square pillar in the middle of the room offering another set of unique visuals, viewers could easily view the entire 45-minute cycle of the experience three or four times and still spot new paintings.
In contrast, "Van Gogh: The Immersive Experience" offers a more intimate experience, one that at least initially pulls you into a warm embrace more strongly than "Imagine Van Gogh." Visitors can sit in chairs strategically placed within the room to offer the most immersive viewpoints of the 35-foot high walls. The historic Strand Theatre's gold-leaf molding is visible above the exhibit, a small accent that fits nicely with the overall presentation.
That said, entering and exiting "Van Gogh: The Immersive Experience," it's evident that the space was modified to fit the exhibit, and not vice versa. You'll have to hike through aisles of seats in the theatre's main auditorium to get to and from the experience, which sits on the theatre's stage.
Verdict: Both have merits, but "Imagine Van Gogh" has the upper hand.
The Sights and Sounds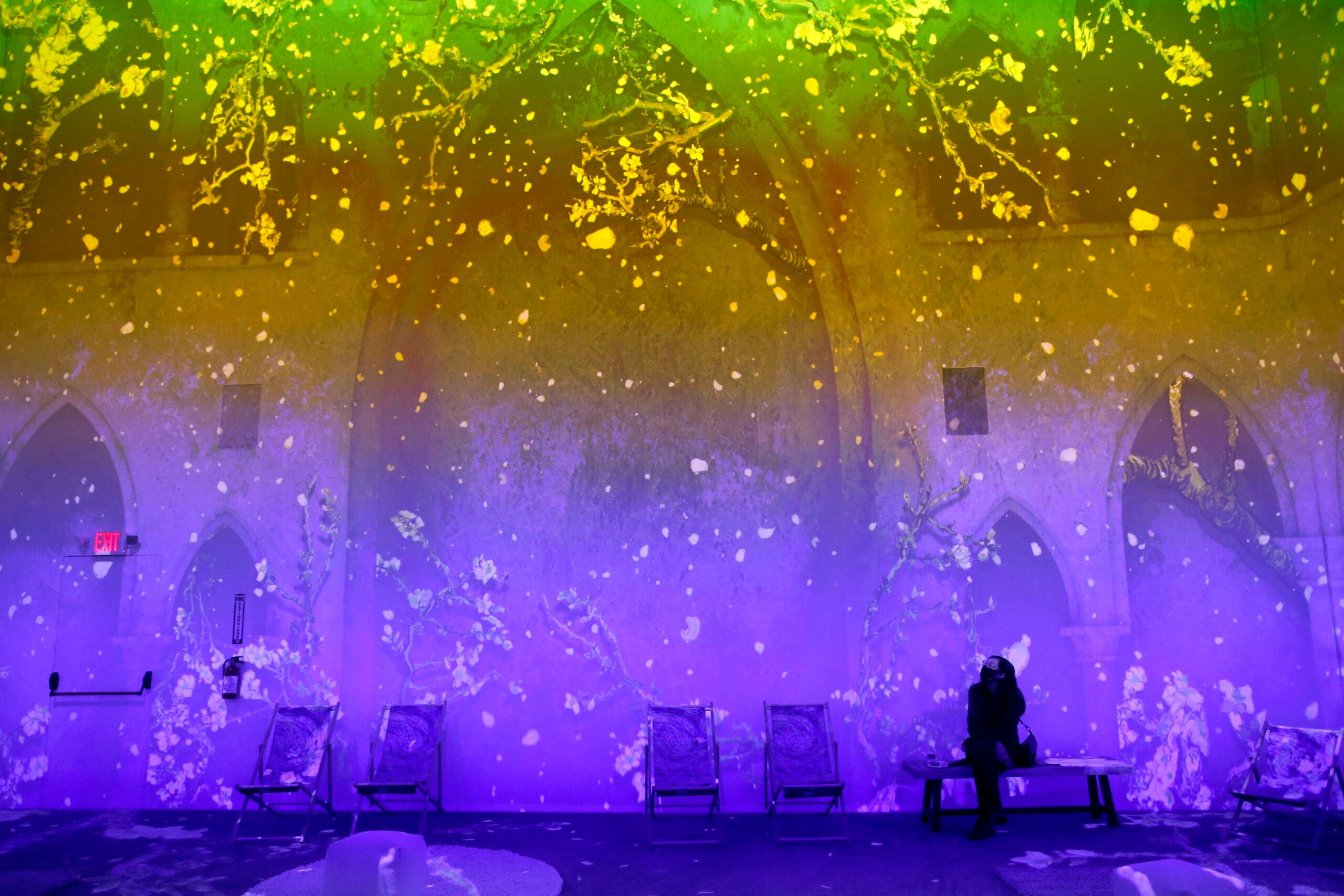 The most important factor when choosing between the two exhibits is the immersive experience itself, and there are arguments to be made for both "Imagine Van Gogh" and "Van Gogh: The Immersive Experience."
"Imagine Van Gogh" cycles through the artist's paintings, which are projected so that each of Van Gogh's brushstrokes can be examined up close. There are a handful of motion-based animations at play up onscreen, but not so much so that visitors will miss the opportunity to closely study the projected works.
"Imagine Van Gogh" relies on a subtle, unassuming classical music soundtrack, which swells with joy when Van Gogh's brighter paintings appear and switches to more somber sounds when his darker hues make their entrance.
The visuals of "Van Gogh: The Immersive Experience," on the other hand, look much more computer-generated. At various points, dozens of floating Van Gogh heads appear before dissolving into nothingness like a gigantic screensaver. Digital raindrops and thunderclaps punctuate the soundtrack, shocking the viewer from their contemplative reverie.
Throughout "Van Gogh: The Immersive Experience," various Van Gogh quotes appear on the screens in aesthetically pleasing sans serif font, accompanied by a soothing, disembodied voiceover. Platitudes like "If you truly love nature, you will find beauty everywhere" and "What would life be if we had no courage to attempt anything?" displayed over a swaying wheat field or floating lights feel less like a museum exhibit and more like the Instagram feed of a wellness coach or lifestyle guru.
Verdict: If you prefer a closer representation of Van Gogh's paintings, "Imagine Van Gogh" is the one to visit. If you're seeking something closer to an IMAX experience, "Van Gogh: The Immersive Experience" could be the better choice.
The Add-Ons
"Van Gogh: The Immersive Experience" features an additional VR experience (for an extra $5) which offers a visual tour of Van Gogh's childhood home and pinpoints some of the inspirations for his paintings. It's nothing special, but for visitors who want an additional bit of biographical context for Van Gogh's paintings, it might be worth the cost. "Imagine Van Gogh" has no such add-ons, and has the smaller gift shop of the two exhibitions.
Verdict: Though the main attraction is the most important factor, "Van Gogh: The Immersive Experience" tops this category.
Post-Impressions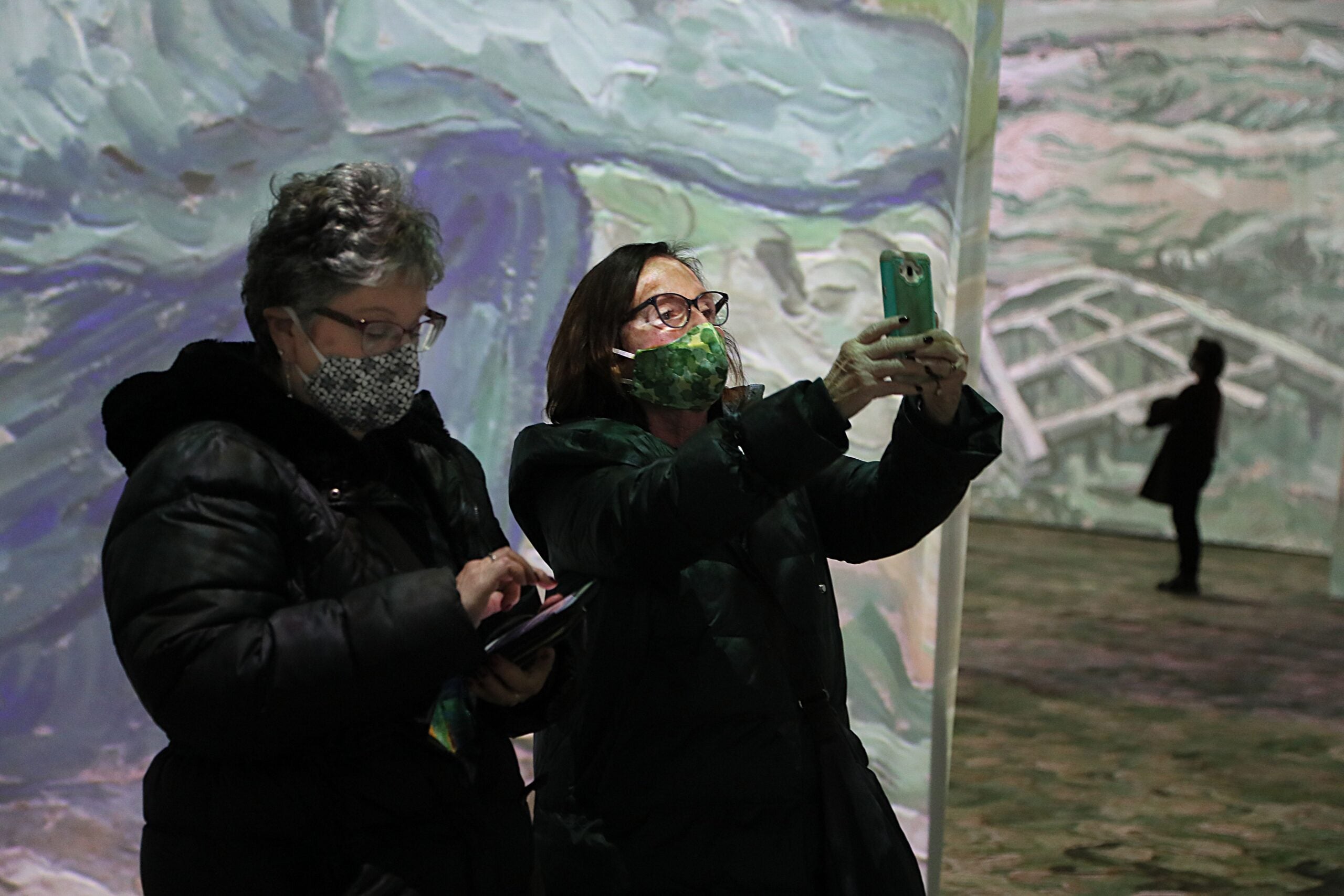 Customers will have to decide for themselves if around $40 plus fees for a handful of selfie-worthy moments offers better value than seeing van Gogh's original works at the Museum of Fine Arts. I was initially quite skeptical after viewing "Van Gogh: The Immersive Experience," which was reflected in my October review. Having now attended both exhibits, I'm slowly coming around to the idea that immersive experiences can coexist with their more authentic museum counterparts.
Of the two exhibits, I give the overall edge to "Imagine Van Gogh." The exhibit makes use of an ideal space to display panoramic views of the artist's work in a more authentic manner while still offering plenty of Instagrammable moments.