Arts
Arrow Street Arts will move into former Oberon space
A new arts nonprofit is coming to Harvard Square.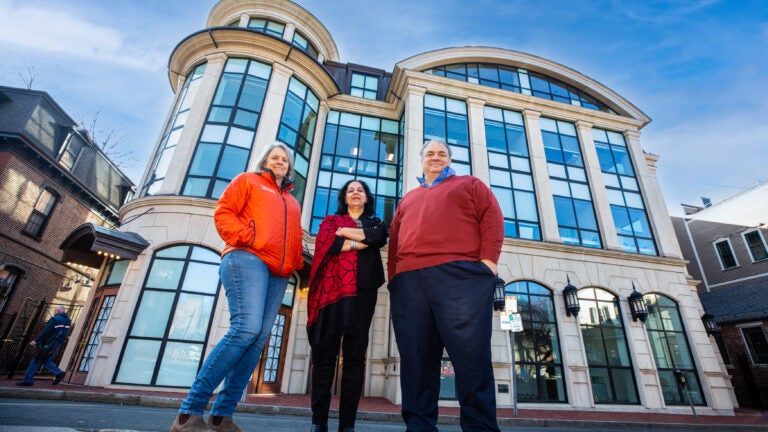 A welcome dose of fresh energy will be arriving in Cambridge, bringing new performance spaces to the area by the end of the year.
Arrow Street Arts, a nonprofit founded by David Altshuler last year, will be moving into the building that American Repertory Theater's Oberon used to occupy in Harvard Square. Oberon, an experimental and alternative theater venue, announced its closure in 2021, and Harvard University began searching for a new tenant. The space will be renovated, creating a black box theater, street-front studio, and a rotunda reception area. Altshuler said that he is excited to help artists and organizations utilize those facilities.
"Arrow Street Arts was founded specifically for this project with Harvard," he said. "Our core belief is that art creates community and that community creates belonging." He explained that there is a need for performance spaces, technical services, and supportive services, aiming to "help artists and communities come together."
The building will house a 4,500-square-foot black box theater that can seat approximately 300 audience members. Seating will be telescopic, with the ability to expand and contract, and can be adjusted according to the show, depending on whether it calls for a larger or smaller audience. Performances could range from circus and aerial shows, poetry slams, dance works, and more traditional theater productions. There will also be a rotunda space, that could be used as a post-performance hangout spot or as a cafe and bar, with a piano rolled in. A 1,100 square-foot street front studio will function as a rehearsal space or venue for small performances. It will have a sprung dance floor.
"The ability for us to create a [space] that's on the street, that lets people look in and see what's going on, that lets the art spill out visually onto the street, adds vibrancy and energy to the whole community," Altshuler said.
The nonprofit's first resident company will be Moonbox Productions, an award-winning theater company that held its first show at the Brattle Theatre in 2011. Moonbox, founded by Altshuler's wife Sharman Altshuler, will hold two to three mainstage plays or musicals per year at Arrow Street Arts. It will host a new works festival, and its educational programs will also occur in the studio space. Moonbox will most likely "account for about a quarter of the venue's use," according to a Boston Globe article. In the future, there will be other resident companies, as well.
Arrow Street Arts has worked with the Cambridge Community Foundation to create a grant program that will support artists and organizations who would like to rent out the space. An application process will go live in the fall. Geeta Pradhan, president of the Cambridge Community Foundation, said that while criteria for eligible individuals or groups are still being determined, she is hoping to support those from minority communities.
"We are looking at BIPOC-led groups, those who are disenfranchised, who don't really get the opportunity," she said. "[We're] really trying to lift up the cultural diversity, all the different [kinds of] diversity."
While prices have not been determined yet, Altshuler explained that there will be three tiers to their rental model. The space can be bought out for corporate events, it can be used by nonprofits, and the fund will offer support to artists and groups, some of whom could even use the facilities for free.
Altshuler said that he hopes Arrow Street Arts will fill an important need in the community, and he is excited for its arrival in Harvard Square.
"Harvard Square is the creative and intellectual hub, not just of Cambridge and Boston, but for the world, on some level," he said. "We want to take everything that was there before, expand the footprint and spaces, and partnering with [Cambridge Community Foundation] and others, bring a whole new level of access to the space."
Arrow Street Arts, 2 Arrow Street, Cambridge
---
We want to hear: Do you have a favorite memory from Oberon? Did you watch "The Donkey Show" or a reading for "The Moth"? Tell us about your experience and what you enjoyed about the spot. Fill out the survey below or e-mail us at [email protected]. Your response may be used in an upcoming Boston.com article and/or its social media channels.
Tell us: Do you have a favorite memory from Oberon?
Newsletter Signup
Stay up to date on all the latest news from Boston.com