Arts
From Brookline to Broadway: Comedian Alex Edelman presents 'Just for Us'
The comedian, who grew up in an Orthodox Jewish home in Brookline and turned the antisemitism of his online critics into material for his monologues, brings the show to Boston for a nearly two-week run beginning April 11.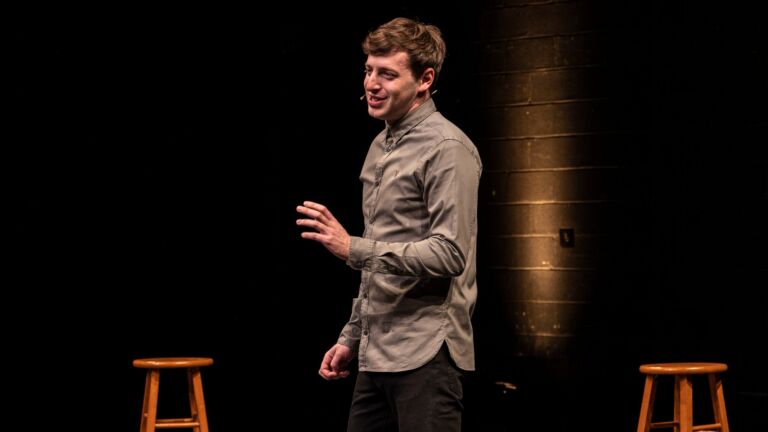 Alex Edelman, a comedian who grew up in an Orthodox Jewish home and turned the antisemitism of his online critics into material for his monologues, will bring his much-admired memoiristic show, "Just for Us," to Broadway this summer.
For the past five years, Edelman, 34, has been developing "Just for Us" and, with breaks forced by the pandemic, has performed it in Australia, England, Scotland and Canada, as well as in New York, Washington and, beginning next week, Boston, near where he grew up. The show's sold-out off-Broadway runs, which started at the Cherry Lane Theater in 2021 and moved last year to the SoHo Playhouse and then the Greenwich House Theater, won a special citation this year at the Obie Awards.
The one-man show covers a lot of thematic territory, but it is built around Edelman's seemingly unlikely (and perhaps unwise) decision to drop in on a meeting of white nationalists gathered in Queens.
"The show is about the costs of sublimating parts of ourselves to fit in," Edelman said in an interview.
The Broadway run, scheduled to last for eight weeks, will begin performances June 22 and open on June 26 at Hudson Theater. The lead producer, Jenny Gersten, is the interim artistic director of the Williamstown Theater Festival in Massachusetts, which presented Edelman's show last summer in the Berkshires. This will be Gersten's first Broadway outing as a lead producer; she will produce it along with Rachel Sussman ("Suffs") and Seaview, the theater company established by Greg Nobile and Jana Shea. (Seaview is also producing this season's "Parade" and "The Sign in Sidney Brustein's Window.")
Edelman said he had repeatedly reworked the show, primarily at the advice of comedian Mike Birbiglia, who has had two of his one-man shows on Broadway; Birbiglia produced the off-Broadway runs of Edelman's show and will help produce the Broadway run as well. The show is directed by Adam Brace, who is an associate director at Soho Theater in London.
Edelman splits his time between New York and Los Angeles, where he has done some screenwriting — he worked on an adaptation of the novel "My Name Is Asher Lev" that has stalled — and said he continues to tweak "Just for Us." A variety of prominent comedians have come to see the show, including Jerry Seinfeld and Billy Crystal, and each time, Edelman has made a point of asking for advice.
"Part of the reason you can live with a show for a long time is if you're meticulous, little changes feel like big changes — one word can change a whole joke," Edelman said.
He is obviously jubilant about the Broadway transfer — he visited the Hudson, where Jessica Chastain and Arian Moayed, who are now starring there in a revival of "A Doll's House," showed him around.
"I never thought I'd get to do a show on Broadway, and I genuinely can't believe that I have this chance," he said. "It feels a bit like fantasy camp."
This article originally appeared in The New York Times.