Beer
These are the most popular Boston dive bars, according to check-in data
A watering hole in the Theater District takes the top spot.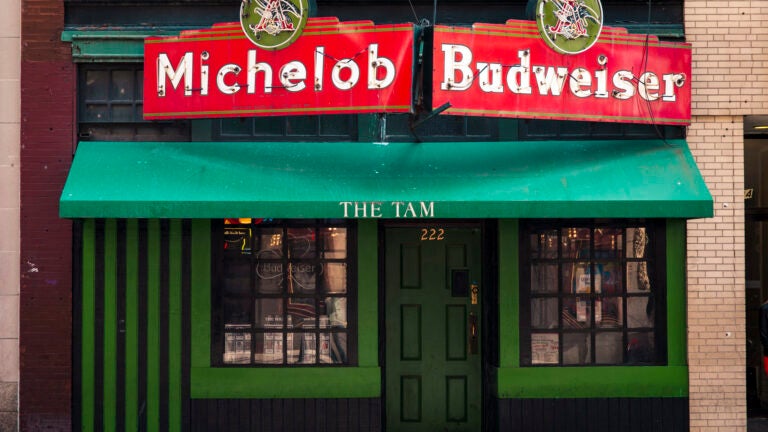 Descriptions of Boston dive bars often feature a lot of clarifying statements.
"This bar is amazing, if you don't mind the sticky floors and surly regulars."
"The drinks here are great, as long as you only order beer."
"The service here is terrible, but it's our bar."
In the five years since Boston journalist Luke O'Neil published the book Boston's Best Dive Bars: Drinking and Diving in Beantown, 20 of the 70 bars featured in the book have closed. As Boston rapidly gentrifies and skyrocketing real estate prices force working-class families to exit the city, many neighborhood dive bars have done the same. However, many of the ones that remain are frequently packed, with twentysomethings and Boston lifers alike seeking creaky bar stools, cheap domestic beers, and a laid-back atmosphere. So which Boston dive bars are the most popular?
Thanks to data from check-in app Swarm, we were able to see which Boston dive bars people checked into the most from Wednesday, June 1 to Tuesday, June 7.
For those unfamiliar, Swarm is an app from Foursquare that lets users check in when they visit locations like restaurants, bars, and parks. The newest version of the app now offers perks and prizes, like offering a discount at select stores when you check in there or a chance to win a $10,000 summer vacation package if you check into three summery locations.
Without further ado, here are the most popular Boston dive bars.
1. The Tam
222 Tremont St., Theater District
2. Silhouette Lounge
200 Brighton Ave., Allston
3. Biddy Early's
141 Pearl St., Downtown
4. The Corner Pub
162 Lincoln St., Chinatown
5. DeLux
100 Chandler St., South End
6. Beacon Hill Pub
149 Charles St., Beacon Hill
7. Cantab Lounge
738 Mass Ave., Central Square
8. Bus Stop Pub
252 Western Ave., Allston
9. Mary Ann's
1937 Beacon St., Cleveland Circle
10. Murphy's Law
837 Summer St., South Boston
Correction: An earlier version of this article incorrectly stated that The Tam is located in the South End.