Beer
Narragansett just launched a Bananagrams-inspired brew
Local beer, meet local board game.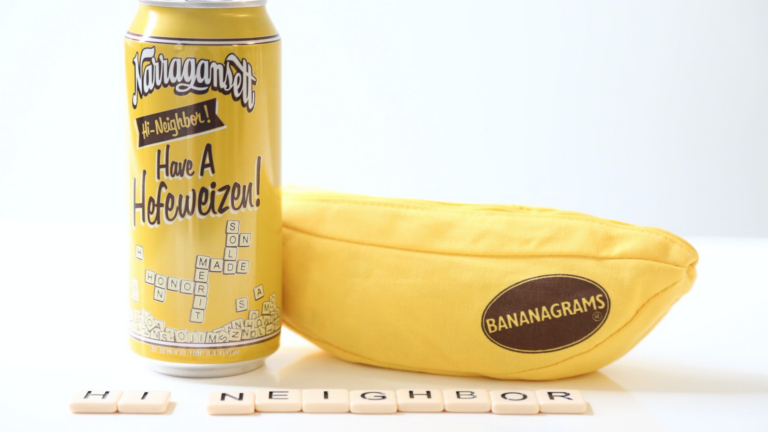 Ten years ago, wordsmith and game-lover Abraham Nathanson invented the word-puzzle game Bananagrams at his home in Narragansett, Rhode Island. Now, in an act of Ocean State unity, the game company's neighbors at Narragansett Beer have released a brew called Hi-Neighbor! Have a Hefeweizen! as part of the brewery's latest collaboration.
Hi-Neighbor! Have a Hefeweizen! is a German-style beer made with 40 percent wheat malt and is left unfiltered to reveal notes of banana and clove, as is typical for a hefeweizen. It's the fourth release in the "Hi Neighbor Mash-Up" series, through which Narragansett partners with iconic Rhode Island companies. Other releases from the series include Del's Shandy, Autocrat Coffee Milk Stout, and Allie's Double Chocolate Porter.
"Rhode Island holds a special place in our hearts as [Bananagrams] was invented at our house in Narragansett, and my father, Abe, loved to have fun and lived to get a laugh from whoever was around," Rena Nathanson, President and Top Banana at Bananagrams Inc., said in a release. "We can't think of a better way to celebrate our 10th Bananaversary and a decade of laughter, wordplay and silliness than sharing a toast with our neighbors at 'Gansett, another Rhode Island classic."    
The Hi-Neighbor! Have a Hefeweizen! is available starting today in six-packs all over New England and beyond.