Beer
This local brewery crafted a David Ortiz tribute beer (and hopes it brings the Sox some luck)
They are calling it "34."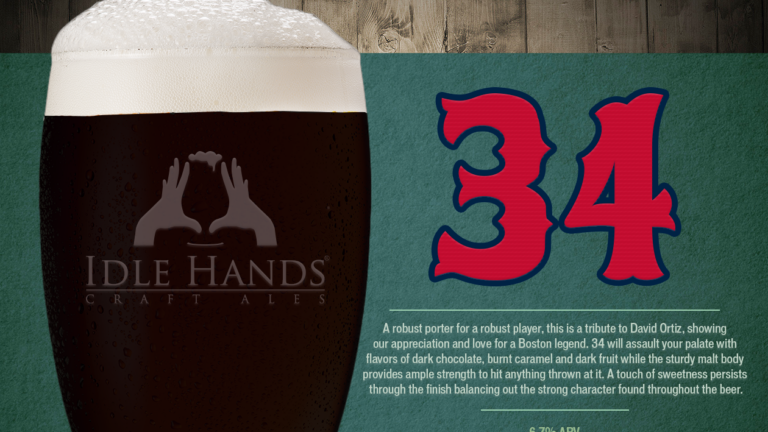 There have been a variety of tributes to David Ortiz, who is currently capping out his final season with the Red Sox, but now, you can even have a drink in his honor.
Idle Hands Craft Ales, a brewery located in Malden, has released a new porter-style beer called "34," representing Big Papi's uniform number.
But the Idle Hands team did not originally make the beer aimed at David Ortiz.
"We get a lot of requests for darker beers," Chris Tkach, founder of Idle Hands, said. "And during the summer we didn't really have any on our schedule to brew. Then it came September and it was starting to get to dark beer season and we wanted to brew a porter similar to an old recipe we had."
They modified the recipe a little bit, Tkach said, noting they made it stronger than its predecessor. Idle Hands frequently has baseball-themed beers — many of their IPAs are named after baseball pitches. So when they were brainstorming to come up with a name for their new porter, someone mentioned "hey, Big Papi is retiring."
Tkach said the tribute immediately stuck.
"[It is a] robust, strong-flavored beer, but also has a sweet malt backbone," Tkach said. "It mimics what Big Papi's personality is like."
You can currently find the beer at the brewery and Tkach noted there should be some distribution around the area in the next few weeks.
"We are hoping that a little bit of this magic we created will propel [the Red Sox] into the World Series or the ALCS," Tkach noted. "We did a beer in 2013 that was called 'First Pitch' and we did a big push for that [during the playoffs]. And we all know what happened in 2013."