Beer
Spend a day at the prettiest brewery in Massachusetts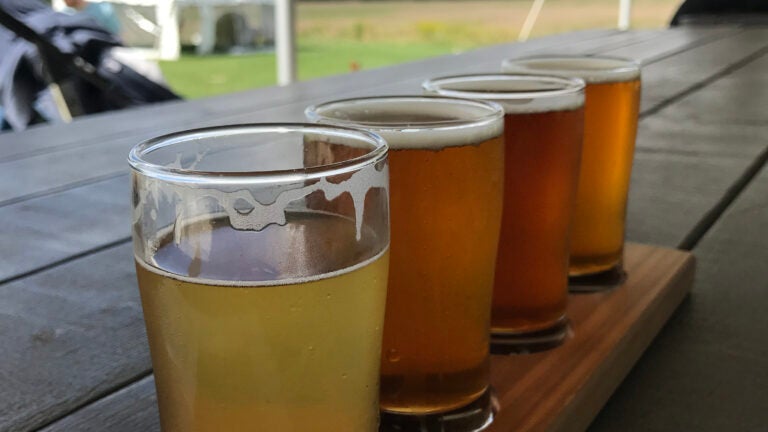 Westport's Buzzards Bay Brewing is prettier than it looks in photos.
Which seems impossible because nearly every shot of the place is gorgeous, from the lights twinkling behind a flight of brews on the company's website to Instagram sunsets that bathe the rolling farmland in twilight. (#nofilter)
A visit to the place is confirmation that yes, it's beautiful here. Turn up a long driveway and the brewery beckons from the crest of a hill, flanked on both sides by plowed fields and marshland. Several dusty tractors out back confirm the obvious, that someone is taking good care of the place.
The brewery opens at 1 p.m., but just before opening on a recent Saturday the parking lot is already full as an outdoor yoga class wraps on the lawn.
"My arms are tired,'' one woman who has just finished the class says to her friend as she carries her mat in one hand and a blondish beer in the other.
Buzzards Bay is run by the husband and wife team of Daryl and Bill Russell, whose family also owns Westport Rivers Winery up the street. The Russells opened the brewery in 1998, in the expanded footprint of an old barn, and over the years outfits like Pretty Things and Cisco have contract brewed here. Current Buzzards Bay offerings are branded as such, and available in pints on site and in cans and growlers to take home.
There's a small tap room at Buzzards, and on this crowded Saturday the extra beer line is clutch — but the brewery is made for enjoying outdoors. Patrons bring their own folding chairs and picnic lunches or set up shop at communal tables. Three cornhole sets on the lawn are put to good use. There's a truck with its tires dug into the crushed seashell driveway slinging gourmet grilled cheese.
The only sensible first beer order is a flight, where 4 of the 5 tap offerings that day are served in 3-ounce pours. We go from light to dark, starting with The Golden Flounder, a lemon-y pale ale I could drink a lot of. Moby D. and The Doctor are an altbier and scotch ale, respectively; both taste a little flat, the latter smoky. Buzzards Bay IPA is chewier and maltier than the newer IPAs you're used to, and group consensus is it's not a favorite. Aside from the pale the best drink on the menu may be Westport River Winery's Farmer's Fizz, a sparkling white.
A list of rules posted prominently on the property discourages "free range children'' from tearing up the landscape, but many people come with kids, and there's room to roam. Add a juicy IPA or a line of delicate sours to the beer list and no one will ever leave.