Beer
You can play pinball and sip juicy IPAs at this new Everett brewery starting this weekend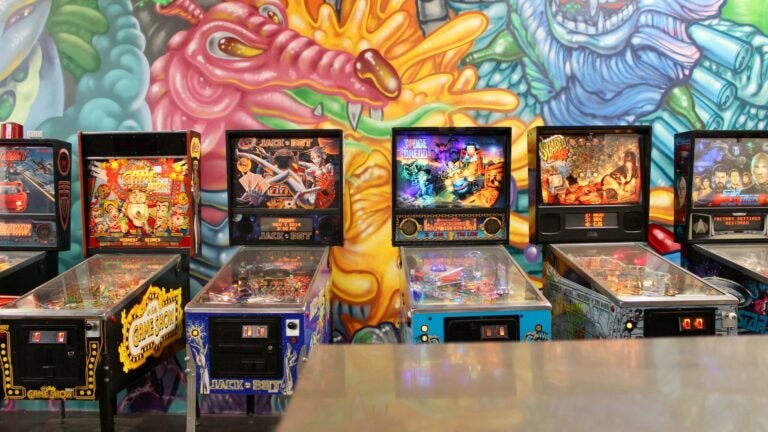 A lot has happened since Down the Road Brewery announced the impending opening of their new Everett tap room back in the spring.
Since April, Down the Road has churned out a diverse lineup of new brews, including juicy New England-style IPAs Dreamtime and Golden City, a peach version of the addictively-sour Feyborn Berliner Weisse series, chocolate-bomb Wolfgeist Dunkel Lager, and Citra Pukwudgie, a twist on the company's flagship ale that's become a staff favorite. The beers are everywhere, in 800 accounts all over Massachusetts.
What hasn't happened yet is the brewery opening its doors, which it will do this week after two-plus years of planning and build out.
"We're in a unique position of opening this space with a large and loyal following already seeded throughout the state,'' says founder and head brewer Donovan Bailey. "We owe a lot of our success to these people. Now, we're really excited to establish a deep and regular following within the community here in Everett and beyond.''
Down the Road's tap room looks worth the wait. The 2,500 square-foot space has seating for more than 200 and features 10 vintage pinball machines, fully restored so visitors can get their "Twilight Zone'' and "The Addams Family'' on. There's a 30-barrel brewhouse occupying almost 10,000 square feet in the back, with room for equipment to make more beer.
Speaking of which, Bailey plans to offer an eclectic lineup during opening week, with Spring Heel Jack London Porter, Rasenmaher Kolsch, Reynard's Witbier, Seventh Star IPA, Hooligan Nut Brown Ale, and Henzelmann's Festbier joining the aforementioned brews.
Available on opening night only is a limited supply of Down the Road's most talked-about beer, the 14 percent ABV Darkest Night Imperial Stout. First brewed in February of last year, Darkest Night quickly became a cult favorite, and hasn't been readily available since it was last brewed about six months ago. The bottles offered at the grand opening have been aged for over a year. The brewery doesn't expect them to last the night.
"The goal has always been to build a brewery and a tap room,'' says Bailey. "It's been a long and taxing road to get to this point, but we're confident the final product will have been worth the effort.''
Down the Road's (199 Ashland St., Everett) grand opening is Friday, Nov. 3, from 5:30 p.m. to 11 p.m.